Hamburg, First Round
Kohlschreiber d. Golubev, 7/5 6/3

Here in Melbourne, there is at present a frightful kerfuffle concerning Australian Rules Football and betting. Whether you care for the game or not, it is impossible not to be exposed to it, since the news networks have taken broadcasting updates directly into our brains. As far as I can make out, one player made an exotic wager of $10, and has had his hand cut off. Another player mentioned to his brother-in-law that he'd be starting in a different position in a coming match, whereupon said relation scurried off and placed a small bet based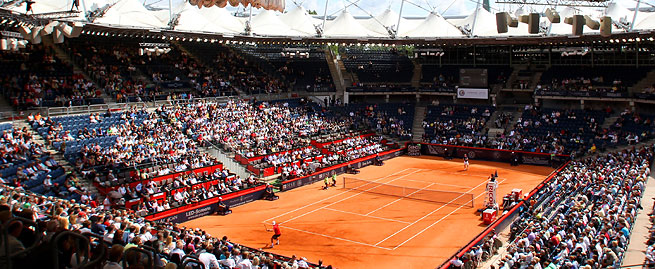 on this astounding piece of intel. The offending player was forced to watch while the family farm was razed, and the land salted. Or something.
Level heads are right in wondering whether the presiding body's puritanical tut-tutting is somewhat hypocritical, given that advertising for betting sites underpins every telecast, and takes pride of place on the hoardings at the games themselves. To the screeched query of 'Will no one think of the children?' one might respond that the advertisers have certainly given them a great deal of thought. The part of the AFL managing sponsorships probably thinks of them, too.
Being a tennis fan, I am mercifully excused from having to worry about any of this. The ATP is adamant that shady goings-on and match-fixing are not endemic. Colour me reassured, and so it was with a pristine conscience that I hunkered down to watch the Bet-At-Home Open from Hamburg – streamed via the Bet365 website – to see defending champion Andrei Golubev swept away in a whirlwind of sustained recklessness. There was nothing untoward about the result, I hasten to add, except that it was a rare example of Philipp Kohlschreiber being the most prudent and cautious player involved. Golubev hits the ball wonderfully, though his 2-25 record for the year proves that wonderful ball hitting is not enough. He will now depart the top 100.
Atlanta, First Round
Blake d. Gulbis, 5/7 7/6 6/2
Meanwhile over on a rival continent, the American summer series has officially begun, though we remain several weeks away from having to care very much, unless you are American. I am not American, and one of the many benefits this confers is that I therefore can't be accused of being un-American. Being un-Australian is sufficiently exhausting. The upshot is that I don't have to get too excited that James Blake beat Ernests Gulbis last night in Atlanta, nor that he'll be facing John Isner next. Two Americans in the second round of Atlanta? We mustn't get ahead of ourselves, but pencil each in for the US Open quarterfinals. Gulbis, for the record, served for the match, moved to 30-0, and then Blake adjusted his tactics, from hitting the ball as
hard as he can to hitting the ball in as hard as he can. A minor adjustment, it's true, but it highlights where he's been going wrong of late. Was it entertaining? Of course it was.
Realistically, in being positioned so far out from the US Open, the Atlanta Tennis Championships is destined to showcase local talent and little else, perhaps momentarily diverting fans from the allegedly dire straits in which American tennis finds itself. (They only have two players in the top ten. As an Australian, I can really sympathise.) There are approximately 158 other Americans in the main draw this week, so the odds are good that one of them will take it. If only there was some way to place a bet.