Wimbledon, Semifinals
The Final Four
The Earth having made its way around the Sun precisely once since the Wimbledon semifinals were last contested, we may safely declare that a year has passed. And yet, in both senses, it seems we've travelled nowhere at all. For the fifth consecutive time, at least three of the Big Four round out the semifinals of a major, as though this is a structural requirement of the sport,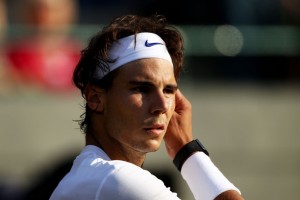 one which has little to do with how the regular tour plays out. In between the Australian and French Opens, Novak Djokovic went on a spree, and Andy Murray went on a colossal failure-bender, and yet there they both were in Paris. Since then, Murray took Queens and Djokovic took a holiday. Again, here we are.
As with last year's Wimbledon, Roger Federer is the man missing, again succumbing to a big hitter on the tear of his life. Murray must again manufacture a way past Rafael Nadal, and Djokovic will face this year's wildcard in Jo-Wilfried Tsonga (last year it was Tomas Berdych), having seen off the surprise quarterfinalist (this year Bernard Tomic, last year Yen-Hsun Lu).* Talk about déjà  vu all over again.
In the entirely likely event that Nadal claims the title once more, this year's Wimbledon will prove about as memorable as the last, which is to say, not especially. Naturally, that will depend on how the world No.1 navigates the next two rounds. For whatever reason, I suspect he'll have a rather harder time of it against Murray this time around, and that whoever he meets in the final will put up more resistance than Berdych did last year, which is to say, some.
The main thing is that the injury to his foot, which could not be medically verified and which has not impeded his performance at all, continues to play no part, beyond sustaining that whole ultimate warrior vibe he likes to have going.
On the other hand, if Nadal doesn't win, Wimbledon 2011 could well prove memorable – indeed, historic – for any number of reasons. Firstly, Djokovic would gain the top ranking for the first time, even if loses his next match. This would be a big deal, since it would represent the first time since January 2004 that someone other than Nadal or Federer has held the top spot, an unprecedented stretch of seven and a half years. I suspect my children don't realise it is even possible for someone else to be ranked No.1, although my two-year-old is admittedly shaky on the entire concept, and scores poorly on the weekly exam. Djokovic's ascension would also prove that the top ranking truly reflects sustained excellence over a long period, since the Serb right now is looking the flattest he has since last October.
If Tsonga was to achieve the unthinkable, which would require two more matches playing like he did against Federer, then he would become just the third man outside the current top three to capture a major since May 2004. Yes, that's right – lest you weren't aware – of the last 28 majors to be contested, 26 have been won by Federer (14), Nadal (10), or Djokovic (2). The other two men were Marat Safin (Australian Open 2005) and Juan Martin del Potro (US Open 2009).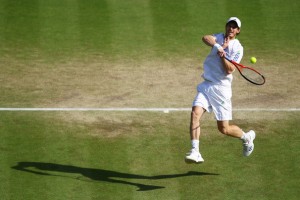 For Tsonga, anaemic hope may find nourishment in these considerations, for both were similarly hulking fellows with utterly uncompromising approaches. Furthermore, both defeated the first and third seeds on en route to the title, and Tsonga has already seen off the third. There is also the possibility that he has more important things to think about than random stats, or even meeting Muhammad Ali, whom every writer must mention in any article on Tsonga, or face stiff fines.
If Murray wins the title, it will probably go mostly unremarked, except in Scotland where there will be muted celebrations, possibly lunch at a nice restaurant. The English, eternally generous to their northern neighbours, will probably get on board a little, offering circumspect congratulations before withdrawing graciously, and leaving the Scots to their moment. That's basically how it will play out.
*As I read back over these sentences, I note that Tomas Berdych and Bernard Tomic sound like a casual spoonerism, leading me to the idea that one is in many ways the inverse of the other, at least in terms of technique and overall approach. But then I groaningly recall either player's interviews, wherein both are as engaging as a railway sleeper. In their defence, Tomic is suffering from that form of high-functioning autism commonly referred to as adolescence, whilst Berdych is an android.