Wimbledon, Quarterfinals
(12) Tsonga d. (3) Federer, 3/6 6/7 6/4 6/4 6/4
In previewing today's quarterfinal between Jo-Wilfried Tsonga and Roger Federer, I suggested that the result would hinge on Federer's assertiveness at the big moments. Would he go after the break points? How forthright would he be in consolidating breaks, or serving out sets? It was, I maintain, a reasonable enough point to make.
Unfortunately, for my waning renown as a pundit and for Federer's chances of winning, it ultimately didn't matter much either way. From two sets to love up, the big moments were all Tsonga's, and Federer hardly had any chance at all.
The statistics tell a story, but, as ever, it isn't the right one. Federer hit something like 56 winners, and only 11 unforced errors. He served at over 70%, hit a bunch of aces, and won more points than his opponent. By that token, you would have to say he played an impeccable match, and I suppose, arguably, he did. It certainly felt very clean, and he dispatched anything loose with the utmost severity. Unforced errors were indeed rare, even allowing for the absurd leniency Wimbledon has shown in this regard. The real story, as ever, lies in the forced errors, an amorphous category that is now kept hidden from the public's easily-bewildered eye.
Unforced errors mostly tell a tale of opportunities wasted, while forced errors, among other things, yield a tale of opportunities not created. It's a nebulous distinction, undeniably, and the subtleties involved are part of the reason  viewers are carefully shielded from such stats.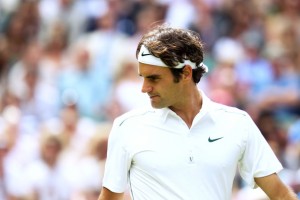 However, matches such as today's demonstrate that the stats they do show can be woefully misleading. 11 unforced errors in five sets . . . Federer hardly posted numbers like that in winning majors. But what he did do, and what he and Nadal still do better than almost anyone, is to create something from those half chances. In their hands, a forced error becomes an opportunity. And that is what Federer didn't do today, though it would be churlish to blame him. Time and again, Tsonga's shots proved too big, too unrelenting, and too well directed. Federer committed so few unforced errors because there were so few moments, especially in the last three sets, at which we was not being forced. It is to Tsonga's credit that he did not relent for a second. He was magnificent in his composure, and his unassailable aggression on the uncounted little points ensured that those big points never came round. After breaking at the beginning of the match, Federer did not earn another break point.
Similarly, it would be unfair to Tsonga to suggest Federer played poorly to be broken in each of the last three sets. If there was any let down it was momentary, and limited to a single fluffed volley, or perhaps a double fault. Otherwise, most of Federer's service games were close to perfect, served out to love, and over in
less time than it takes Nadal to extract his underwear. I suggested yesterday that Tsonga, being French, is obliged to throw in one crap game per set, and for the first couple of sets he appeared determined to prove me right, although he saved his worst for the second set tiebreak, when Federer was majestic. But thereafter Tsonga set about neatly inverting my snidery. He played no bad games thereafter – not one – and unleashed a single truly phenomenal return game each set, punctuated with several wholly gratuitous one-handed backhanded passes, and at least one break point on which a determined Federer was simply hit off the court.
In the end, as the Frenchman served out the match effortlessly, at love, it proved a testament to his dashing and fabulous performance that the Centre Court roar was wholly approving, and not, as it often is when Federer bows out, tinged with valediction. Federer is loved everywhere, obviously, but so is Tsonga, for his gusto and ebullience, for his uncomplicated smile, and for the utterly unselfconscious way he celebrates victory, twirling and skipping across the court like an eight year old. Federer waited while the beaming Frenchman gathered his kit, and the two men walked off together.