If tennis draws are rigged – that cherished belief of the zealots and crackpots – then you'd imagine whoever rigged the Wimbledon draw today should have done a better job at masking their handiwork. It just looks so obvious. That they haven't covered their tracks apparently indicates nothing more than a brazen willingness to thumb their nose at all that is sacred, or so the reasoning goes.
And so what if it is the AELTC conducting the draw, an organisation whose slavish veneration of tradition is exceeded only by the Catholic Church, and then not by much? Well, clearly they are willing to violate any number of traditions in order to achieve their clear goal, which is world domination by any means possible, including perpetual singles finals featuring Nadal and Federer.
Astoundingly, Federer and Nadal are once more on opposite sides of the draw, and once again drawn to meet Djokovic and Murray in the semifinals respectively. Admittedly, this happens a lot at the majors. There's not much else to say about it. It has happened again. It's unlikely that all four will make it to the final four. That hasn't happened in weeks. It's also nearly two weeks off, so any musings can wait.
Of more immediate interest are the first rounders. Lest you somehow hadn't heard, Isner and Mahut have been drawn to meet. (What are the chances? These are.) One to watch, to be sure, though I'll extend my neck and suggest it may not go the distance, especially this pair's interpretation of 'the distance'. Mahut's form hasn't been tremendous, and he is apparently struggling with a foot injury.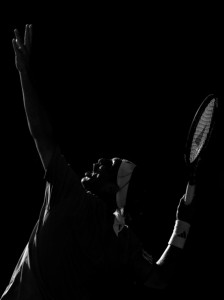 Still, it will be one of those myriad first week Media Events, which mercifully peter out by the second week but seem vital enough at the time. Janko Tipsarevic has been drawn to meet Ivo Karlovic, a tough one to pick. Tipsarevic is looking a reasonable chance to capture his maiden title in Eastbourne this week, which is what weeks like this are for.
Assuming he turns up, Lleyton Hewitt will face Kei Nishikori. It is a testament to how far Hewitt has fallen that this can now be considered an enticing first round. Nishikori's ranking has lately slipped from its high of 46 – agonisingly short of realising Project 45 – but it hasn't slipped into the subterranean depths Hewitt now inhabits. Actually, the more I think on it, this probably won't be a first round to savour at all, although you can bet it'll be headlining the Australian television coverage. Speaking of a receding ranking, and patchy form, and injuries, and overblown media-interest in the home country, James Black will open against Marcos Baghdatis, who until this week hadn't managed back-to-back wins since February. Still, the Cypriot is doing well in 's-Hertogenbosch, although as I write this he's just attempted to serve out the first set, been broken to love, and then flubbed the tiebreak. Expect more of the same against Blake. Balls will be struck tremendously, and very few of them will go in when it matters.
Soderling versus Petzschner has upset written all over it, again assuming the German is fit, since he withdrew from the Halle final last week. Speaking of which, Fabio Fognini will face Milos Raonic. I'm not as sold on Raonic's chances as some others. The real hope is that Fognini does something zany and dramatic, and thereby generates a Media Event. Naturally he will, since he must. The whole thing is rigged anyway.