Aegon Championships, London, Final
Murray d. Tsonga, 3/6 7/6 6/4

There is a winsome brashness to Jo-Wilfried Tsonga's approach to the net – his net approach – a vibe and bravura far from the solemn ineptitude of Andy Roddick's endeavours, which somehow treat the chip-charge as an extension of his dour ground game, and not, as it should be, a blessed relief from it.
Serve aside, Tsonga steams in behind bigger stuff, but there's a commensurate level of bluff. His superior athleticism means he's holding better cards, naturally, but it's the ebullience with which he plays his hands that proves the difference. He genuinely wants to win at the net, regardless of how good he is at it.
He isn't necessarily bad at the net, but he is limited. For all that his drop volleys are excellent, any volley he must push deep is destined to sit up begging to be dealt with, like a dandelion. Like a lad with a five-iron, Murray invariably dealt with them. Even so, anything passing within about eight feet of the Frenchman saw him explode horizontally sideways. Even that great sod-kisser Boris Becker hardly dove so relentlessly in a single match, although Italian strikers can be trusted to do so.
All told, today's was an outstanding final, featuring some of the most charmingly virtuosic tennis of recent times, eliciting gasps and titters and whoops from the jaded crowd and the even more jaded hacks in the commentary box. At one point, as Murray struck a deft tweener pass from the baseline, only for
Tsonga to cut it off with yet another airborne diving volley, the Scot almost succumbed to a smile, and Frew McMillan almost let his reserve crack. Almost. McMillan steadfastly refused to lose it even when Tsonga pulled off a running one-handed ­backhand pass up the line. No grin from Murray on that one, either.
The Eurosport sundries know no such qualms. Tsonga in sparkling flight is a pleasure to watch, admittedly. Apparently, he is also a pleasure to commentate, if the welter of thread-bare Ali comparisons are anything to go by. He has a big serve, and a big forehand, though neither are truly huge, and the various boxing analogies have always sounded forced. Both strokes are doubtless hit harder than, say, Federer's, but neither feels as big, and they certainly aren't as effective, as Ali-esque.
What Tsonga has however, is enthusiasm, and it is infectious. As the second set got underway his unswerving audacity looked fit to tear the crowd away from Murray as surely as it was the match.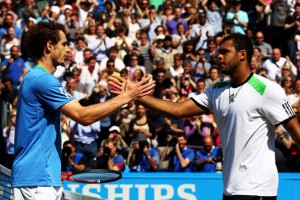 Gradually, however, Murray began to up the pace and variety in his strokes, and the English were jolted back into the recollection that they were actually British, and the contempt they feel for the Scots pales beside the loathing they feel for the French.
The key moment in the match came at 5/5 in the second, as Murray fell to 15-40. If Tsonga broke, there was a pretty good chance he'd serve it out. Somehow Murray fought back to hold. A tiebreaker ensued, which is when Tsonga fell apart for the precise reason he always does: none. His hitherto measured aggression grew mildly unhinged. It is a shame that the most pivotal period of the match was the flattest, and that an otherwise brilliant final hinged on a truly poor breaker, in which the imposing Frenchman stopped diving, and fell in a dull heap. The third set, sadly, felt foregone. The vim had drained from Tsonga's game, and Murray just grew stronger, and faster.
A deserved win for the Scot, and nuclear fuel for the hype-machine, with Wimbledon only a week away.