Indian Wells, Second Round
Those who either love or hate Rafael Nadal – equally absurd positions way out on the fringe of reason – would have charted his likely course through the Indian Wells draw the moment it was released. Certain reefs would have been apparent immediately: Marcos Baghdatis in the fourth round (extreme minds leap to Cinncinati last year, when the Cypriot served Nadal from the court); David Ferrer in the quarterfinal (fresh memories of Melbourne, Nadal hobbled and Ferrer inexorable); and a semifinal against Andy Murray or Robin Soderling. It looked manageable, but hardly foregone.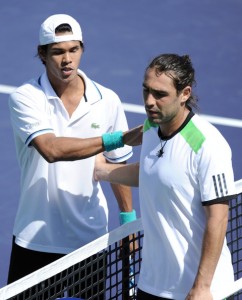 The fringe-dwellers saw enough to nourish their respective hopes, whatever they may be. Then today happened. As days of tennis go, today at Indian Wells has been about as shocking as having a battery of electrodes attached to your testicles (women may substitute a delicate protuberance of their choosing). Soderling aside, Nadal won't be facing any of those guys, primarily because they are no longer in the tournament.
Devvarman d. Baghdatis, 7/5 6/0
To the lately distended list of strange and inconsequential outcomes I never thought I'd see, I can now add Somdev Devvarman bagelling anyone. To call his game pedestrian is to do walking an unkindness, although I cannot fault his application. Still, if it was to happen it would have to be against a shotmaker not making his shots. Thus afflicted, Baghdatis resorted in due course to throwing haymakers, but none of them found their mark. From 5/5 in the first set, having already refunded an early break, he won precisely zero games, for no good reason. Fitness played no part: remember the compelling video the ATP released about Baghdatis doing a million sit-ups on the beach? As far as I can tell, this updated, sleeker Baghdatis seems rather less effective than yesteryear's superseded model. He is now 6-5 for the year, including two retirements and this latest 'effort'.
Karlovic d. Ferrer, 7/6 6/3
Another entry for the list: Ivo Karlovic out-muscling David Ferrer from the baseline. Expert opinion heading into this match was sharply divided as to whether Karlovic would go down in three tiebreaks, or two. In other words, he basically was no chance, although what chance he did have would obviously involve serving his way to breakers, and lucking a few returns. His career is predicated on this tactic, and partially explains why his ranking is a stellar No.239. Today he served at 58%, with only nine aces and a handful of double-faults.
Mind you, Ferrer managed only 46%, though it felt considerably lower than that. Karlovic was actually cracking winners off the ground – including some sumptuous backhands – and volleyed with deft aplomb. Having been denied a wildcard into qualifying for Miami next week, he has a point to prove, and a ranking to improve.
Young d. Murray, 7/6 6/3
If the sadistic fundamentalist manning those electrodes suddenly cranked up the voltage, it might evoke something of how this result felt. The shock was so great that waves emanated outward to rapidly engulf the tennis world. Fears that an Australian Open final loss would again propel the Scot into a precipitous dive have proved founded, despite his insistence to the contrary. Murray hasn't won a set since the semifinal in Melbourne. That says a lot. What says even more is that before today, Young hadn't won consecutive matches at tour level in three years. Now he has. I could say that Young was ripping his forehand, and he was. But even ripped, his forehand is not very good, and Murray's impressive Masters 1000 record was built on absorbing and subverting the ripped forehands of Roger Federer and Nadal. He has much to think on. Young, for his part, has permitted himself a mere touch of optimism. They have been tough years.
Nadal d. de Voest, 6/0 6/2
For those pundits eager to insist that the depth in men's tennis means that anyone can beat anyone – and I'm mostly sympathetic to this view – days like today are grist for the mill. As the seeds toppled, it was clear that even anyone can have his day, and that when he does, even the somebodies should step warily. Sadly no one told Rik de Voest, who could manage only two games against a charitable world No.1. Then again, it's pretty hard to imagine the kind of day the diminutive de Voest would have to have in order to trouble Nadal further. Nadal was in so little trouble tonight that even he was willing to concede the point. Next up he'll face Ryan Sweeting, who in full flight makes de Voest look like an in-form Marat Safin. Nadal's real challenges were due to begin in the fourth round, but now they will likely be delayed until the semifinals, if not later. To his zealots, who are legion, the screams of seeds being mowed down was sweet music. To his detractors, the sense of stifled outrage is searing in its severity, the purest rush known to the anti-fan.