Indian Wells, Third Round
Kohlschreiber d. Soderling, 7/6 6/4
Nadal d. Sweeting, 6/3 6/1
For the first time in their rivalry, Robin Soderling and Philip Kohlschreiber failed to go the distance, largely because the distance lay somewhere deep in the Swede's forehand corner, and he could no longer push effectively from his left foot. Yet he toiled valiantly, and even hobbled was no certainty to lose.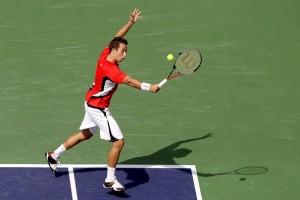 The scoreline, if chanced upon five or thirty years hence, will suggest another close encounter between matched foes. Fated to live now, we see it as yet another example of the tough match-up that defies common sense. Their rivalry pre-dates Soderling's ascension to the elite, and even now only extends to five matches. Indeed, we could hardly recall it rivalry at all, but for the curious fact that their first four meetings all went to deciding breakers, and that Soderling only won the last of them. Like Roger Federer's issues with Igor Andreev or Gilles Simon, explanations abound, but even in their ponderous totality these seem insufficient to adequately explain the superior player's problem. Like that scruffy boyhood friend you somehow retain even as you accrue wealth and fame – I naturally speak from intimate experience – Kohlschreiber seems destined to remain a foil for Soderling no matter how accomplished the latter becomes, a sobering memento from the bad old journeyman days.
With Soderling's loss, the last realistic impediment to Rafael Nadal reaching the Indian Wells final has been removed. Now that Fernando Verdasco and Gilles Simon have lost, even the unrealistic impediments are looking thin on the ground. Nadal remains the sole top twenty player in that half of the draw, and next faces Somdev Devvarman, who at No.84 will be by some margin the highest ranked player he has faced so far. Meanwhile, yesterday on the bottom half of the draw all but two of the sixteen seeds progressed, and the two that didn't were hardly contenders, and fell to decent young prospects on the make. Those of us hoping to see the world No.1 challenged even a little are surely justified in our disappointment.
del Potro d. Dolgopolov, 7/6 6/3

The only credentialled player likely to emerge from the Murray-Soderling quarter of death will be Juan Martin del Potro, who today looked assured in his win over the flamboyant Alexandr Dolgopolov, in much the same way Marat Safin never did against Fabrice Santoro. One suspects del Potro's demons are different to Safin's, even following a hellish year. Aside from his first serve, which eventually decamped for good as he served for the match, del Potro's game is looked increasingly solid. The forehand is still there, with its incongruous little flourish on the take-back, and its breath-taking pace. Some today, as he lost patience with Dolgopolov's sophisticated noodling, returned me to the 2009 US Open final. One of the game's signature shots has returned, when there was every reason to believe it never would.