Miami Masters, Third Round
The commentary gem of the day arrived courtesy of the ever-reliable Jason Goodall: 'For lovers of talent, it's an eye-watering prospect!' He was spruiking the up-coming clash between Alexandr Dolgopolov and Jo-Wilfried Tsonga, whose skills are impressive, no question, though I couldn't see what there was to get all weepy about.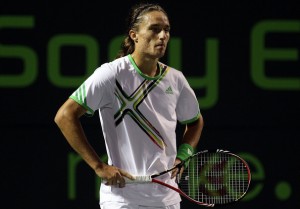 Sadly, by the time the talent entered the ill-lit stadium, Goodall was no longer around to explain himself. The best stream I could find featured a commentator I once described as 'Ray Romano hosed down with boring', mainly because I don't know his name. I've since endured his stylings a number of times across several tournaments. Shunning – or shunned by – company, he invariably flies solo, which is a shame. Lacking the capacity for tonal variation, he could really do with a booth-partner, provided it wasn't actually Ray Romano. As it was, it felt like the call was being phoned in by Manny the Mammoth, and was primarily composed of an extensive recount of each player's results for the last six months. It wasn't eye-watering, but it was mouth-opening, insofar as it provoked an escalating series of yawns.
To be fair, the tennis wasn't helping. There's no doubting Dolgopolov and Tsonga are talented, but so was Andrew Ilie. Unless they're executing they can frankly look poor. Neither could find his timing early on, and the Ukrainian's passes on the backhand side were perpetually spraying wide, so I suppose it is to Tsonga's credit that he largely directed his approaches there. When he didn't, he got scorched. The rain arrived at 4/4, and everyone got wet, so I suppose Goodall was somewhat vindicated. Dolgopolov broke quickly once play resumed, but apparently didn't care for it, and broke himself back even more quickly. Tsonga won the tiebreak, but lost the second set. Rain again intervened, and they're currently locked on serve in the third, due to complete their night match in the apocalyptic haze around lunchtime tomorrow. The victor's reward will be a shot at Rafael Nadal about sixteen minutes later. I expect a close one.
Rochus d. Youzhny, 1/6 6/3 6/3
Speaking of which, is it just me or is rather too much made of the conditions in Miami? Today in Melbourne it was 27C and about 82% humidity: a gorgeous Autumn day. Meanwhile in Miami it was (apparently) 29C and a number of very healthy young men were out on their feet in deciding sets. One of them was Mikhail Youzhny, who fell to a resurgent Olivier Rochus, the sole remaining qualifier in the draw. It recalled several of Youzhny's recent losses, especially against Gilles Simon in Dubai, particularly in its looseness. As with so many attacking players, when the Russian's form dips he grows ragged if too many balls come back. Today, conditions were slow, and Rochus ran his wee buns off. I haven't watched Rochus play since he saw off Juan Martin del Potro's aborted comeback in Bangkok last year, and as ever I was struck by how dynamic he is on court, how complete his repertoire is, and how assured his shot selection. One of my guilty pleasures used to be watching the diminutive Belgian give Marat Safin fits.