Miami Masters 1000, Fourth Round
Federer d. Rochus, 6/3 6/1

'This is looking like a mismatch, as though Rochus has brought a knife to a gunfight. Federer just has too much firepower.' Robbie Koenig.
We don't expect much from tennis commentary – and generally receive less – but we expect it to be right, and this was spot on. Roger Federer was in rare form, the kind that used to be common. Come what may as the clouds of seniority gather, it's reassuring to know he can still put on displays like this.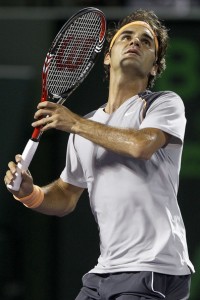 Play commenced a touch beyond 12:30am, and ended 52 minutes and 32 winners later, including a rare drop-lob off the frame. Federer and Olivier Rochus have played longer games of cards. In fact, they probably played a few tonight as they waited (and waited) to get onto court.
Despite the late hour, plenty of fans had remained in their seats, many having lapsed into comas as Sharapova's earlier double-fault exhibition entered its fourth hour. Federer gave those who regained consciousness no reason to further regret their misfortune. It was vintage stuff, just like his opponent. Still whatever Rochus's shortcomings – and being 5'5" and 30 are not advantages – he is a spry mover, and has built a laudable career around tenacity and the capacity to retrieve plenty of balls into awkward positions. But when you're hitting those balls as well as Federer did tonight it hardly matters. And the conditions at night are slower.
Nevertheless, as a form guide, it is arguable just how useful this match is, particularly with sterner challenges ahead. Federer was magnificent, but a reasonable number of those winners would not have been winners against, say, Novak Djokovic, whose retrieval skills are frankly unparalleled. Will Federer be able to maintain this standard of aggression when it takes twelve shots to find the opening, rather than four or five? Can anyone?
Simon d. Tipsarevic, 4/6 7/6 6/2
He'll get a practice run against Gilles Simon in the quarterfinals, who today pushed Janko Tipsarevic over the edge, and I use the term 'push' advisedly. For players of the attacking disposition, an extended tussle with Simon must feel like being beaten to death with feathers, especially on a surface as unhelpful as Miami's. Tipsarevic could get balls past the Frenchman, but only after a thoughtfully constructed 16-stroke rally, and even then by aiming for the outside of the line. For a couple of sets, it worked, but then his patience ran out.
Berdych d. Mayer, 6/3 2/6 7/6
Fish d. del Potro, 7/5 7/6

I must confess to finding Tomas Berdych no less robotic now than the first time I saw him play, over six years ago, which confounds the usual process by which players gain personality as our intimacy with their sport increases. The first set today was played entirely on Berdych's terms, meaning it was conducted almost exclusively via the enchanting medium of flat, hard baseline rallying. They were not attractive terms for Florian Mayer, who was frankly foolish to think he could beat Berdych at what he was programmed to do. In the second set, after a rain delay, Mayer came out with a new game-plan, one devised around his strengths, moving the Czech around, mixing up paces and lengths. The second set was entirely played on the German's terms. So was the third, but he couldn't find a break. Berdych took the tiebreak, and let out a mighty roar. It sounded almost human.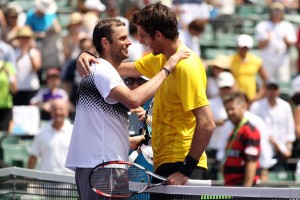 Mardy Fish occupies the other end of the personality spectrum, although his undeniable charm when away from the court does not excuse a tendency to behave like a thug whilst on it. He is very much in the Roddick-mould when it comes to browbeating the officials, and I wonder if they rehearsed any of their tirades back when they roomed together. Today Fish beat the resurgent Juan Martin del Potro, which pretty much everyone in the world is treating as an upset regardless of their respective rankings, including Fish: 'It's only a matter of time.  If you're not in the top five in the world, you can just add a number to your ranking because he's gonna be up there in no time.' Eloquent, as always. Nonetheless, they are clearly good friends, which Fish discussed happily after the match, but which was already clear from their embrace at the net.