If ever a case could be made for the previous year's Davis Cup victor to be granted a first round bye the following year, this is the moment. Serbia will open its 2011 campaign against India, who long ago qualified as under-strength even when fielding its best players. Today India will be under-strength even by its own standards, having lost the star doubles combination of Mahesh Bhupathi and Leander Paes – the so-called Indian Express – neither of whom could obtain an exeat from his respective nursing home.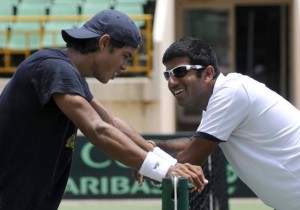 Novak Djokovic took one look at the tie, and decided to grant himself a bye. The Serbian team will now be led by Victor Troicki, whom I would not want playing for my life, unless it was against Rohan Bopanna or Somdev Devvarman, in Serbia. Having seen their prospects thus upgraded from 'utterly impossible' to 'ridiculously improbable', the Indians have allowed themselves a measure of hope. More fools they.
Lest it wasn't clear, I was using 'impossible' in something closer to its literal meaning, as opposed to Rafael Nadal, who appends the term capriciously to pretty much anything he might be expected to do on a tennis court, such as beating Tomas Berdych in the Wimbledon final. Speaking of Nadal, he'll be attempting to scale a virtual Everest in overcoming Ruben Bemelmans, ranked 144. The Belgian team features exactly one player inside the top hundred (Xavier Malisse), while the Spaniards have three inside the top ten. Notwithstanding the impossibility of the task awaiting them, Spain should also be gifted a first round bye. Really.
All of which is a way of saying the first round of the Davis Cup 2011 World Group is a waste of time. It is of course difficult – though not strictly impossible, even for Nadal – to see upsets coming, but even so predicting the winners requires no great display of prognostication. The only thorny ones are between Croatia and Germany, because both teams are primarily composed of mercurial headcases, and between Austria and France, because most of the French are injured. Sweden hosting Russia might have been interesting if Mikhail Youzhny hadn't withdrawn from Davis Cup, and Nikolay Davydenko hadn't taken leave of competitive tennis entirely. For their part, Sweden has deployed a pair of Nordic sledgehammers in Robin Soderling and Joachim Johansson, who is certainly better than his ranking of 749, although no one really knows how much better.
If the expected teams progress through this round, expect to see some delightful quarterfinals in July. For now, if your country isn't playing, or you don't believe a post-nationalist sport like tennis should be yoked to an anachronistic patriotic agenda, or you just don't care for Davis Cup, well, it's probably better to join Djokovic in preparing for Indian Wells. Take the weekend off. Give yourself a bye.