It is a nice question which of this weekend's inevitable crop of bizarro Davis Cup results has thus far pushed eyebrows the highest. How about John Isner going down to Paul Capdeville in a tight five setter? The giant American led two sets to none, from which point he lost serve once, and with it the match. Still, it was on clay, in Chile, and it was Isner. It was a result worthy of Ivo Karlovic, suggesting that while character may not be destiny, a one-dimensional serve-base game often is. For his part, Capdeville held his nerve very well.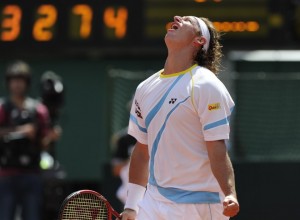 I doubt anyone expected Adrian Ungur to grab a set from David Nalbandian, in Argentina. Word ahead of the tie was that Nalbandian was not well, and as the match wore on, he grew less so. Realistically, given the severity of his 'sports' hernia, he was lucky to drop only a set. He could well have left his undercarriage out there on the dirt. He's now out for Indian Wells and Miami, a cruel price to pay for a tie Argentina was always going to win.
On the face of it, I suppose Janko Tipsarevic going down to Somdev Devvarman in straight sets was a humdinger, though if anyone is going to go haywire in front of a boisterous home crowd, it's Tipsarevic. Being immensely well-read, it isn't out of the question that he has grown so preoccupied with deconstructing the very nature of sport and nationalism that he talked himself out of competing at all. Still, you'd think he'd be good for a set. Tipsarevic was philosophical via Twitter: 'Even when you feel and play like crap, your team mates are there to fix the problem. 2:1 Serbia … Idemoooo!;)'. Must be nice. Prior to that tweet, his previous one was simply a link to an ESPN story about him, which isn't the least self-aggrandising move I've ever encountered. It was the usual semi-literate guff, including the astounding news that Tipsarevic has momentarily put aside Nietzsche in order to read the bible. Far out.
My favourite result from the weekend so far was Amir Weintraub defeating Poland's Jerzy Janowicz in five sets. This tie has been weighing on Weintraub's mind since he received the call up to the Israeli squad, and it's satisfying to see that his introduction to Davis Cup has been so positive. He'll earn valuable ranking points, and even more valuable confidence. I'm looking forward to his next blog update.