Following his defeat by Novak Djokovic in this year's Australian Open, Roger Federer was invited to compare the loss to the ostensibly similar one three years earlier. Baffled, Federer considered the request for a few seconds, then blurted 'Why compare?', before admonishing the journalist for posing such a foolish question in the first place.
Foolish or not, we can see where the journalist was coming from. Both losses came to the same guy at the same stage of the same tournament, and even boasted a similar scoreline. When that many similarities accrue, it grows difficult not to discern a pattern revealing itself. Without patterns there is no meaning, and without meaning there is little to write about beyond a wretched summary of events. In the journalist's mind, there was probably a useful comparison to be made, one worth exploring. For Federer, however, the connection did not exist, and the act of comparing the two events was superficial, irrelevant, meaningless. He has played Djokovic any number of times since early 2008, and must have spent innumerable hours with him off court in a range of activities. A match from three years earlier, no matter how similar, was uselessly remote, and provided no insight into his latest defeat.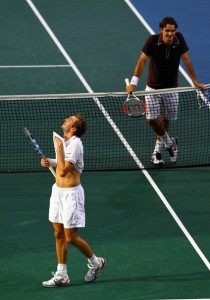 There is no good reason why Federer has never won the Paris Indoors, and yet it remains the only Masters tournament at which he has never even reached the final. The conditions are suitable: fast and indoors – not radically unlike the Basel event where he savours near-annual triumph. Yet, prior to 2010, the great Swiss hadn't progressed to the quarterfinals at Bercy since 2003. The assumption that there is just something about the event that doesn't sit well with him is an easy one to make. Federer was asked about it during the event last year. As he points out, for several years he was injured and didn't play (2004-2006), while in 2008 his back seized up, and in 2009 he had a bad day against a surging Julien Benneteau. There was also 2007, when like everyone else he fell to an inspired David Nalbandian. The closest Federer comes to a unifying reason is to suggest that the event's scheduling means he was often under extra pressure trying to qualify for the Year End Championships, although this hasn't been the case since at least 2003. The main point, however, was that there was no single good reason, but lots of little good reasons, and none of them were related to each other. His take on it: 'Next thing you know your career has not been very good here in Paris at the Indoors.' So it goes.
It is the writer's lot to tease order from the mess of life, thereby establishing narrative, and creating meaning. That's all well and good – the tendency is basically impossible to gainsay – but it is not without risk. Firstly, the temptation is strong to uncover connections where there are none. There is such a thing as coincidence, although it's something good narrative prefers to avoid. Indeed, coincidence is a device shared by reality and bad narrative, the latter because it's lazy, and the former because it's real. Federer's continued failure to win the Paris Indoors is really a result of coincidence. There is no issue for him to address. It is dull copy to say so, which is presumably why fans and journalists go on searching for a grand unifying theory, but it is no less true for that. But if you search hard enough for patterns, you'll discover them everywhere. It's a gift that sports fans and journalists share with conspiracy crackpots, which perhaps explains why the language in either case is so alike.
The second issue is that in being seduced by specious connections, one can consequently grow prescriptive. Thus some pundits, aware that Robin Soderling has never performed well at the Australian Open, fell over themselves to write the Swede off even as he claimed the Brisbane title and snatched the No.4 seeding. To them, Soderling's accumulated results pointed clearly to an underlying issue – which was never articulated very clearly – one which would again impair his progress. His fourth round loss to Alexandr Dolgopolov doubtless only buttressed this belief. But Soderling is so improved a player since 2009 Roland Garros that his results before that are almost meaningless, at least as a form guide. As well as coincidence, there is also such as thing as just having a bad day. Anyone who has played tennis knows that these can happen. Sometimes nothing works even with the best preparation in the world. Top players are better at managing it, but it's still a reality, and the margins are commensurately smaller. At this level, a day doesn't have to be very bad before it can't be worse.
I'll conclude this discussion – which is not really about Federer or Soderling -  in a forthcoming  entry. I'll look at some examples of patterns that are useful – many are – and explore how much we can realistically read into Federer losing four times after holding match points. That bit really will be about Federer.