Yet another week with three tournaments running concurrently, meaning that for the general tennis fan – whose interest begins and ends at the majors – there is a vast array of tennis to not get caught up in. Depending on how particular you are about the tennis you ignore, this week featured something for everyone.
ABN AMRO World Tennis Tournament, Rotterdam
If eschewing high quality tennis between big names is your thing, then Rotterdam was, as ever, the one to steer clear of. Judging by the deserted stands, the good burghers of Rotterdam felt the same and stayed away in droves. However, the problem with Rotterdam is that the names are big enough that the event almost intrudes into public awareness.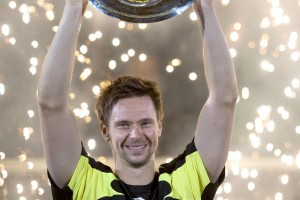 I actually caught a highlight of Robin Soderling beating Viktor Troicki on one of those late-night sports round up shows, presumably as desperate filler when no Premier League footballer disgraced himself that day, as unlikely as that sounds.
Soderling's first victory over the mercurial Philip Kohlschreiber was the match of the week (closely followed by Tomas Berdych's pulsating win over Dmitry Tursonov, still inching along that comeback trail). As with all of their encounters it crescendoed to a final set tiebreaker. Other firsts included Soderling defending a title for the first time, Troicki moving into the top 20, and Andy Murray playing when he should have been convalescing, and then losing to Marcos Baghdatis for the third time. He's never done that before. All told, it was the finest tournament played this week, and the extent to which no one watched it will be matched only by the thoroughness with which no one remembers it, given what was going down elsewhere.
Brasil Open, Costa do Sauipe
I am unsure how much faith to place in the propaganda shots put out by the ATP, in which half of Bahia apparently descended on Costa do Sauipe, then broke into impromptu carnival at the prospect of a 250 event rocking through town. The title sponsor being Gillette, there were plenty of photo-shoots involving the players shaving. In their spare moments they played tennis. Crowd shots suggested this part was almost as well attended as the spontaneous party erupting in the street outside. If this sounds like the kind of malarkey you can do without, then you could do worse than overlook the Brasil Open.
The anticipated rematch between Tommy Robredo and Fabio Fognini came to nothing. There is bad blood there, but none of it spilled onto the court. In winning, Robredo could summon nothing more piercing than a pointed 'Vamos'. As with Rotterdam, the top seed took the event. In Brazil that honour fell to Nicolas Almagro, who is looking like the best claycourter in the world, apart from the four or five guys who are too important to play events like this one. In the final he saw off the spirited and fascinating Alexandr Dolgopolov. It was Almagro's eighth career title, and Dolgopolov's first career final. Of all the young players coming through there are only two more eagerly watched than Dolgopolov. These are Grigor Dimitrov, who went out early in Rotterdam, and Milos Raonic, who won San Jose, which rather eclipsed Dolgopolov's achievement.
SAP Open, San Jose
The organisers of the SAP Open have proved to my satisfaction that an ice hockey stadium is an excellent place to store unused bleachers. Sadly, no one turned up to appreciate their effort,
which was a shame since had they done so, some of them might have noticed there was a tennis tournament on. Of the three events being mostly ignored around the world this week, San Jose is the one that will be remembered longest, which is ironic as it featured the least memorable tennis.
San Jose will be remembered because Juan Martin del Potro's comeback progressed to the semifinal, beating Lleyton Hewitt en route, who always paradoxically feels like he's both coming back and never away. James Blake is also coming back. He'll be coming back again in Memphis next week, where we'll be treated once more to his theory that the way to stop your shots going out is to hit them harder. It will be remembered by Fernando Verdasco for that first tiebreak in the final, when he blew four straight set points against a youngster in his first tour final, at the precisely the moment when an established top ten player should have slammed shut the door. It won't be remembered for Verdasco's refusal to shake the umpire's hand since, sadly, that seems to be happening all the time of late.
Mostly, though, it will be remembered for Milos Raonic, who claimed his first ATP title in just his eighth main draw appearance. Four weeks ago he was ranked 152nd in the world. He is now No.59, and moving fast. If, like the citizens of San Jose, you don't want to see more of this guy, don't watch this space.