Regions Morgan Keegan Championships, Memphis
Roddick d. Tipsarevic, 6/1 7/6
Hewitt d. Mannarino, 6/7 7/5 6/0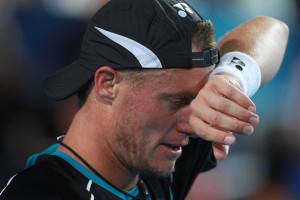 Only fifteen minutes and half a dozen break points into Lleyton Hewitt's torpid encounter with Adrian Mannarino, I realised I was no longer watching for pleasure. Granted, I had just endured Andy Roddick prevailing over an ailing Janko Tipsarevic, which wasn't exactly a hoot, either. On reflection, I can admit I haven't enjoyed watching either of them in years. For Roddick, it was tour win No.564. For Hewitt, No.546. That's pretty much what it felt like. I've seen it all before, a thousand times.
They've faced each other on rather fewer occasions: twelve, to be exact, with six wins apiece. They will now meet in the Memphis quarterfinals. Who will emerge from their crucial thirteenth encounter in the ascendancy? At what point will Roddick blow his top, and start haranguing an official? Today he kept us breathlessly expectant until the second set tiebreak, when a forehand was called wide. Roddick simultaneously leaped skyward and hurled his racquet court-ward, then marched chair-ward and explained to umpire Fergus Murphy that this was actually a really important point. Murphy conceded the magnitude of the moment, but still thought the ball was out. Along with atmosphere, Memphis also lacks Hawk-eye, so there was little Roddick could usefully add, though as ever, the moment to let the matter slide was ignored. Eventually the American regrouped, his histrionics having served their purpose, and he took the match a few points later. The crowd were delighted, so much so that they forgot to stay for the following match, which really could have used the life-support.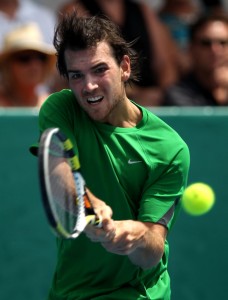 Mannarino is a pleasant-looking lad, the kind you might know yourself, the friend you hesitate to introduce to prospective love-interests. He'll never be leading man good-looking, but with luck he could snag a sitcom part. As for the rest of his game, well, it's one only a fan could love. His forehand and second serve in particular are neither appealing nor effective, atavistic throwbacks to that innocent era when even top players could be self-taught. Hewitt mostly dealt with the second serve by backing his wheelchair around to take it on the forehand, although when he attacked with the backhand he achieved broadly comparable results – the returns were marginally less penetrating, but they had virtue of being more in. The Australian dealt with Mannarino's awkward forehand not by attacking it – too obvious – but by largely avoiding it. Instead he fed balls to the Frenchman's stinging backhand. By the third set, his vision blurred by the dust of pulverised chances, even Mannarino's best shots could hardly find the court. It's just about possible that Hewitt knew what he was doing all along, but not likely.
It is a sure sign of Hewitt's decline that he is now often broken directly after he has failed to break his opponent. Great players know that even in failing to break, the pressure on their opponent accrues, the unlikely hold granting only a momentary surcease. The trick, following a squandered break opportunity, is to take care of business on your own serve, and then get back to it. Everyone cracks, eventually. Hewitt was handed break points as fast as he could grasp them, whereupon he would handle them warily, never quite surmising that they represented an opportunity to actually break serve. Having failed to break, it just seemed inevitable that he himself would lose serve shortly thereafter. The commentators termed this 'against the run of play' –  sounding shocked – but really mental lapses of this kind are no longer uncommon. To be a top player, you need to be brilliant or inexorable, and Hewitt was never brilliant. He was once inexorable, in his way, but he is not a top player any more.