Regions Morgan Keegan Championships, Memphis
Raonic d. Verdasco, 6/4 3/6 7/6
My resolution not to write about Milos Raonic again for a while has been rendered shaky by the fact that he keeps on winning. Efforts at slowing his progress have come to nothing, and there are only so many rock-jawed, flinty-eyed Spaniards we can fling into his path. Contrary to widespread perception, these are in finite supply.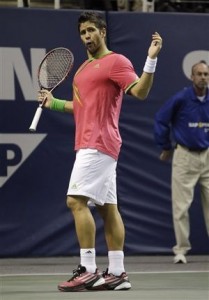 Come next year, the North American Spring tour could be seeing one less. There was surely a method in Fernando Verdasco's decision to play this little lead-up to Indian Wells – easy ranking points and a monopoly on the swooning lasses – but it's a method that now risks driving him to madness. In just three days, it's all blown up in his face, like a canister of hair spray left too near an open flame, a juxtaposition Verdasco surely knows to avoid.
Raonic's victory in San Jose was a stirring win – cringingly patriotic – but it was not without its qualifications, and consequently not without those bent on disqualifying it. Quibblers pointed to his semifinal walkover against Gael Monfils, and to that dolt who hollered out on championship point. In the dreadful metonymy of sporting parlance, San Jose raised a lot of question marks. Verdasco undoubtedly found Raonic's win about as convincing as his own defeat, which he seemed to believe should be laid at the feet of any number of people, though not his own.
But it is one of the amusing quirks of the ATP tour that players who have crossed paths only rarely (or never) can suddenly encounter one another every week. Revenge might be closer than you know. Three days after Verdasco suffered ignominy in California, he was drawn to meet the fey and wildcarded Raonic in Memphis, which is a nominally more prestigious bash insofar as there's better prize money, and more Andy Roddick. I wonder if Verdasco finds this amusingly quirky? Now that he has lost again, I'm guessing he does, and that nothing would delight him more than discussing it at length. Clearly he is inclined towards balanced post-match retrospection: 'For me that's not a real match in tennis. I hope to play soon against him in clay court to show him what it is to play tennis, and play rallies, and run, and not only serve.'
To Raonic's visible achievements, which are already considerable, we can now add the secret miracle of breaking his opponent's serve using nothing but his own. There's doubtless an unfunny Chuck Norris formulation to be fashioned from that. If Verdasco is saying that he is a better clay-courter than Raonic, then he isn't saying much. If he's saying that clay court tennis is more real than the varieties practiced on other surfaces, then he's saying rather a lot, but mostly it is rubbish. Either way, it begs the question, why is he in North American at all? There's a perfectly serviceable clay swing under way in the antipodes, with no dearth of rock-jawed Spaniards boasting pissweak serves and extravagant musculature, toiling mightily at their real tennis.
Update from the Memphis 2nd round: Milos Raonic d. Radek Stepanek, 6/4 6/7 7/6. I've only seen highlights, but the Canadian squandered four match points in the second set tiebreak, and served 38 aces for the match, an astonishing number for a best-of-three set match (4th highest of all time).