Australian Open, Fourth Round
Wawrinka d. Roddick, 6/3 6/4 6/4
Aficionados of tennis demolition hold the 2007 Australian Open semifinal between Roger Federer and Andy Roddick in stratospheric regard. Undoubtedly, Federer has dished out more comprehensive hidings – the 2004 US Open final leaps to mind – but there was just something about this one that really cements its place among the Great Shellackings. Perhaps it was Roddick's win over Federer in the meaningless Kooyong event a few weeks earlier, and the cloying commentary that the 'gap had closed'. The match itself started auspiciously, and until 4/4 in the first set there was no way to anticipate what was about to happen. What did happen is now part of the folklore, and startled even Federer, who admitted afterwards: 'I had one of these days when everything worked. I was unbeatable. I was playing out of my mind. I am shocked myself . . . I've played good matches here, but never really almost destroyed somebody.' The most telling stat? Federer hit as many winners (45) as Roddick won points. For a certain variety of tennis fan, this was as good as it gets.
This type of fan was probably hoping somewhere in their hearts that Roddick would find a way to overcome Stanislas Wawrinka tonight. I am not unsympathetic to this point of view, notwithstanding the fact that if I was compelled to compile a list I would name Wawrinka among my favourite players. The reason, mainly, is that I'm going to be at Rod Laver Arena on Tuesday. I've watched Federer live any number of times, but, sadly, I've never witnessed him dish out a comprehensive beat-down. It's something I'm hoping to see before I die. Given the thoroughness of Wawrinka's effort tonight, it's not a treat I'm likely to be enjoying soon. Federer will need to lift just to win.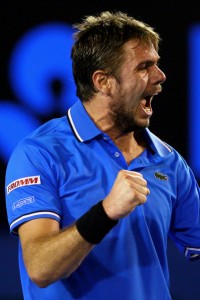 Andy Roddick is now held in such low regard by some that praising him can feel like willful perversity. I like the guy, but I can see their point. His matches are frankly boring, mostly for the way that any point extending beyond that first decisive strike tends to unfurl gradually outward without almost any appreciable tautness. Just tuning in to watch feels like a duty; his Grand Slam campaigns feel like tours of duty. As a defender, he lacks the tenacity of Hewitt, the audacity of Nadal, or the virtuosity of Murray. He is merely desperate and ornery. Beyond that, however, even beyond the increasingly frequent and self-defeating tantrums, he is just so frustrating. There was a time when his game was synonymous with excitement. Think back to the 2003 US Open final, when he blew Juan Carlos Ferrero off the court. Now the only thing exciting about his game is when someone dismantles it as expertly as Wawrinka did. If the point was to see a Swiss dude break Roddick's heart, I suppose that would be enough, but that isn't the point at all.
The point is that with Andy Roddick up the other end, watching Roger Federer can become an aesthetic experience seen nowhere else in tennis. Maybe next time.