Australian Open, Fourth Round
Full steam into Day 8 of the Australian Open, where a titanic whirlpool of predictability threatened to suck us down. A still-recovering Rafael Nadal would be pushed by Marin Cilic, as would Andy Murray by the dangerous Jurgen Melzer. How each of them navigated these reefs would have a strong bearing on how they fared further into the tournament, especially as Murray would next be facing the very dangerous Robin Soderling, a shoe-in over an overwhelmed Alexandr Dolgopolov. The only result that was in serious doubt was David Ferrer's, who might well be troubled by the young Canadian Milos Raonic.
It didn't work out that way.
Dolgopolov d. Soderling, 1/6 6/3 6/1 4/6 6/2
I still don't know why some people back Soderling to win majors. The best explanation I can dredge up is that they fancy themselves as cool-hunters, and are determined to be in on the next big craze from the outset. Last year it was ironic yo-yos and whatever came after Twitter, this year it's taciturn Swedes. Lock it in. Sadly, Soderling put in his usual quarterfinal effort, one round early, for some a premature capitulation, meaning he left too soon. For his part, Dolgopolov was a revelation, quite literally for some. For those late to the party, he's a crafty young Ukrainian. Channel 7, unhinged by the dearth of top-line local tennis talent, has made a great deal of the role his Australian coach has played. Against his will, he is now Aussie Alexandr, which rolls off the tongue like the drool of someone lobotomised by the coverage.
Murray d. Melzer, 6/3 6/1 6/1
Dolgopolov will play Murray in the quarterfinal, who overcame Melzer in a match that was clinical, meaning it was as about as fun as any other visit to a clinic. Murray was peerless and the Austrian was hopeless. The only interesting moment came afterwards, when Jim Courier was put in his place by a dispeptic Billy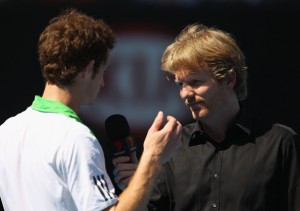 Connolly, who'd apparently come to the tennis to watch tennis, and not be engaged in a pointless media stunt. Ambushed with a microphone, and invited to put some questions to Murray, all we received was an ominous, rumbling burr: "Leave me alone!". Wisely, Courier left him alone.
Nadal d. Cilic, 6/2 6/4 6/3
Fans have marvelled at Cilic's resurgence. He has so far looked almost like that guy from last year's Australian Open, the one who battled through to the semifinals. Tonight he looked more like the guy who barely won consecutive matches for about seven months. Nadal looked like Nadal, and played like him, too, which is a pronounced improvement over his performance the round before. This was the world No.1, and he was terrifyingly good.
The rest of the field is officially on notice.