More statistical shenanigans today. Here are the players who have gained the most points in the last twelve months. The usual caveat applies: tennis stats and socialising don't mix.
Rafael Nadal     -3245 pts
Tomas Berdych    -2300 pts
Robin Soderling    -2170 pts
David Ferrer    -1865 pts
Jurgen Melzer    -1525 pts
Mikhail Youzhny    -1230 pts
Mardy Fish    -1201 pts
Ernests Gulbis    -950 pts
Michael Llodra    -926 pts
Nicolas Almagro    -855 pts
On the face of it, this list should tell us who is most sharply on the up-and-up. However, the dull miracle of sporting cliché reminds us that even a week is a long time. A year is 52 times as long as that, which puts it somewhere close to an eternity, or an evening watching Two and a Half Men. Realistically, this list – which doesn't actually stop at 10 – tells us both who is up-and-coming (Gulbis), who is merely recovering from a sub-par 2009 (Ferrer), and who is finally getting their shit together (Fish, Melzer). There's also Rafael Nadal, but only one person gets to be him. There's a theoretical ceiling on how many ranking points a player can actually accrue, although if the world No.1 takes the Australian Open he'll be closer to making it more actual than theoretical.
Tomas Berdych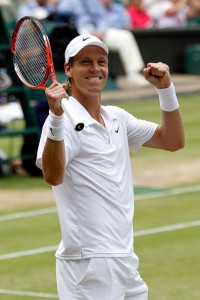 This time last year Tomas Berdych was perched at No.20 in the world. It was a ranking that belied his obvious talent (let's call being 6'5'' a talent), but was generous regarding his notable shortcomings. In other words, it felt about right.
Prior to Miami in late March, Berdych had amassed a grand total of 1,760 points, having achieved little of note in the year to date. Fortuitously, he had also achieved very little in the year before, either, meaning he had precious few points to defend. He then embarked upon a bit of a tear, reaching the final in Miami – defeating Federer en route – before putting together the kind of clay season that an accomplished journeyman might not be ashamed of. He arrived in Paris with an 8-3 record, and then came within a whisker of earning the privilege of being thrashed by Rafael Nadal in the Roland Garros final. Scant weeks later he did progress to the final of Wimbledon, whereupon he was thrashed by Nadal. This was apparently a life-goal of some kind, because, having attained it, he barely won anything else for the rest of the year. Since Michael Llodra bundled him out of the US Open in the first round, he's gone 4-11. He may be ranked No.6, but he is certainly not the sixth best player in the world. Twentieth feels about right.
Berdych's ascent is nothing if not a testament to the relative dearth of points in the 20-30 range. Marcos Baghdatis currently sits at No.20, with 1,785 points. In 2006 – his breakout year – the burly Cypriot made it to both a major final (Australian Open) and a semifinal (Wimbledon). If he repeats that next year, he'll doubtless find himself in the top 8, cannon fodder in London come November. For the record, I am predicting that won't occur.
Mikhail Youzhny
Had Novak Djokovic pulled out of a match at this year's US Open, he would have completed the rare achievement of the Career Default Grand Slam. For all I know, he might have been the first. He has a reputation – warranted, if now dated – for soft defaults, with the wimpiest examples being blisters at Wimbledon and heat at the Australian Open, when he was defending champion. This year Mikhail Youzhny has demonstrated – to my satisfaction, at least – that Djokovic's real
error has been to default at the pointier end of majors, when everyone is watching. The trick is to do it at the little tournaments, or in an early round. Youzhny has defaulted from three events this year, and withdrawn on the eve of a fourth at which he was defending champion. The first couple were at the beginning of the year (Australian Open and Rotterdam), while the others were in the last few events of the year (Moscow and Bercy). To my lasting outrage, no one seems to care, including Novak Djokovic.
In between all this quitting, Youzhny managed to put together a season that was notable for its consistency, with the highlights being titles in Munich and Kuala Lumpur, running-up in Rotterdam, Dubai and St Petersburg, and a run to the semifinal of the US Open (whereupon he was thrashed by Nadal). He spent some moments back in the top 8, and has looked consistently threatening. Indeed, for a guy without conspicuous weapons, he is a dangerous and entertaining player. Sometimes, it true, his main danger is to himself, although that too can be morbidly entertaining. It's good to see The Colonel return to the top ten.