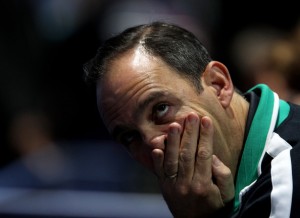 Paul Annacone now coaches Roger Federer, who is 29 years old. Annacone originally coached Pete Sampras, who at one point was also 29. The parallel is uncanny, irrefutable, yet when Annacone is invited to compare Federer with Sampras – and he often is – he has the gall to insist there is no comparison to be made. Despite numbering among the world's foremost experts on 29-year-old tennis legends, few in the media buy his response, which is why they persist with the question. Presumably this will go on until Annacone eventually cracks, and admits whatever it is he's supposed to admit.
By Annacone's reckoning, Sampras at 29 was running on fumes. More than half a decade of near-complete dominance has clearly worn more gently on Federer than on Pistol Pete, and according to his new coach he remains as fresh and committed as ever. I see no reason to doubt this assessment, and Federer's results in the season's second half bear it out. The Wall St Journal summed it up nicely:
'Nearly the entire second half of the season is spent on hardcourts, and during that span this year, Federer arguably was as good as Nadal. Though it was Nadal who lifted the U.S. Open trophy, Federer won four titles and went 34-4 after Wimbledon, reaching the semifinals or better in all eight tournaments he entered. He held multiple match points in two of his losses. And, most impressively, he wasn't playing an easy schedule during that span. He won 13 of 16 matches against players ranked in the top 10, including nine victories against fellow top-five players Nadal, Novak Djokovic, Andy Murray and Robin Soderling. In less than five months, Federer had more wins over top-10 players than Nadal had all year, and the same number he and Nadal had last year.'
It is customary to gain a significant 'bounce' upon hiring a new coach (Roddick structures his coach-acquisitions accordingly), but I'm surprised Federer's game responded so favourably. Initially, there was much chatter of Annacone bringing a 'new' aggression to Federer's immaculate game. For a long time, I couldn't see it. I saw plenty of the old aggression, but there was nothing I hadn't seen before. Federer is pretty attacking even at the worst of times. Then, after nearly 18 months in which they'd sparred only once, Federer finally came face to face with Rafael Nadal, in the final match of the ATP season.
Nadal, like Andre Agassi, structures his game around several extraordinarily effective patterns of play, patterns that aim gradually to compromise the opponent's court position (or in Agassi-parlance, gain 'progress'). Agassi's uncanny hand-eye coordination and compact technique enabled him to camp in the middle of the baseline and jerk the opponent left to right until he could put the ball away, or until he earned an error. To quote Sampras, once the pattern was established it was 'time to lace up the runners'. Nadal's unusual lefty forehand, with its ferocious topspin, enables him to loop the ball ever wider and deeper to the right-hander's backhand, until he is gifted a juicy ball he can run around and drill into the open court, his exhausted opponent nowhere in sight. During the World Tour Finals Robbie Koenig related an astute piece of analysis from Manolo Santana, who suggests that whenever Nadal gets to hit three forehands in a row, it is game over for his opponent. The concept of the three-forehand sequence succinctly captures how Nadal's game is designed as a basic real estate battle.
When Sampras played Agassi, at his best, he flat out refused to submit. The moment a rally looked like bending to Agassi's will, Sampras would pull the trigger, no matter where he was. He might not hit a winner, but the point was back on his terms, and his superior athleticism allowed him to win a more fractured, all-court rally. Nadal's set play is at once more one-dimensional and more effective than Agassi's, since the only reliable way to counteract it is to have a truly world class two-handed backhand. Murray, Nalbandian and Djokovic aren't in the least intimidated by his cross-court forehand, and Nadal must consequently play with considerably more variation. Federer has a truly world-class one-hander, but it is notoriously not up to the task. Their rivalry has been analysed exhaustively, and this is the basic mechanic that everyone returns to. His losing record against Nadal is testament to his ultimate failure to overcome Nadal's set play. Even on Federer's preferred hardcourts, he is only even with the Spaniard.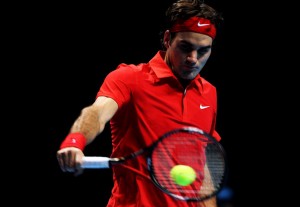 The World Tour Final was different. This was Federer in Sampras-mode, flatly refusing to be drawn into extended rallies, to submit to Nadal's terms. His backhand was superb, and he was not shy about launching it up the line, even from very awkward positions. Nadal could almost never get set, and begin that three-forehand sequence. Although the tennis was brilliant, there were relatively few extended rallies (although the few they did have were even more brilliant). The look on Nadal's face said it all. He didn't look defeated during the first or third sets – he never does – but he did look perplexed. Coupled with Federer's near-impenetrability on serve, Federer's refusal to play properly saw Nadal's game grow less structured as the match wore on.* It is hard to avoid that conclusion that this was the patented new aggression that Annacone was inspiring in Federer's game. The similarity to Sampras' style was not a coincidence. It was, in fact, fundamental. It seems there is a comparison to be made after all.
* Federer's serving deserves a seperate analysis. How supreme was the wide one to the first court? It was almost comically relentless, with just enough of his preferred deliveries up the middle to keep Nadal from camping the slider.