Only 24 years of age, Rafael Nadal has for some years been marching inexorably towards greatness, and in 2010 his march gained pace. He is ranked No.1 in the world, and will remain there until at least the middle of next year, and probably for a lot longer than that. This year he won seven tournaments, including three majors and three Masters. He became only the fourth man in the Open Era to achieve the career Grand Slam, and the first man in history to complete the clay court sweep. It was the career year in a career that has known no other kind. Why, then, didn't it feel more exciting?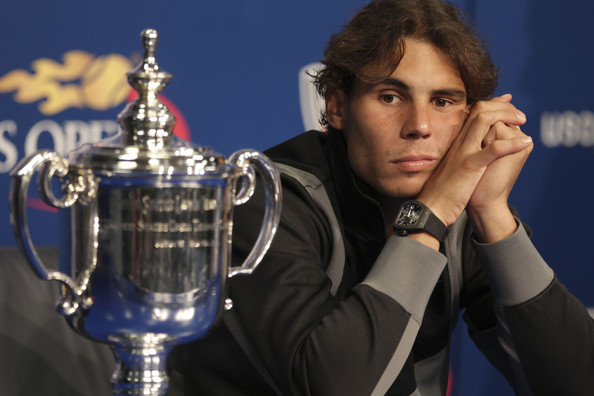 In the evolution of men's tennis, Roger Federer was inevitable. Given time, the sport would one day turn out a player with his gifts. An improved version will doubtless come along eventually, five or a hundred years from now, perhaps left-handed, with a bigger serve. Nadal, on the other hand, was not inevitable. He didn't exist, and needed to be created. He does not represent a natural evolution of the sport, so much as a human inclination to tinker with evolution, to get ahead of the game. Part of the wonder is that Uncle Toni's engineering produced so impressive a tennis player. The greater wonder still is that the result is such a fine young man, effortlessly grounded and empathetic despite his ferocious will and phenomenal early success. He was not inevitable, although the argument can be made that he was necessary. Tennis is undeniably richer for having him play it.
Necessary or not, he is inexorable, in much the same way gravity is, and in a way that Federer is not. This quality forms the cornerstone of his entire game. No one can fight gravity forever, and only the most gifted or inspired tennis players can resist Nadal for long. Of course, that's not the whole story, and for casual fans it isn't the story at all. Nadal may win most of his matches like that, but not his most famous ones. Relentlessness may be the thing to know about him, but it's not the thing about him that everyone knows.
The enduring and popular image of Nadal is of the unstoppable warrior – el guerrero imparable – marshalling depleted reserves to gain desperate triumphs deep in final sets. If Federer plays tennis as the gods might, Nadal is the mortal who would storm heaven and throw down the gods themselves. His struggles are human struggles, and never more so than when the effort is superhuman. The 2009 Australian Open and the 2006 Rome final are my favourite examples, although everyone surely has their own. His zealous fans may disagree – fans like that are often happy to see their favourites progress via walkover – but for the general tennis fan, moments such as these form the essence of Nadal's popularity. No one expects it every time he steps out on court, but we do hope for it at least a few times in a year in which he claims three majors. As it happened, it happened only once, in beating Murray at the Tour Finals, in what was for me the match of the year. Otherwise, when Nadal was challenged this year, he lost. Think of Roddick in Miami, or Melzer in Shanghai.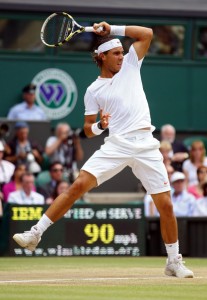 If 2010 has demonstrated nothing else, it is that watching Nadal cruise to certain victory is no more interesting than watching Agassi do it. Despite shapely buttocks, Nadal is less attractive going away. He is best viewed from front on, with his back against the wall. Tennis players as supremely skilled as he can of course make any opponent look like a duffer, but for the most part, he didn't need to. When it mattered most, at the sharpest ends of the Grand Slam draws, his opponents were willing to do it themselves. The Berdych who swept past Federer and Djokovic was absent for the Wimbledon final. Soderling, in his second straight Roland Garros final, managed to look almost as overwhelmed as he had against Federer the year before. Only Djokovic in the US Open final stepped up, although the energy he'd harnessed in his supercharged encounter with Federer had mostly dissipated.  Nadal was superb in patches, but only as superb as he needed to be. For the most part, being like gravity was enough.
It's probably an unpopular view, and not likely to endear me to the most rampant of Nadal's fans. (Lest those irksome Federer zealots grow smug, I should point out that Federer benefited in precisely the same way in this year's Australian Open. He played exquisitely, to be sure, but he probably would have won playing worse.) The long term view is that Nadal is a stupendous tennis player, destined to retire as one of the greatest, and that there will be times when it comes easier than others. We certainly cannot begrudge him that. When you have toiled this mightily, the odd gimme is deserved.
But it's not exciting. I'm being selfish of course, but I hope 2011 brings sterner challenges.