Roddick d. Gulbis, 6/3 7/6
After some weeks devoid of almost any discernible suspense, the eight qualifiers for the World Tour Finals have been decided. In the end it all came in a flurry, and panned out exactly as expected. I'd like to boast that I predicted it, but I assume everyone did. Roddick, Berdych and Ferrer are in. Verdasco and Melzer aren't. As with Soderling a few weeks back, Berdych and Ferrer qualified for London on a day when they lost. I'm well aware that qualification for London reflects your performance throughout the whole year, but it still seems fitting. Of the three, only Roddick – poor, pedestrian Roddick – actually posted a win today.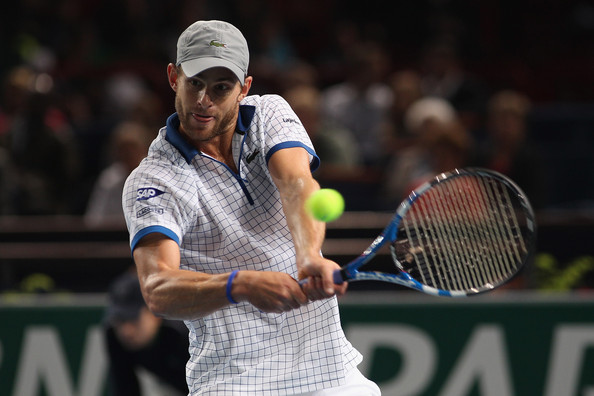 As it happened, Roddick proved far too professional for an erratic Ernests Gulbis. 'Professional', used in this context, may seem kind of synonymous with 'pusher', but I think that's unfair to Roddick. He has shown enough times in the last few weeks that he's perfectly capable of stepping it up when the situation calls for it (notwithstanding some limp-noodle flailing against Federer last week). The situation against Gulbis certainly didn't call for it. Roddick is 'professional', then, not because he pushed, but because he read the matchup perfectly, and stuck to his plan, even when the big Latvian looked like taking the match away in the breaker. I think it's time to acknowledge that there's an almost heroic quality to Roddick's restraint. It's not like he can't hit a big forehand when he wants to, but he's learnt from long experience and a line of illustrious coaches that the percentage play against streaky opponents is to keep it steady, and keep it in. (As I write that, I picture Gandalf's urgent whisper: "Keep it steady. Keep it in!") I used to marvel at the persistence of, say, Patrick Rafter charging the net against Andre Agassi, and wonder how he could keep it up after enduring so many devastating passes. A lesser man would surely crumble, and resort to Plans B through Q, however ludicrous they might be. But Rafter knew that he was going to get passed, and he knew where the percentages lay. Similarly, Roddick knows that a shotmaker is going to run cold and hot, and that the hot streaks just have to be weathered. And let's not forget that he has the biggest serve the world has ever seen, and bombs it in at 81%. That's a percentage play, right there.
There are some that now mention Gulbis alongside Nalbandian or Gasquet (or even, gasp, Safin), but that's a bit premature. It takes years of not delivering on early promise to earn that comparison. Was he featured on the cover of any national publications at age nine, and loudly proclaimed the future of Latvian tennis? Did he once hold a 5-0 head-to-head against Roger Federer (or the current equivalent, um, Roger Federer)? From what I've seen of Ernests Gulbis, he is actually playing as well as he can. Tennis is not just about hitting the ball well. It's also about mental strength, and hitting the ball in. The problem is that we view talented ball strikers as somehow defective if they can't get their heads together. Our expectations for them are sky-high. Conversely, a tactically-aware, mentally-strong guy with limited firepower is applauded for just making the top 50. It's an issue I'm keen to expand on another time, but for now I'll say it comes down to how we value talent over mere hard work, regardless of the egalitarian promise of the latter, and the inherent elitism of the former.
Melzer d. Ferrer, 7/6 2/6 6/3
Incidentally, Roddick's win means Jurgen Melzer can't qualify for London, even if he wins Paris. He probably won't anyway, though he did post a fine win today over David Ferrer. He's through to the quarterfinals, and earns the privilege of facing his good friend Federer for the third time this year, after having not crossed paths in match play for the first decade of their pro careers.
Davydenko d. Berdych, 4/6 7/6 6/0
Tomas Berdych went down to Nikolay Davydenko, 4/6 7/6 6/0, a scoreline that ably illustrates how the match went. Don't you love it when that happens? It may be premature to lump Gulbis with Gasquet or Nalbandian, but Berdych feels about right: a big guy with the capacity to beat anyone on a given day, and lose to everyone on every other day. Several times in the second set he was within two points of the match, which is exactly half as many points as he won in the third. Look out for him in London, where his role will be to stuff up any easy predictions.
Monfils d. Verdasco, 6/7 7/6 7/5
Fernando Verdasco fell to Gael Monfils in a tight affair that was pretty entertaining despite the efforts of both players. Monfils remains on track to claim the title, and thereby punish me for momentarily hoping he would.
Llodra d. Djokovic, 7/6 6/2
The other interesting result was Michael Llodra's upset of defending champion Novak Djokovic, which has no ramifications for London, but could affect the Davis Cup final. Still, one result on a slick hometown hardcourt in Paris might not inspire Guy Forget to pick Llodra for singles duty, but then, with Tsonga out, he may have no choice. Simon? Gasquet?