Clement d. Lopez, 6/7 7/6 6/3
The more I contemplate depressing tennis careers – and I'm compiling a post on it, though it's really crying out for a gritty miniseries – the more names I feel compelled to add. The latest is Arnaud Clement. He was runner-up at the 2001 Australian Open. Nearly ten years later, 32 years old, he's losing in the first round of Challengers. Coming into Paris he's won just one match at tour level since the US Open. Now he's won another one, over Feliciano Lopez, who has also fallen on hard times.
Based on their form, the match did not surprise. Nor did it delight. According to the headline on the ATP website, they produced 52 aces between them. Clement is 5'8", and serves like it, yet he managed 22 aces and did not face a break point all night. Lopez was not effective on return.
Gasquet d. Mahut, 7/5 4/6 7/6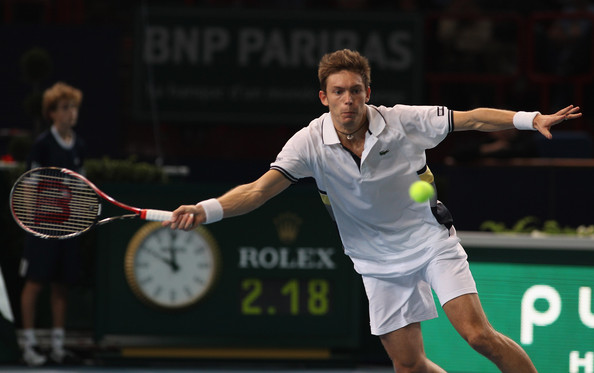 Nicolas Mahut is of course renowned for not winning the most absurd match in history, the one between John Isner and that other guy. Mahut is that other guy. Richard Gasquet, as I suggested last week, is famous for making David Nalbandian look like an overachiever. He posted an unconvincing win today – a lucky win – though that's an improvement over the gorgeous losses he often produces. It was another heart-breaking first round loss for Mahut, but that's kind of become his thing. He'll now probably have to qualify for the Australian Open come January. For his sins, Gasquet gets to play Roger Federer in the second round.