Kukushkin d. Youzhny, 6/3 7/6

Melzer d. Haider-Maurer, 6/7 7/6 6/4
Monfils d. Ljubicic, 6/2 5/7 6/1

"Today I was again very solid I think in my game, but also emotionally. I am extremely happy about the title, about my concentration throughout the week and about the level of my game. I feel I have been working on many things on and off the court and the results are now showing. It was a fantastic event, I felt really comfortable over here from the first day. I really hope to be able to come back next year." Stirring words, straight from the ATP Media Relations Song Book. When the time comes for ATP: The Opera to be unleashed, they'll doubtless make a smashing aria. In the meantime, I defy anyone to guess which of today's three title-winners uttered them.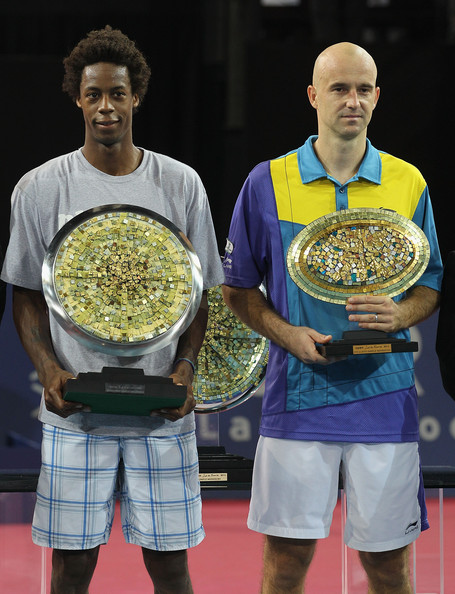 Youzhny was upset in St Petersburg, Melzer was nearly upset in Vienna, and I was vaguely upset here in Melbourne at seeing Monfils overcome a tired-looking Ljubicic in Montpellier. Several weeks ago I essayed the seemingly quixotic suggestion that Gael Monfils might take Paris, or something to that effect. Well, he's now hitting form, and I could well be in for a lesson in being careful what I wish for. From now on I'll be ratcheting up the outrageousness of my outrageous suggestions, lest any actually come true. You see, I've stared into the abyss – of course, it stared back – and I realised I'd rather Monfils didn't win Paris.
European indoor tournaments have long been renowned for their ridiculous trophies, and Montpellier, the newest event on the block, does not disappoint. What variety of luggage do players haul around in preparation for these tournaments? Ljubicic's runner-up platter seems uncannily similar to Monfils', which is unfortunate since the players are already so hard to tell apart.