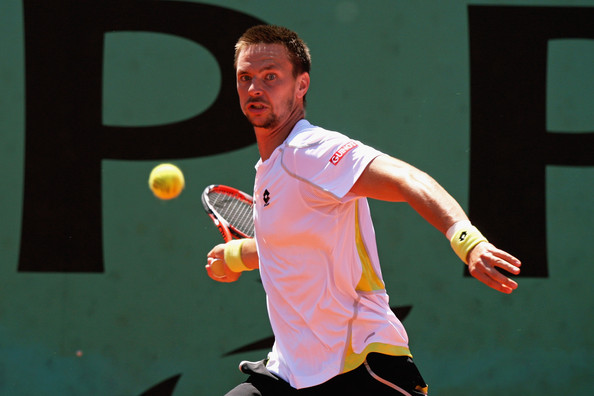 Robin Soderling has now qualified for the ATP World Tour Finals – the unfortunately acronymed WTF – for the second year in a row. He is the world No.5, and his name is invariably in the mix when the big events are previewed. Some even installed him as the favourite at the US Open.
Yet for all that, I have to ask: Why? What has Robin Soderling really done to deserve consideration, let alone favouritism? Isn't he really just the best of rest, leading a second tier that's looking decidedly third-rate? Frankly it felt fitting that in the end Soderling qualified for the WTF due to poor performances from the other contenders, on the very day he folded meekly to Florian Mayer in Stockholm.
When Soderling defeated Rafael Nadal at Roland Garros in 2009 – to date the only man to do so – it sent a profound shock through men's tennis. (When Rafael Nadal defeated Robin Soderling 1 and 0 at the Rome Masters a few weeks earlier, it didn't.) It ended Nadal's bid for a fifth consecutive French Open, and set in motion a chain of events that would see the Spaniard relinquish his No.1 ranking. When Soderling beat defending champion Federer in the quarterfinal of the 2010 French Open, it was similarly momentous: it ended Federer's absurd run of 150,000 consecutive Grand Slam semifinals, and – when Nadal inevitably won the title later that week and reclaimed the top spot – it left the Swiss one agonising week short of Sampras' record for most weeks at No.1. In both cases, Soderling played great, and totally deserved to win. But regardless of how well he played, the momentousness of each win had little to do with the Swede or his performance, and everything to do with the historical runs he ended.
Since those losses, both Nadal and Federer have each beaten Soderling twice, all on relatively important occasions. Nadal beat him in the Roland Garros final and Wimbledon quarterfinal, while Federer took him out in the US Open quarterfinal and thrashed him in the quarters of the Shanghai Masters. They have won those four matches for the combined loss of one set. You cannot reasonably call this a rivalry.
Since ascending to the near-heights of the men's tour some 16 months ago Soderling has won exactly two titles: the very-scenic-but-not-terribly-important 250 event at Bastad, and the somewhat more prestigious 500 tournament in Rotterdam. Indeed, if we exclude his two runs to the French Open finals, his career results begin to look pretty sparse. He has never progressed to the semifinals of another Grand Slam, and he has never made it to the final of a Master Series event. And this is the world No.5.
Part of the problem – and it has been an issue for some years now – is that there are only a finite number of points to go around, and the guys at the top are so consistently dominant that they tend to hog most of them. Nadal and Federer both have the capacity to hoover up many of the big point-hauls, and Djokovic and Murray tend to grab whatever is left. Relatively little is is left for everyone else. If nothing else, Soderling is living proof that you can earn a very high ranking without winning anything of note, or even getting to any finals (Roland Garros excepted).
2005 was a striking example of this. Federer and Nadal between them captured 3 of the 4 Grand Slams, and 8 of the 9 Masters Series events. Federer also lost in the final of the Masters Cup. That's a lot of ranking points shared between just two guys. Now, of the players who won the other events, Safin (Australian Open) finished at No.12, Nalbandian (TMC) at No.6, and Berdych (Paris Indoors) at No.25 . This left us in the vaguely ridiculous situation where most of the top 10 – including Hewitt, Agassi, Davydenko and Roddick – basically won nothing that mattered. The situation was much the same in 2006, only this time 'Fedal' took out all four Slams, 6 of the 9 Masters Series, and the TMC. If we think of ranking points as sunlight, and Federer and Nadal as big shady trees . . . well, you get the picture.
There is another issue at play here, namely, injuries to the premier players of the second tier: Davydenko, del Potro and Roddick. Before he was injured, del Potro was at No.4, and there was a widespread belief that he could really take it to Nadal and Federer. Davydenko finished 2009 in glorious form, capturing the Tour Finals and his third Masters Shield in Shanghai. (His good form continued into 2010, right up until exactly 3-1 in the second set of the Australian Open quarterfinals.) Roddick enjoyed a stellar few weeks in the US spring, but has since been underwhelming, and not helped by contracting glandular fever and seriously injuring his leg in Shanghai. If we were to chart tennis ability and results on a graph, these three helped produce a relatively smooth curve between the Big Four and the streaky headcases and inspired journeymen milling about between 10 and 20. Their injuries have left a vacuum, which is why we see Soderling, Berdych and co. rising up the rankings, despite not really being much better than they were a year ago, and certainly not by winning anything.
Now, if Soderling was to start winning titles, this is the time to do it. We're endlessly reminded that the European indoors is his place to shine, where his stratospheric ball-toss is at less risk from passing comets, and his windmilling forehand is less affected by, well, wind. Four of his five titles have come in Europe, indoors.
Now don't get me wrong, I actually like the guy. I want to see him do well. Imagine if he won at Bercy? Then we'd really be thinking WTF.