Indian Wells Masters 1000, Final
(2) Djokovic d. (7) Federer, 3/6 6/3 7/6
Novak Djokovic has won the 2014 Indian Wells Masters, embedding himself even more firmly in that group of men who're able to generate endless copy thanks to their records alone. With the great champions, it gets to a point where you can find yourself just going on about the numbers. Arguably the greatest of these was across the net for today's final, and looked for a time as though he would be the man to triumph again, thus incrementally improving many of the various records he already owns. In the end, but only in the end, Djokovic held off the resurgent Roger Federer to claim his third consecutive Masters 1000 title, going back through the Paris Indoors and Shanghai last year.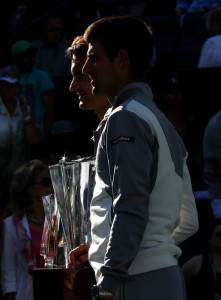 It is also his third Indian Wells title, and seventeenth Masters title overall, and places him equal-third with Andre Agassi on the all-time leader board. As I say, eventually the numbers speak for themselves.
Aside from the final, the story of the tournament was surely Alexandr Dolgopolov. He startled everyone by beating Rafael Nadal in a third set tiebreaker, then delivered an arguably more profound shock by not going down meekly in the following round. I have no statistics to hand, but it has become standard practice to follow up a stunning upset with a dismal loss. Ever the iconoclast, Dolgopolov continued to outpace custom by handily upending Fabio Fognini and Milos Raonic, both in straight sets. Custom finally caught up with him in his first Masters semifinal, when the shreds he was blown to by Federer's artillery whipped fitfully in the insistent breeze. Nevertheless, the Ukrainian's ranking has risen from No.31 to No.23, with almost nothing to defend for the foreseeable future. Higher seedings beckon, but he'll always be a dangerous floater. Being Dolgopolov, there's no sound reason to believe that three strong tournaments in a row and a win over Nadal necessarily means anything has changed. All in all, enjoy him for what he is worth, for you'll rarely see his like.
Reaching the final guaranteed Federer's re-ascent to the top five, while a victory in the final would have enabled him to leap over David Ferrer into the top four. Alas, he lost, and languishes about a hundred points adrift. The odds are strong that he will return sooner rather than later, however, a point Barry Cowan laboured exhaustively. Ferrer has finalist points to defend in Miami next week, and one doubts, given his injuries, whether his defence will be sufficiently stout to prevent a tumble from the elite group. Federer didn't play Miami last year, and thus would likely return to the top four even if he skipped it again this year, an amusing yet not especially significant quirk of the fifty-two week ranking system.
Andy Murray, currently ranked at number six, will seek to defend the Miami title. After yet another disappointing performance at Indian Wells – he fell to Raonic with all due fuss – it would be easy enough to insist the Scot won't fare any better in Miami than Ferrer. But there's just no knowing what Murray will do at the moment. At least his perennially execrable level in California no longer presages similar form in Florida. All that is certain is that his return from surgery has been less smooth than had been anticipated. With the clay season about to commence, now would be a good time to give up expecting too much for a while. Let any strong results be a pleasant surprise. Come Wimbledon there'll be ample opportunity to pile the pressure back on.
There was a time when John Isner was considered to be his nation's sturdiest hope on clay, based largely on a few strong Davis Cup performances and once taking Nadal to five sets at Roland Garros. This probably revealed more about America's bleak chances on dirt than anything about Isner's actually prowess (as an Australian I'm hardly crowing from the high ground). Indian Wells, however, seems to suit him well. Mechanically, it's no stretch to see why. The thin air and grippy surface combine to render one of the sport's mightiest weapons if anything more potent: it cuts through the air faster, and explodes off the surface. The desperate home crowd support certainly doesn't hurt, as opposed to Miami, where North American players come a distant second to South American ones. Nor does the best-of-three format hurt, which limits the opportunities for Isner to indulge in his self-defeating passion for endless exertion.
Still, the stark spectre of impending national irrelevance haunts the US men at every home tournament these days. They (and therefore we) are constantly reminded that for the first time no US male might, say, make it to the third round, or be seeded, or ranked in the top twenty. (Again, it's a wide trail the Australian men blazed years ago.) It usually falls to Isner to save the day, and often he does. Once the smoke has cleared, and Ryan Harrison has provided a meticulous explanation for his latest early round loss, Isner is generally the last one towering, toiling away, interleaving all-American service games with a return style so passive it induces Gilles Simon to yawn. He's a mystery. Sometimes he perks up and blasts a few big forehand returns, but never for long. Djokovic was less than thrilled when Isner pulled this trick several times as the Serb tried to serve out their semifinal yesterday. Isner then tore through the second set tiebreak, briefly twitterpating the locals. Djokovic only had himself to blame. Once he'd finished admonishing himself he pushed through the third set without hassle. Djokovic hasn't played well all week, but he has been very good at maintaining his equilibrium. This more than anything is probably why he's the one hoisting the trophy.
Calmness was fundamental again today in the key moments. There were the usual assortment of bellows, exultant or frustrated as the situation allowed, but when the match coiled tightest he was a picture of equanimity. After a patchy first set, in which Federer played all over him, Djokovic tightened his game up considerably in the second set, doubtless in the hope that if he hung around long enough something fruitful might eventuate. He was rewarded by a poor service game from Federer at 3/4, broke, and then served out the set. He broke early in the third set when Federer's forehand went momentarily haywire, and rode that almost until the end. As with Isner in the semifinal, however, Djokovic was broken while serving for the match, this time at 5/4. If he erred in this case, though, it was only in attempting greater margin. Federer put together his finest return game of the match, broke lustily to 15, and then held once more to love. From 3/5, he'd won fifteen of sixteen points. Djokovic must have been at least a little rattled, but maintained his composure beautifully, and, vitally, held comfortably for the tiebreak.
There was a reasonable hope that what had thus far been a fine and dramatic final might conclude with a fine and dramatic breaker, but this turned out to be one reasonable hope too many. The game whereby Djokovic had held for 6/6 usefully snapped Federer's momentum, and the Swiss was never to regain it. Djokovic meanwhile confined his mood to that narrow band between over-attentiveness and exuberance, and made a virtue out of simply executing the shots he was meant to. The match ended with a weak pair of Federer errors, the first of which put them level on 98 points apiece, the second of which put Djokovic ahead. Statistically it was a terrifically close match – both had even winner / error ratios, served in the mid-sixties and produced six aces – but it was Djokovic who won two sets to one.
Both spoke graciously on the dais. Federer broke new ground by praising the camera operators. Perhaps he was impressed by the new 'FreeD' images, although one doubts he was half as impressed as the commentators. I haven't heard Robbie Koenig sound so enthusiastic since they began measuring the RPMs on Nadal's forehand. Federer also admitted he was overall pretty pleased with his own form. As exciting as his third set resurgence was today, his resurgence across the first few months of 2014 has mattered more, especially given his poor 2013. Greg Rusedski suggested Federer might be intending to peak for Roland Garros and Wimbledon. It's the kind of thing Rusedski is for some reason paid to say.
Djokovic for his part conceded that it was 'an incredible match – an incredibly difficult match'. For all that it cleaved to the usual format – with Federer leaping out early and Djokovic gradually reeling him back – the subtleties and contrasts inherent to the match-up as ever inspired some great tennis. I find it to be the most consistently interesting of the elite rivalries (others will certainly disagree). Djokovic plays Federer differently to how he plays just about everyone else, which is a testament to his versatility, as is the fact that, despite never consistently playing at his highest level, he is once against the Indian Wells champion.