Paris Masters, Quarterfinals
It is rare at any level of professional tennis for the top eight seeds to populate the quarterfinal stage of a tournament, a result that was guaranteed the moment Rafael Nadal defeated Jerzy Janowicz in the last of the Paris Indoors fourth round matches. At Masters level this hadn't occurred in over four years.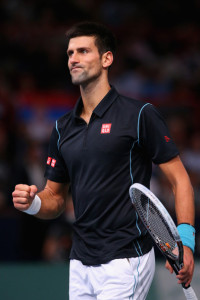 More gratifying still was the fact that the last eight men remaining at the Palais Omnisports de Paris-Bercy were the same eight who'll descend upon London's O2 Arena next week for the World Tour Finals.
Apparently such a miracle has never happened before, although if it was going to, this was probably the year for it. Coming in to this week, three qualification spots remained open, meaning that a number of men had every reason not only to turn up but to give their best effort, which is precisely the kind of effort that can be lacking at this tournament. Added interest came in the form of Roger Federer, who was prominent among those yet to qualify. By winning his first round match against Kevin Anderson he took care of that, and yet another comfortable victory over Philipp Kohlschreiber saw him attain the quarterfinals. By joining him at that stage both Stanislas Wawrinka and Richard Gasquet ensured their spots in London as well, although whether they'll do much more than make up the numbers is a nice question. The very best players seem unusually committed this year.
Novak Djokovic lost to Sam Querrey in strange circumstances last year, withdrew the year before after proving he cannot lose to Viktor Troicki under any circumstances, and fared badly against Michael Llodra the year before that. Yet this week he has hardly looked like losing or withdrawing. Indeed, through the first set of his quarterfinal against Wawrinka he seemed reluctant to give up points. The Swiss had an early chance to recover an even earlier break, didn't take it, and was reduced to spectating for the next twenty minutes. The second set was tighter, especially at the start, but Djokovic always had it well in hand.
Nadal often doesn't turn up in Paris at all, as a culmination of his disinclination to contest any of the other European indoor events that precede it. One can understand his disinterest, given that conditions don't suit his game, and he hardly needs the points. He has won precisely one indoor hardcourt title in his career (Madrid 2005). But in a season in which he cleaned up the American summer and went undefeated on hardcourts until September, who is to say he cannot win the Paris Indoors? Gasquet certainly had little say in the matter, thrashed four and one in just over an hour. There was a belief that the last three rounds in Bercy would provide a preview of what to expect in London. It seems that this is the case.
Many are convinced Nadal will not only win Paris, but the Tour Finals as well, thereby tripling his collection of indoor titles. One viewer took the trouble to email Sky Sports to that effect, adding, however, that she would be equally happy if Federer never won another match. Marcus Buckland and Barry Cowan professed themselves shocked by this, suggesting neither man spends much time on the internet, which is largely powered by schadenfreude and self-importance, and is thus self-sustaining. Wishing catastrophe on total strangers based on perceived minor transgressions is an even more popular online hobby than charmless grandiosity, though the two are easily combined.
Cowan confessed he did not understand how anyone could actively dislike watching Federer play, even if for whatever reason you do not care for him off the court. Buckland invited the viewer to email in their reasons, which they naturally did. It turned out to be the usual tedious guff about arrogance and poor losing. Ho-hum. Cowan still didn't get it. To his credit I'll hazard that the reason for his confusion is that he fundamentally doesn't grasp how many ostensible tennis fans are a fan of a particular player more than they're a fan of the sport. For all Cowan's manifold shortcomings as a commentator and a player, the fact that he was a professional sportsman means that only a tiny portion of his engagement with tennis concerns any particular player. For the fan who emailed in, and many others just like her, the opposite is true. Their approach to professional tennis is primarily concerned with the deification of their favourite player, and the revilement of whichever players they've been taught are diametrically opposed. You'll observe that fanatics always reserve their unkindest hopes for rivals. No one wastes time wishing Ivo Karlovic never wins another match.
It was another reminder, as if more were needed, that many sports fans are dullards who cannot function without a depressing little assortment of heroes and villains, and that these roles are by necessity cast within very tight parameters. Thus, say, the soft-spoken and sardonic Robin Soderling is a villain, held by some to be morally on par with Timothy McVeigh. The reality is that most of us encounter considerably worse people than any professional tennis player every time we leave the house, or even when we don't. You can hear the squalid thoughts of the ethically bankrupt merely by switching on commercial radio, and after listening to many politicians speak you'll want to take a dip in the septic tank just to feel comparatively clean. Remember the supposed falling out between Federer and Nadal at the beginning of last year over the ATP Player Council? I must have attended half a dozen more acrimonious meetings than that in the last month, and am daily obliged to shake hands with far bigger wankers than any man in the top ten. As far as I can make out, and for all that it matters, all the top players seem like pretty nice people.
The fan who'd emailed Sky Sports can't have been happy with Cowan's mystified response, and was surely brought to a high simmer by the subsequent coverage, which was unabashedly Federer-centric. 'I'm not even looking at del Potro right now,' declared Andrew Castle in commentary as the second quarterfinal commenced, 'All my focus is on Federer!' He went on to add that for him Federer was the story of the next twelve to eighteen months in men's tennis, which seemed rather disrespectful to Philipp Kohlschreiber, who is poised to commence his audacious run to the number one ranking. (Mark my words.) It was also somewhat disrespectful to del Potro, who has been in tremendous form of late, and will be a legitimate title-contender in London next week. He at least deserved a look-in.
It was clear as the first set proceeded that Federer wasn't about to give him one. Federer was quite magnificent, hitting seventeen winners to just four errors and comprehensively shutting down the forecourt. It was almost justified the presumption that Federer was eager for another shot at del Potro so soon after the Basel final. His success against tall powerful players traditionally entailed exploiting their lack of agility with constant variations of spin, width and depth. Del Potro moves superbly for a man his height, but compelling him to lunge, dip and pivot is still a wiser strategy than trying to trade lusty blows from the baseline. Federer's first set was a testament to this; 47% of his backhands were slices, the kind of figure he used to post when dispatching the arch-villain Soderling. Unaccountably he went back to hitting over his backhand more in the second, although until 4/5 he remained untroubled on serve. Del Potro so far had had an awful day on return, but at this moment unleashed his biggest forehand, and subsequently broke to take the set. The third set was patchier, with a string of breaks each way. Federer steadied quicker, and eventually served it, to his evident relief and the visceral contempt of at least one fan. Del Potro didn't appear particularly fazed. If anything he'd looked a trifle fatigued as the match wore on, and I imagine the longer rest will do him a power of good.
Federer has now posted just his second win over a top-ten player for the season, offset by five loses. Andrew Castle reminded viewers that by the end of next week he might conclude his season with a more respectable win-loss tally of 9:5, assuming he defeats Djokovic in the semifinals, Nadal (probably) in the final, then everyone in London. This seems rather a generous assumption to make, even by Castle's standards. We were also reminded that Federer has now beaten at least one top five opponent at least once in each of the last fifteen years. It seemed a strange point to belabour, since he is after all Roger Federer. He is not Philipp Kohlschreiber, although soon Philipp Kohlschreiber won't be, either. Mark my words.