Shanghai Masters, Final
(1) Djokovic d. (6) del Potro, 6/1 3/6 7/6
Novak Djokovic this evening won his second straight Shanghai title, and fifteenth Masters title over all. It was also his twentieth consecutive victory in China. He was understandably thrilled, though it's tough to ascertain which particular achievement meant the most to him. Perhaps, in the moment, it was just winning this one fine match. Either way, it's hard to quell one's sense of scepticism when he insists that losing the number one ranking has not steeled his resolve. It's also hard not to feel sympathetic towards Juan Martin del Potro, who fell agonisingly short of claiming his first Masters title, and didn't seem consoled by the knowledge that he's never looked closer.
His runner-up streak at this level now stands at three.
Djokovic this week also extended his winning streak against Frenchman to twenty-eight, despite Gael Monfils' best efforts to abbreviate it. There was also a two game period in the first set of the first semifinal when Jo-Wilfried Tsonga looked threatening, and really showed us what he can do. He was out-rallying Djokovic from the backhand, punishing him around with his forehand and moving beautifully. Then came a much longer stretch of games in which Tsonga demonstrated that he can't do it often or for long enough. Thus was dispelled any  lingering mystery of why he isn't ranked number one or two in the world, and has yet to claim a Major.
Djokovic on the other hand is ranked number one or two in the world, and was hardly fazed by his opponent's brief resurgence. He hasn't lost to Tsonga in three and a half years, and learned long ago that these little spots of brilliance soon tarnish. The second set was closer – breaks were traded, lovingly – but even as a tiebreak hove gradually into view it never much felt like Tsonga would win it. As it happened, the tiebreak never arrived. Djokovic broke late, and that was that: his nineteenth straight victory in China, and eighth in a row against Tsonga. More streaks.
I've no doubt various others were augmented, as well. We are living through an era in which records both grand and minor tumble every other week. It turns out there's such a thing as milestone fatigue. It can be taxing to get too excited for the more trivial of these. Those achieved in a particular country or against citizens of a different country are about my limit. It's conceivable that I might one day regale grandchildren with tales of where I was when, say, Jerzy Janowicz captured the calendar Grand Slam (I predict I'll be at home debating whether I should buy some bread or just keep spooning marmalade from the jar). I haven't yet decided whose grandchildren they will be; boring random kids will be my right as a lonely old loon in a shopping mall. Whoever they are, I doubt they'll stand still while I explain that Djokovic went unbeaten throughout his career while facing left-handed Canadians in Paraguay.
It's also conceivable they won't really care that for just the second time in 2013, Rafael Nadal failed to reach the final of an event in which he was entered. (The first time was of course at Wimbledon, when he fell in straight sets to Steve Darcis. Mentioning that one will surely result in stunned disbelief from all future generations, requiring carefully preserved documentary evidence.) Nadal by his own admission played fine, but was unlucky to run afoul of Juan Martin del Potro in truly fearsome touch. The first set in particular was astonishing from the Argentine. The second was merely very, very good. Nadal's peculiar post-US Open record continues. Since 2005 he has claimed only one title in this part of the season, which was in Tokyo three years ago. You can bet the grandkids will hear about that.
Del Potro no doubt extracted a healthy portion of hope from his semifinal performance, not to mention his excellent run to the Tokyo title last week. He was thus well-placed to relearn the lesson that when faced with Djokovic (in China) hope sometimes provides no more nourishment than a mouthful of ashes. Del Potro admittedly didn't reproduce his level from the day before – faced with a superior returner he was compelled to go after more first serves, and thus missed a lot – but he was still decent. He has won plenty of matches playing worse. The difference was that the bludgeoning groundstrokes that pushed Nadal around left Djokovic unmoved, and were faultlessly redirected up the line. Twice Djokovic gained a point for the first set bagel, but didn't take either, though he served it out in the next game.
The change came in the second game of the next set. Djokovic has shown a tendency in those parts of the season staged outside China for his focus to waver. It would be tempting to say something similar happened here, but the issue really seemed more physical than mental. Perhaps it was spiritual. Whatever it was, suddenly Djokovic's forgot how to use his feet when hitting forehands, at a very fundamental level.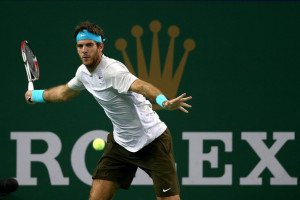 He was lurching all over the place, spraying balls everywhere, as though someone had spiked his magic tennis player water. 'Bambi on ice,' was Marcus Buckland's apt description. This enabled del Potro to break. Improved serving helped him eventually hold for the set.
Last year's Shanghai final was superb for two sets, then rather faded away in the third as Andy Murray's legs and will gave way. Today's final, by contrast, only really got going in the third. As these things go, this is probably the more memorable configuration. Djokovic had by now untangled his feet, while del Potro continued to blast away with that forehand. Finally, the best two players of this year's Asian swing were playing well at the same time. Break points came and went for both, and in nearly every case were saved with heroic, fearless play. Djokovic gained a couple of match points at 4/5, with del Potro serving, but wasted one with a tight return, and as punishment was obliged to hand back the other as well. The tiebreak never felt inevitable, but it arrived anyway, and once it did it felt fitting. Sadly for Argentine hopes, once it started it was almost entirely Djokovic. There seemed to be hundreds of Argentines present in the Qizhong Forest Sports City Arena, most of whom had ignored the signs at the entrance warning them to abandon all hope. It didn't help that the signs were written in Serbian. These fans looked terribly disappointed, but tearfully and rightfully proud of their man, who'd made a mighty effort.
Djokovic sealed it with a last backhand winner up the line, his 47th winner of the match, whereupon he and his opponent availed themselves of their customary hug at the net. Del Potro wandered to his chair and buried his face in his towel. Djokovic launched himself into more extravagant celebrations. Until 2012 the Shanghai Masters had never produced a great final. Now it's threatening to become a habit. Its streak of great finals is now two, and counting. Rest assured the grandkids will hear all about it, whomever they belong to.