US Open, Quarterfinals
The US Open, an entity which I contend possesses not only impish sentience but an eye for proportion, thoughtfully balanced a pair of men's quarterfinals that more or less lived down to expectations with two others that could have hardly conformed less. Two predictable blowouts and two extravagant upsets: what could be more formally elegant? There was a brief period in the last of these encounters, as Mikhail Youzhny stole a set from a momentarily unfocussed Novak Djokovic, when I feared this graceful symmetry might be fractured, or, more worryingly, that I might have to rewrite this opening paragraph. Fortunately the world number one steadied magnificently, and I was able to salvage my broader point, such as it is.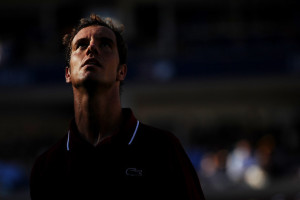 For all that I would have enjoyed an audacious comeback from Youzhny almost as much as the tennis-starved punters in Arthur Ashe Stadium, I'd prefer it didn't cost me whole minutes of work.
It's a nice question whether Richard Gasquet defeating David Ferrer in five sets constitutes a more surprising upset than Stanislas Wawrinka beating Andy Murray in straights, leaving to one side the question of which was the more upsetting surprise. If one were writing a screenplay, which result would cause viewers suddenly to rediscover their disbelief, and simply walk out? Cinema audiences will put up with all manner of absurdity – midichlorians, Nicholas Cage – but there are limits. This is the US Open, not Wimbledon. It would probably be more convincing had the scores been swapped: Wawrinka might have prevailed in a tough grind, while an incandescent Gasquet might conceivably sweep the formless Ferrer aside quickly.
(2) Nadal d. (19) Robredo, 6/0 6/2 6/2
It was always likely that Rafael Nadal would make short work of his quarterfinal, given his exalted hardcourt form and Roger Federer's exit in the fourth round. But the fact that he was facing a veteran who'd never progressed beyond this stage of a Major in several dozen attempts put it almost beyond doubt. Realisation that this veteran was a compatriot of Nadal's removed even that modicum of uncertainty. Add in a single-handed backhand and it was hard to see how the encounter would stretch far beyond eighty-minutes. The opponent was Tommy Robredo, who two days earlier provided a sturdy platform for Federer to ritually disembowel himself on. Robredo brought a similar commitment into his match with Nadal – standing way back, looping groundstrokes and retrieving like a terrier – with the result that he won five whole points in the opening set. These points sadly weren't clumped such that they equated to a whole game. Forget eighty minutes, maybe it wouldn't last the hour.
The next two sets were marginally more competitive, but such terms are relative, and it was never a contest. Before the match Nadal had somehow maintained a straight face while declaring that in order to have any chance at beating Robredo he'd have to play his best. As it happened Nadal did play somewhere near his best, with the result that Robredo had no chance whatsoever. Nadal has moved through to the semifinals, an outcome he subsequently described as 'unbelievable', which I think translates as 'very believable', considering he has made it at least that far in New York every year since 2007, apart from last year when he didn't reach the first round.
For a refreshing contrast he will next face a tour veteran to whom he has never lost, who employs a single-handed backhand and prefers to operate ten feet behind the baseline. This player is Richard Gasquet, and to say that Nadal has never lost to the Frenchman is slightly misleading. Gasquet actually beat Nadal fourteen years ago, in juniors. This result has no material bearing on their upcoming US Open semifinal except that Gasquet brought it up in his press conference, thereby proving that it's no longer possible for a professional sportsperson to make a joking aside without having it overanalysed to death. Nadal was naturally quizzed about this ancient result during his post-match interview, and astonished everyone by recounting the match in granular detail. Even Brad Gilbert was left momentarily speechless. Jason Goodall reliably wasn't: 'I suppose he's out for revenge in the semifinal, then.'
(8) Gasquet d. (4) Ferrer, 6/3 6/1 4/6 2/6 6/3
It is hard to imagine he won't get it, but then it's pretty hard to believe that Gasquet is there at all. Even to reach the quarterfinals he required five sets, and had to overcome one of the worst fourth round Major records in history (0-11 since Wimbledon 2007). Admittedly that was only against Milos Raonic, who himself had never progressed beyond the round of sixteen. In the quarterfinal Gasquet faced the fourth seeded David Ferrer, thus pitting a man who rarely beats those ranked above him against a guy who seldom loses to those ranked lower, a guy whose constant presence in Major semifinals has ceased to elicit surprise even if it is destined never to gain acceptance. Ferrer will drop out of the top four long before everyone stops wrongly assuming that his quarter of the draw is the one fated to collapse. It was once again to everyone's chagrin that the only quarterfinal match-up that panned out according to seedings was Ferrer's, although I maintain that it was only by the grace of Dimitry Tursonov's delicate thighs that this was possible.
Gasquet took the first two sets in fairly convincing fashion, and it seemed likely that a perfunctory upset was underway. This would have been surprising in a sense, though hardly in the league of Federer's loss to Robredo. Ferrer has been horribly short on form, and sometimes Gasquet is simply unplayable. It happens. But then Ferrer fought back, and levelled the match at two sets each. Gasquet was no longer anything like unplayable, and Ferrer wasn't playing that badly. The scene – an idyllic French farm setting circa 1917 – was precisely the kind of one into which the Frenchman will typically plummet in a tangle of flaming wreckage. But somehow he remained aloft, mostly due to his serve. Despite his appalling record in fourth rounds, Gasquet has also never lost in the quarterfinals. But nor has he won a semifinal.
(9) Wawrinka d. (3) Murray, 6/4 6/3 6/2
Murray's seppuku was only marginally less extravagant than Federer's, though it was characteristically louder. Given he was facing a superior opponent on a bigger stage, it all worked out looking about the same. By losing to Wawrinka, Murray has failed to reach the final at a Major for the first time since Roland Garros last year (he didn't play Paris this year). Indeed, aside from last year's French Open he had reached at least the semifinals at the last nine Majors he had entered, going back to the 2010 US Open, where he lost in the third round to, as fortune would have it, Wawrinka. A mere coincidence, of course, though Murray's many fans are no doubt right to be dismayed by the connection, since their man is supposed to have moved on from flaccid efforts like this.
Perhaps they can find some comfort in the suggestion that this new Wawrinka is a categorically superior version to the old one. The addition of Magnus Norman to his team appears to have worked a similar trick for the Swiss that it did for Robin Soderling a few years ago, although it's worth bearing in mind that Wawrkina was still coachless when he almost beat Djokovic in Melbourne, so far the season's finest match. Any changes that Norman has wrought in Wawrinka's game – the focus appears heavily to be on buttressing his sense of self-belief more than anything technical – are refinements to the course he'd already set. Wawrinka's faith in his own capacity to match top ten players was amply displayed against Tomas Berdych in the last round, and reprised today.
History, in the guise of countless mid-match collapses against Federer, had previously taught all discerning fans that it is rarely a question of whether Wawrinka will fall apart in a high-stakes tennis match. It is merely a question of when, and experts have learned to expect his disintegration. So it was today, when Eurosport's English commentators tirelessly awaited a reversal that never came, even to the end. Wawrinka opened his final service game with a double-fault, then watched unperturbed as Murray smacked a return winner past him. From there it was all Wawrinka, all aggression – including a tremendous bounce-smash winner from the baseline – all the way to the end.
The defending champion is out.