Cincinnati Masters, Final
(4) Nadal d. Isner, 7/6 7/6
Rafael Nadal has won the Cincinnati Masters, defeating John Isner to claim his second Masters event in two weeks, and his third hardcourt Masters of the year. Prolonged domination by a single player presents a writer with peculiar difficulties, assuming the writer is at all disinclined to repeat themself. This was a real problem in 2011, when Novak Djokovic emphatically refused to stop winning. I wasn't writing about tennis at the time, but I assume it would have been an issue in 2005 and 2006, when Roger Federer was nearly unbeatable, and very nearly unbeaten.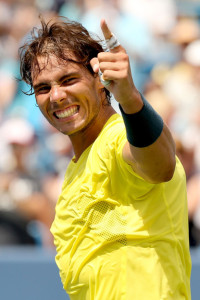 Wimbledon aside, so it is proving this season with Nadal. I'd suggest  there's no higher compliment than to concede that if he keeps going on like this, we might run out of words.
For example, there was little that could usefully be said after Nadal's Rome triumph that hadn't been said following the Madrid final a week earlier. His new Swiss opponent had greater pedigree, but won even fewer games. Similarly, today's victory over a towering North American with a frightening serve and manoeuvrability on par with the Exxon Valdez more or less reprised last week's. Last week it was local favourite Milos Raonic, whose trip to the Montreal final propelled him into the top ten. This week it was local favourite John Isner, whose passage to the final was if anything more impressive, and had the laudable effect of ensuring the United States has a man inside the top twenty for their home Grand Slam. Both giants progressed to the final after defeating Juan Martin del Potro in memorable fashion. Raonic, you will recall, generating fleeting controversy by delivering a series of roundhouse kicks to the net while cackling that he was 'above the law'. Meanwhile Isner, more conventionally, saved a match point in a marathon. Isner also beat Raonic this week. The similarities mount, but ultimately amount to little. What really matters is that Nadal beat everyone, again.
Today's final wasn't the most memorable example we've witnessed this year, or even today, given that it was entirely upstaged by the women's final that followed. Had it been a quarterfinal it would have already faded into the sepia backdrop of general forgetting: yet another example of a monstrous serve guaranteeing tiebreakers, which were then decided by the better player's superior fortitude and technique. But it was a final, and so gains some lustre by default, and thus bears summation.
If for no other reason, it was an interesting study in how two sets can be numerically similar yet end up feeling totally different. The first set was quite exciting, featuring multiple set points for both men, mostly in the fraught tiebreaker. Isner saved those he faced with typically muscular points on serve, but failed utterly to impose himself on return. Mark Petchey was correct in commentary when he remarked on the strange contrast that Isner presents us with. On serve he has an 'All-American attacking game', yet on return is 'negative and pushy'. He did get an impressive number of Nadal's serves back, yet they never had much on them, and thereafter he won very few points. It didn't help that he facing one of the most punishing baseliners ever to heft a racquet. Nadal finally got a set point on his own serve, and duly took it.
The second set, on the other hand, was frankly dull. If the first set demonstrated that tiebreakers are considerably more interesting when their arrival isn't necessarily inevitable, the second set proved the corollary. Both men continued to serve magnificently, and return ineffectively. Nadal was more or less guaranteed a point whenever he switched up his serve wide to the deuce court, since the undeniable lethality of the American's forehand requires that his feet are set. Nadal lifted and played a smart tiebreaker, and never looked in trouble. After victory he collapsed onto his back, and generally made it apparent just what winning Cincinnati means to him. It seems this tournament had featured on more bucket-lists than Serena Williams's. The strange vase that Cincinnati passes off as a trophy proved every bit as awkward to bite as Montreal's silverware had been.
This was, of course, Nadal's first strange vase. One can essay complicated reasons why he has never won this title before, including surface speed and bounce, opponents, balls, proximity to the US Open, and the misfortune a couple of years ago to combine with Fernando Verdasco to thrash out one of the worst tennis matches in living memory. All of these factors have merit, and combined meant that no one was surprised at his lack of success here (as opposed to Federer's oddly dismal record at Bercy until 2011). Nadal characteristically offered the simpler explanation that he'd simply never played well in Cincinnati, and that this week he did. It was a salutary reminder that complicated rationales aren't necessarily wrong so much as unnecessary, and that elite athletes generally operate with a savant-like eschewal of nuance. This is how Roger Rasheed can function effectively as a coach while employing the lexical range of an inspirational fridge magnet. The manner of Nadal's progress this week certainly bore his contention out. There was no match in which he wasn't the clear favourite – including the quarterfinal against the defending champion Federer – in which playing to his strengths would more than likely ensure victory. He just had to play well.
This isn't to suggest he didn't have his difficulties. Federer came within a couple of games of winning, and Grigor Dimitrov boldly grabbed a set when Nadal allowed his focus to waver. However, this meant that in addition to savouring their hero's triumph, the more martially-inclined portions of Nadal's fanbase could indulge themselves in their most cherished conceit, which is that of the Spaniard as el guerrero imparable. After what amounted to a fairly unremarkable defeat of Dimitrov there was no shortage of chest-beating proclamations that Nadal had not been at his best, yet had 'found a way to win'. Insofar as the 'way' consisted of 'being better than his opponent at nearly every aspect of tennis', I suppose it's not inaccurate. What's false is the emphasis. He didn't win because of his warrior spirit, but because he's a very good tennis player.
Indeed, anyone still insisting Nadal isn't the very best tennis player in the world right now sounds increasingly deluded. He will arrive in New York determined to become the first man to sweep the US Summer since Andy Roddick ten years ago, and only the third man to do so ever (Pat Rafter also managed it in 1998, to Pete Sampras's unstinting disgust). He will return to the number two ranking tomorrow, and could well return to number one if he sustains his current form for a few weeks in New York. Although the bookmakers in their wisdom have retained Djokovic and Andy Murray as US Open favourites ahead of the Spaniard, it will take a reckless punter to bet against him.
But that's all in the future. For now, Nadal has won twenty-six Masters 1000 titles, including a record-equalling five this season. It's an accomplishment that is only enhanced by recalling that none of the five were Monte Carlo, which otherwise exists only that he might augment his tally by one each year. Aside from that, the only other Masters event Nadal hasn't won this year was Miami, which he didn't play. In order to break the record, which was only set two years ago by Djokovic, Nadal will have to win either Shanghai or Paris. History suggests that he is unlikely to do so. Then again, the Spaniard has already spent the season showing history just where it can shove its suggestions.