Montreal Masters, Final
(4) Nadal d. (11) Raonic, 6/2 6/2
Rafael Nadal has won the Canadian Masters for the third time, thrashing Milos Raonic in sixty-eight minutes for the loss of four games. It is Nadal's twenty-fifth Masters title, placing him four clear atop the all-time winner's list. It is also the first time he has won four Masters tournaments in a single year since his breakout season in 2005, with three more still to play. It is also the first time he has won two hardcourt Masters titles since then. Indeed, owing to his peculiar recent history, with its seven month gap, Nadal technically hasn't lost a hardcourt match since Indian Wells last year, meaning he's compiling the longest winning streak of his career on this surface. He will also return to the number three ranking on Monday, and, given he has no points to defend for the rest of the season, must be considered a strong chance to regain world number one.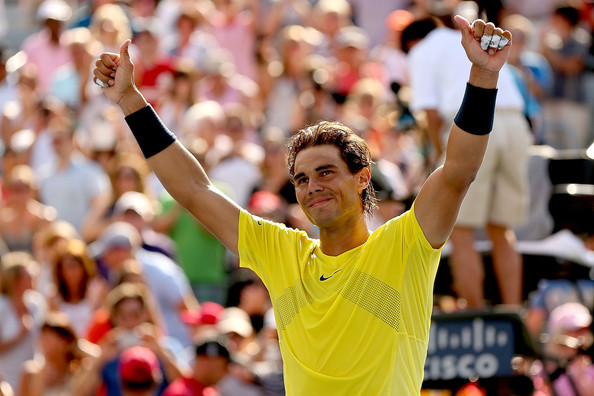 With resumes as complete as Nadal's it is sometimes fun merely to reflect on the numbers. Doing so is particularly tempting given the perfunctory nature of today's final, about which little can usefully be said.
Given that the final was a fizzer, the familiar chorus has predictably rung out that last night's semifinal between Nadal and Novak Djokovic was the 'real' final. As a sentiment, it isn't wrong, although the urgency with which it is expressed obscures the reality that things like this have always been part of the sport. The tournament format is not a fresh development, and draws have always had a tendency to partially collapse given a sufficient nudge. What is relatively new is the presence of an elite group of players who invariably occupy the later rounds, and forms of mass communications whereby this miracle can be discussed endlessly by fans with insufficient perspective, many of whom have never known eras in which the top players all reaching the later rounds was the exception rather than the weary norm. Experienced fans on a budget have always known that semifinal tickets are generally the wiser investment.
Yesterday's semifinals were both excellent, and well worth the price of admission. Despite strikingly similar scorelines they were richly contrasted matches. Raonic and Vasek Pospisil's first match was a fraught affair, in which spiral of tension was wound so tight that inevitably something had to pop loose. Pospisil popped first. The quality wasn't stellar, but it was fine drama, and certainly heightened by the circumstances. The second semifinal was high quality, although Djokovic took an eternity to get going, an issue that has hobbled him all year. Once he got there, he and Nadal again proved that these two can sustain some tremendous tennis when they commit to it. Nadal flicking a backhand pass into Djokovic's face in the third set is the moment destined to be remembered, especially because it lent specious credence to recent injudicious comments by Djokovic's father. (It hardly matters, but I can't imagine Nadal meant to aim that high, if only because doing so risked pushing the ball long, and he is nothing if not unwavering in his commitment to winning every last point. Djokovic wasn't impressed, but at least he didn't rag-doll his way across the court, the way Tomas Berdych would have. Nadal appeared contrite. Andy Murray was thrilled.) They made it to a final tiebreaker, and Djokovic, with a regrettably firm grasp of structure, ended as he'd began: badly. Nadal was great, though.
Today's final would only be close if Raonic could somehow counterbalance his monstrous serve against all the things that Nadal does monstrously, which is to say everything else. Unless the Canadian could finally crack the secret of breaking his opponent's serve using his own, this would at best guarantee him a tiebreaker or two. As it happened Raonic didn't serve well at all, and as a consequence was obliged to rally with Nadal far too often, with predictable results. Indeed, it's generous even to call many of the ensuing points rallies, and wrong to call them competitive. An ill-considered net-rush early on suggested that Raonic had seen the writing on the wall, but that he'd misread it, probably because it was in Catalan. My Italian commentators began to favour the phrase 'il panico', exclusively applied to Raonic. The first set didn't take long.
The second set didn't, either, and more or less reprised the first. Nadal broke early, hit plenty of winners from his forehand, and some great backhand passes. The Montreal crowd was momentarily engaged when Raonic managed to string together a few points – thanks to the soon-abandoned strategy of directing balls somewhere other than out or up the middle of the court – and achieved triple break point on Nadal's serve. He didn't win any of them, and was then broken again with disappointing ease. The crowd lapsed back into weary acceptance, although they were generally quick to acknowledge Nadal's frequent moments of brilliance.
The Spaniard closed it out without any trouble at all, and afterwards limited his celebrations to a beaming smile and lifted arms. He didn't dance. There was a moment's consternation when Montreal's spherical trophy thwarted his attempt to nibble on it, but he did his gallant best. Now Nadal moves on to Cincinnati, whose weird urn has yet to bear his dental imprint. Although he has never won there before, he must be brimming with (studiously disavowed) confidence.
By reaching the final, Raonic will now enter the top ten for the first time, the first player born in the 1990s to do so. It's quite an achievement, even if it's a hard one to get excited by, for all that I enjoy aggressive first-strike tennis and would prefer more of it at the top of the game. Really it's a testament to the twelve month ranking system; aside from Montreal the bulk of his points were not accrued recently. Indeed, he has been in very poor form for months now – before this week he hadn't won more than two matches in a row since Barcelona in April. To be frank he wasn't especially compelling this week, either. I suppose it's encouraging that he reached his first Masters final without playing to his capabilities, and there's every reason to believe that the appointment of Ivan Ljubicic will ultimately prove to be a masterstroke.