The second Monday at Wimbledon is, by the reckoning of many, the single finest day of men's tennis on the annual calendar, a status reflected in the apparently irresistible urge to append an alliterative descriptor to it. It has been variously dubbed Mad Monday and Manic Monday. I have it on good authority that American coverage even markets it as such, harnessing the all-purpose human impulse that has served us equally well for naming boastful rappers, Hogwarts professors, and cartoon poultry. And, it turns out, tennis players.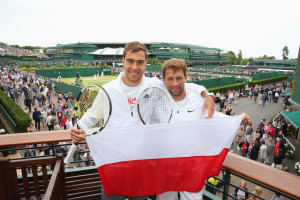 Appropriately enough, Monday's winners included Jerzy Janowicz, Kaia Kanepi and Sloane Stephens, who from memory defeated Marshall Mathers, Filius Flitwick and Daisy Duck. Mad Monday, indeed.
First, the historical angle.
It was a little mentioned fact that no Polish man had progressed to the quarterfinals of a Major tennis tournament in thirty-three years, at least compared to the endlessly reiterated stat that no British man had won Wimbledon since before the Wehrmacht ventured decisively east in its thirst for Lebensraum. Now two Polish men have done it within minutes of each other, and no German men managed it at all. It says plenty about this year's edition of Wimbledon that this statistic is far from the most interesting we've seen. Indeed, even on Monday it was arguably overshadowed by the bizarre fact that Sabine Lisicki has now defeated the reigning French Open champion in each of her last four appearances. Her bravura performance against Serena Williams was unquestionably the key result of the day, the one that guaranteed Monday its madness, and that tied a second week that threatens to be light on surprises with a first week that knew little else.
On a day when fewer Poles progressed – in addition to the men, Agnieszka Radwanska pushed through, and hasn't stopped – more might have been made of Lisicki's Polish heritage, the way Caroline Wozniacki's has been in the past. As an Australian I can vouch that when times are tough you take what you can get. That's why Todd Woodbridge took to referring to Britain's top-ranked female tennis player as 'Melbourne-born Laura Robson'. Channel 7 viewers were treated to constant updates on the fortunes of Melbourne-born Laura Robson. Sadly for those Melburnians who'd indexed their happiness to hers, bleakness prevailed. She lost a close one to Kaia Kanepi. Polish and Estonian stars are on the rise.
Jerzy Janowicz was the first of the Polish men to progress, barely edging out Łukasz Kubot by a few minutes, minutes that he spent exulting languorously on the Court 12 turf, having only briefly risen to congratulate his opponent and the umpire. It wasn't a surprise to see him so pleased, just as it isn't really a surprise to see him attain Wimbledon's named rounds. It was probably only a matter of time before he became a fixture in second weeks, although Milos Raonic and Grigor Dimitrov can vouch for the meaninglessness of the phrase 'a matter of time'. It's only a matter of time until our sun explodes. Kubot's progression was rather less ordained, for all that he's a dangerous player on grass. Both Poles will now face each other in the next round, meaning that, barring any unforeseen catastrophes, there will be a Polish man in the semifinal of a Major for the first time ever. Who picked that? Magic Monday, is what it is. I hope someone placed a wager on that, and cleaned up.
Conversely, the many punters who'd staked their life's savings on a men's final between Tommy Haas and Mikhail Youzhny now face abject penury, and some searching questions from their loved ones. It was, admittedly, a long shot, especially with the top two seeds blocking their path. Andy Murray and Novak Djokovic have thus far appeared serenely immune to whatever malaise afflicted their peers. Neither man has dropped a set so far, including against Youzhny and Haas, who'd both looked sporadically brilliant en route to the fourth round, but rarely imposed themselves during it. Youzhny reached the quarterfinals last year, and will consequently see his points hoard diminish slightly. Haas, on the other hand, fell in the first round last year, and thus creeps perilously close to the top ten. My heartfelt wish is that he puts together a fine US Summer, and somehow qualifies for the World Tour Finals.
The reality is that any final configuration other than the top two seeds hasn't looked likely since the second round, although it was admittedly no less likely than Nadal and Federer falling early to Darcis and Stakhovsky, or Williams falling later to the rampantly beaming Lisicki. Djokovic's path from here is more difficult, in that there are several highly seeded players in his path, namely Tomas Berdych and David Ferrer (or perhaps Juan Martin del Potro). They are thus likely to be the same highly seeded players that he faced in the later rounds of the Australian Open, and look how that turned out. Now, as then, one imagines the world number one will have little trouble with Berdych, who was rather slow to get astride Bernard Tomic in the fourth round, though he got there eventually. Ferrer has sustained an injury, and del Potro probably has, too. This might help them against each other, but won't be of great use against Djokovic. As to who will face Djokovic, I confess I can't decide, notwithstanding Ferrer's emphatic record against the Argentine and my recorded and foolish assertion that del Potro would not perform well at Wimbledon this year.
As ever when Tomas Berdych and Bernard Tomic play I'm struck by the near-mirroring of their names, a kind of ghetto spoonerism, which appropriately enough echoes their contrasting games (and also happily returns me to the earlier discussion of names, achieving the kind of facile circularity that no writer can resist). Berdych is all attack. Tomic isn't, although he is back in the top fifty. Afterwards he admitted that it is high time he started putting together some decent results at smaller tournaments, rather than saving himself for Australia and England each year. It's a laudable sentiment, but it's also a cheap one we've all heard before.
If the top half of the draw looks hearteningly like the kind of thing you'd expect to see in the second week at a Major, the bottom half certainly does not. It looks more like Andy Murray fronted up in Nottingham for a lark. Twentieth-seeded Youzhny was the highest seed Murray will face en route to the final. He'll next face Fernando Verdasco, who isn't seeded, has never performed especially well on grass, and yet hasn't dropped a set at this year's tournament since his first one (against Xavier Malisse).
At any other Wimbledon, Verdasco's resurrection and journey to the quarterfinals would be the tale of the tournament, especially given his corpse-like form in recent years, on every surface. This year it seems more or less par for the course; there are two dashing Poles in the quarterfinals, so why shouldn't Verdasco be there, too? One doubts whether he'll advance much further, given he's required to play Murray, although I'm legally bound to mention their match at the 2009 Australian Open. Naturally this four and a half year old result has been exhumed by the British press, in order that the Spaniard might be reanimated as a threat, a suavely handsome zombie with great hair and a new Babolat endorsement. Murray has been urged not to get ahead of himself, for the love of all that is holy. He won't.