Wimbledon, Semifinals
(1) Djokovic d. (8) del Potro, 7/5 4/6 7/6 6/7 6/3
(2) Murray d. (24) Janowicz, 6/7 6/4 6/4 6/3
The final of the 2013 Wimbledon Championships will be contested between Novak Djokovic and Andy Murray, who are the number one and number two players in the world, and, not coincidentally, the top two seeds in the tournament now racing towards completion. By the time it is completed, these men will have contested three of the last four Major finals.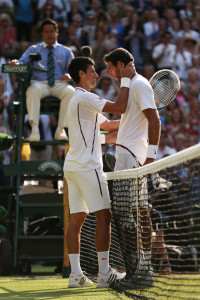 It is a testament to the strangeness of the last two weeks that despite the utter predictability of this final configuration – attested to by the fact that so many people actually predicted it – it almost feels startling that it has come to pass, a match that has eventuated in spite of everyone's assumption that it would.
Viewed from within this acrid haze of uncertainty, it hardly seems remarkable that Djokovic reaching the final should overshadow Murray doing so, notwithstanding that the former is a six-time Major champion who has titled here before, while the latter is the plucky local whose victory will presumably re-energise national pride at a stroke. But Murray's semifinal was a merely passable tennis match, while Djokovic's was a classic that tended towards the folkloric even while it unfolded, thus aligning itself with Wimbledon's core conceit, which is that it is much more than a mere tennis tournament. Wimbledon is the tennis tournament. This empyrean status is reaffirmed at every level from the players down to the fans, ably assisted by the promotional material. (Wimbledon's official annual movie is a good place to start, its narration often attaining a gravitas so overwrought that it makes The Silmarillion sound like Irvine Welsh.)
In his short interview immediately after leaving court yesterday Djokovic did not hesitate to anoint his match among the very best he has been part of, in part because it was conducted on the consecrated turf of Centre Court. Leveller heads had already conceded its greatness, but wasted no time in declaring Djokovic's victory over Stan Wawrinka at the Australian Open to be its superior. From a purely tennis point of view, that may well be true – I am slow to wade into such debates – but, as I say, Wimbledon isn't purely about tennis.
Most people, if they've heard of a tennis tournament at all, have heard of this one. 'Attending Wimbledon' features prominently on the bucket-lists of those who otherwise cannot tell an authentic Stepanek from a CGI goblin, right there alongside swimming with dolphins and learning the saxophone. Those hardly souls queuing for tickets overnight on the cement pavement aren't hardcore tennis fans, and very often aren't English. (Plenty of them seem to be Australian – Channel 7 always makes a point of interviewing any of my compatriots who've congealed in sufficient numbers to form an ad hoc choir, whereupon they're invited to demonstrate their mastery of atonality.)
Of course, British fans quite literally view it differently. Djokovic and del Potro played the one of the great semifinals of the era, but Murray's victory over Janowicz was nonetheless the highest rated English television programme this year. To hear some tell it, significant parts of the British Isles are reduced to a skeleton crew whenever Murray takes to Centre Court, especially in the later rounds. Todd Woodbridge in commentary remarked that there's never an easier time to get around in London: aside from under-rehearsed gangs of ex-pat Australians, the streets are comparatively deserted, as the hordes flock to pubs and bars, or, for the lucky few, to a special vantage on the Scot's crowded mons.
Given the interests of television, it seemed a strange gambit to put Murray's semifinal on second. They gained a later timeslot, but with it came the uncertainty of knowing when his match would start. Given the variables involved, especially del Potro's variable knee, the second match could have commenced anywhere from twenty minutes to six hours after the first. It probably just illustrates the difference between the BBC and CBS. For the players themselves, the first semifinal is surely the preferable one to have, since it allows you to structure your preparation with a degree of certainty, and means your match won't end controversially under lights. This presumably affected Jerzy Janowicz more than Murray, given the relative experience of the two players at this level. Murray's is extensive, while Janowicz's was non-existent. Naturally, the Pole then won the opening set. So much for theory.
It is peculiar that at the last two Majors the local favourite has played the second semifinal. It's an issue that is only exacerbated when the first semifinal is an extended humdinger, as was the case in Paris last month and in London yesterday. Poor Jo-Wilfried Tsonga commenced his semifinal in resonant stadium given to dust and shadow, although the word is that he requested the second match, for reasons unexplored, and no doubt regretted. Of course, that was unlikely to be an issue at Wimbledon. English tennis fans seem more devoted than their French counterparts, and can maintain their devotion for longer. Perhaps it comes from having fewer targets to direct it at, allowing the rapacious tabloids to hone their coverage to a crueller point. Mount Murray would have remained packed tight even had Djokovic and del Potro forged on through the night, and most of the next day.
It was yet another argument in favour of final set tiebreaks, though, like all the others, it wasn't a very compelling one, and even collectively these arguments don't add up to anything much. Not knowing how long a tennis match will last is part of the charm, not a deficiency to be addressed. John McEnroe, however, operates on the principle that tympanic repetition will achieve what cogency cannot. Once he starts banging out the theme, he's hard to silence. Today he commenced beating his fifth-set tiebreaker kettledrum at 2/1 in the fifth set of the first semifinal. It was felt that the greater certainty supplied by having a tie-breaker would do del Potro a favour, since he clearly lacks McEnroe's stamina.
Really, onlookers should give off trying to circumscribe del Potro's capabilities. And in 'onlookers' I include myself. About the only thing certain about the Argentine was that he would continue to defy my insistence that he would soon lose easily, although it's possible he was motivated by more than a desire to prove me wrong. Yesterday he did lose, but it wasn't easily and it wasn't quick. It was long – the longest semifinal in Wimbledon's history – and it was wonderful nearly all the way through. Even as the third set wound up – as with the first two the better player losing it – people were already declaring it to be the best set of the men's tournament. But they were wrong: the best was still to come.
The best came at the end of the fourth set. Djokovic moved ahead by a break, only for the Argentine to claw it back. Nonetheless, the general feeling was that the world number one was ascendant (even though his backhand up the line had deserted him and he kept falling over). Even del Potro seemed to feel it, and had taken to languidly showboating between points. A match that had been majestic gained a wild edge, although Djokovic did his best to ignore it, and continued about his business undaunted. He was in his thirteenth straight Major semifinal, and experience features prominently among his long list of qualities. Better focussed, he was certainly superior in the tiebreaker, and eventually gained a couple of match points at 6-4. From there del Potro sprang to life, saving both match points with outrageous yet typically muscular play. He sustained his  momentum through the change of ends, claiming the tiebreaker 8-6. The crowd went nuts. Murray, for many of them, had undoubtedly been the day's main attraction, but right then they were nearly unhinged with delight at what they'd just witnessed. I know I was.
So far it had been a memorable Wimbledon that had featured relatively few good matches, and certainly no great ones, an assessment buttressed by the fact that through five rounds it had produced the fewest five set matches in the tournament's history. Of course a match doesn't have to travel its full span in order to be adjudged as great, but it certainly helps. Yesterday's first semifinal went to five sets, and although the final set was by no means the best of them, the manner of its arrival was arguably the best thing this Wimbledon has so far produced. A tournament that had cried out for classic had one thrust upon it. Whatever happens in the final, the predictably unexpected final between the top two seeds, there's no taking that away. And there's no forgetting the embrace that followed, as Centre Court, Murray's Mound and the world thundered its approval.