Halle and Queens, Quarterfinals
It is entirely consistent with a grass season that ends too soon that it should also commence too suddenly. Main draw matches in Halle started less than twenty-four hours after the participants in the French Open trophy ceremony finished congratulating each other. They would've started in Queens too, except the English summer was working its usual trick of simulating winter elsewhere. Even on Thursday, when conditions were merely damp rather than sodden, thus permitting organisers to cram in two rounds' worth of matches, the air remained arctic. The weather had improved further by Friday. Sunshine bathed London, and English commentators grew giddy.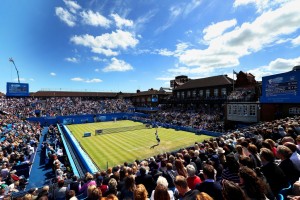 One interviewer put it to Lleyton Hewitt that conditions were downright Australian. He was cut off with a chuckle: 'Don't kid yourself, mate.' Still, it's better than misting drizzle.
For all the talk of surface homogenisation, this week's tennis looks strikingly different to last week's, and the differences aren't confined to the tint of the court, although they do relate to its texture. Grass courts aren't what they once were, undeniably, but they still present unique challenges, specifically for movement. In lieu of the long sure strides and slides of clay, the initial rounds in Queens and Halle have featured skittish hops, arcing slips and ginger changes of direction. With feet less often set, and the ball coming on quicker, timing is less certain, and swings less extravagant, even for Philipp Kohlschreiber. Nonetheless, the standard has improved as the week has gone on, thanks to drier turf and natural attrition. The players who've progressed are those with the most experience on the surface. While there no such things as grass court specialists these days, the eight semifinalists across both events all boast a proven capacity to operate on the surface, including Marin Cilic. Not for the first time, we're left to wonder how good these guys could be with adequate preparation. Imagine if Wimbledon had a tune-up season to match that of Roland Garros.
Both defending champions remain on some kind of track to retain their titles, Cilic in Queens and Tommy Haas in Halle. Cilic famously won the title last year when he was the only player taking part in the final not to be defaulted for assaulting a line judge. (David Nalbandian, who'd led by a set before the blood rage took hold, has not returned to Queens this year, which is probably for the best.) Haas famously won his by beating Roger Federer in straight sets. It was quite an afternoon.
More recently, Haas recovered from a set down to defeat Gael Monfils in the quarterfinal. Monfils left the officials alone, but did a few strange things to the tennis balls, including at least one shot that must be new even to Mansour Bahrami. Rather too much opprobrium is directed at the Frenchman for moments such as this. That shot didn't materially affect the outcome of the match (he almost won the point anyway), and it lifted a crowd that had largely confined itself to vociferous patriotism. Haas' overwhelming support hardly lessened after that, but the crowd was certainly more into the match. Anyway, in all it was a fine match played in a great spirit, that climaxed in a terrific final game as Monfils saved several match points before Haas finally put it away.
In the semifinals Haas will face Federer, about whose quarterfinal victory there is little to be said. The whole thing was over in thirty-nine minutes, and featured just twelve games, none of which were won by Federer's opponent Mischa Zverev. It is just the second double-bagel Federer has delivered in his entire career (if we exclude consecutive 6/0 sets in a best-of-five match). The other one was posted against Gaston Gaudio in the semifinal of the 2005 Masters Cup, and it was considerably closer than today's, if such a thing needs to be said about floggings so comprehensive. Zverev afterwards confessed he'd felt himself to be in trouble from the very first point – I'm surprised it took that long – which might explain why he never deviated from his 'tactic' of suicidal net-rushing until near the end. Federer is now ominously dialled-in for the next time he encounters a serve-volleying journeyman. It is conceivably less useful for facing Haas in the next round. Still it was fun while it lasted, even, apparently, for Zverev.
The other Halle semifinal will be contested by Richard Gasquet and Mikhail Youzhny, both of whom saw off Germans to progress. Gasquet beat Florian Mayer in an entertaining two sets. Mayer pulled off some characteristically whimsical stuff towards the end – one diving volley winner would have been the shot of the day but for the grace of Monfils – and there was a decent chance he'd grab the tiebreak, before Gasquet finished it off with two strong points. Youzhny's form has been poor for most of the season, and the return to grass has suited him immensely. Back near his best, he was far too good for a decidedly feeble Kohlschreiber, who won the title here a couple of years ago. The curious upshot is that  all four Halle semifinalists have one-handed backhands, for the second year in a row.
Meanwhile in Queens the day's best match saw Hewitt beat Juan Martin del Potro in three sets, his first top ten victory since beating Federer in Halle three years ago. For several reasons, not least of which was the fact that they were playing atop millions of soft green blades of organic matter, del Potro was not as his best. Nevertheless, Hewitt's experience on bladed organic matter is immense. Despite a second set in which del Potro seemed inclined to march away with it, this match recalled their Wimbledon encounter from 2009, in which the Argentine's limitations were constantly exposed in a straight-sets dismantling. You'll recall this came in the midst of del Potro's best year; he'd just reached the French Open semifinals, where he'd led Federer by two sets to one, and would go on to win the US Open. He has since improved enormously on grass – let's never forget that titanic Olympic semifinal from 2012 – but he still needs to operate at full capacity to beat the wiliest opponents, and Queens was his first tournament back after injury.
Hewitt will next face another big guy in Cilic. They've only played once before, and it was on grass. Hewitt won that one, and he'll surely fancy his chances tomorrow. If he wins he'll reach his first tour final in years. He is now 32 years old, and mostly held together by duct tape, metal pins and determination. The long descending arc of his career has been amply charted. One wonders how much shallower that curve might have looked had there been a proper grass season, in which he might thrive. The other semifinal will see Andy Murray face Jo-Wilfried Tsonga, who finally contrived a straight sets victory, his first this week. Those two played a superb match here two years ago, and there's reason to hope they'll manage to do so again. The immense pleasure of seeing grass courts again is only heightened when the men gambolling about on it know what to do.