Wimbledon, Day Three
Day Three of Wimbledon 2013 was one that will be remembered for a long time, despite the understandable determination of many fans, and a few players, to take to the bottle in order to forget. Others have sought refuge in alliteration: Wild Wednesday has taken hold, and I doubt whether it'll ever let go. We all cope in different ways. Across the men's and women's events the rate of withdrawals, upsets, retirements and sundry casualties achieved a cracking pace in the first hour, and barely let up throughout the day. With bloodshed occurring on a scale that was at once industrial and predictable, it was like tennis' version of the Somme.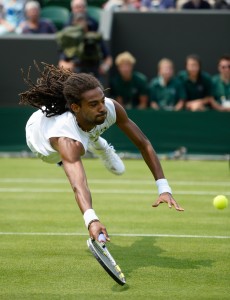 But that's not quite right: so many of those who fell today number among the game's elite. Perhaps Götterdämmerung is closer to the mark. Alas, I'm not George R. R. Martin, and I cannot promise to maintain an appropriately Wagnerian tone as the main characters are mown down wholesale.
I can recall few days to equal it in tennis history, at least tennis played at this level. There was of course that notorious case of dysentery at the appropriately acronymed Surrey Hills Invitational Tournament a few years ago, when all but one of the entrants was forced to scurry from the court after lunching on rewarmed chicken, rapidly overwhelming the available toilet facilities. (For the record, the last chap standing was a plucky youngster named Bradbury, about whom little is known, although the rumour around the club is that he went on to become a handy speed-skater.)
Given the sustained carnage, it almost seems wilful to anoint any single result as indicative, yet it would be perverse to pretend that Roger Federer's loss to Sergiy Stakhovsky wasn't the apotheosis. It was Federer's first loss before the quarterfinal stage of a Major since Roland Garros 2004, capping a sequence of thirty-six consecutive events. It is a record that bears testament to his capacity to survive, and then flourish, on days when his peers are cut down around him. There have been other Red Weddings, but Federer has always eluded the knives.
It is also his earliest loss at this level since Wimbledon 2002, when he fell to Mario Ancic in the first round. Indeed, Wimbledon 2002 is an appropriate tournament to invoke right now. The current edition of Wimbledon feels eerily similar to that one. Pete Sampras and Andre Agassi having been drawn in the same half, there was some consternation that this had thereby rendered the draw bottom-heavy, although these concerns were allayed when both men were upset early. Their half of the draw consequently collapsed, with the eventual semifinalists emerging as David Nalbandian (playing his first grass court tournament) and Xavier Malisse. It seemed clear to all the experts that Malisse, unlike that overhyped and flashy Federer, was destined to contend for Major titles for years to come. Lleyton Hewitt, as top seed, waltzed through the top half, with only Sjeng Schalken providing much resistance in the quarterfinals, to claim his second Major and cement his place atop the world rankings.
Hewitt, perhaps fittingly, lies among yesterday's heaped bodies. It's a long time since he contended for a Wimbledon title, though after his deft performance against Stan Wawrinka in the first round, and given Rafael Nadal's exit, there had been a reasonable expectation that he'd push through to the fourth round, if not further. He was certainly the favourite against Dustin Brown, ranked No.189. In the end the best that Hewitt managed was to ensure Brown won't become the only qualifier ever to win Wimbledon without dropping a set. One suspects the Australian hoped for more. Certainly John Newcombe did, as ever bringing to his commentary a parochialism so incandescent that even the usually deferential Todd Woodbridge found it hard to look at. (It's debatable whether the rest of Australia was paying much attention, anyway: the slaughter at SW19 had been prefigured by some hours by similar scenes in our national parliament.)
In their defence, Newk and Woody gave Brown his due, although it you'd hardly expect otherwise given how brilliantly the German was executing the kind of aggressive grass-court tennis both commentators were once keen exponents of. I wouldn't quite call it old-school serve-volleying – one flicked backhand volley is found on no curriculum anywhere – although the full-stretch diving volley to claim the first set recalled Boris Becker at his best. As Hewitt clawed his way back, winning the last six points to claim the third set tiebreaker before transforming into a beet-faced homunculus, there was a widespread expectation that he'd then go on with it. Surely Brown couldn't sustain his level. It turned out he could not only sustain it, but elevate it, and he broke twice to claim the fourth set, and the match. His celebrations throughout the match had equalled Hewitt's for flamboyance, but upon winning his reaction was muted and respectful. He surprised himself and us by bursting into tears, and fleeing the court. The exception to the idea that you'll eventually find out why a guy is ranked 189 is that sometimes you won't. You'll then discover he's not ranked there any more.
Mikhail Youzhny had by this time wrenched the first set from Vasek Pospisil, thus establishing a pattern in which the seeded favourite started stronger but failed to capitalise. At least Youzhny bucked the day's trend by eventually winning, although victory should never have taken five sets given the exalted form the Russian showed in Halle. Jo-Wilfried Tsonga and Ernests Gulbis had taken to Centre Court by this stage, eager to provide succour to a crowd whose expensive day had thus far consisted of Victoria Azarenka's withdrawal and Ana Ivanovic's flailing loss. This was the pick of the men's second round matches. Knowing types had expressed the belief that Tsonga was a realistic chance of winning this year's Championships, despite having been handed the toughest draw since Great Britain's 1879 Davis Cup tie at Rorke's Drift. One of the knowing types was John Lloyd, who heaped effusive praise atop Tsonga as he took the first set comfortably. Gulbis, however, is an even more formidable floater at Wimbledon than he was at Roland Garros, and proved it by tightening up his game in the second set, which he won. Then he won the third, and there was clearly something wrong with Tsonga. It tuned out it to be his knee, and it was very wrong. He called the whole thing off, a move that has seriously damaged his chances at claiming the title.
The casualty list by this stage was alarming: Radek Stepanek, John Isner, Tsonga, Marin Cilic, Steve Darcis, Yaroslava Shvedova and Azarenka had either retired or withdrawn. Jelena Jankovic, Maria Sharapova, Ivanovic and Caroline Wozniacki had lost without claiming a single set between them. Hewitt was out. Benneteau was out. By the time Federer and Stakhovsky took to Centre Court, six former number one players had fallen in a single day. When Yen-Hsun Lu's resistance to Andy Murray unexpectedly stiffened in the third set, there was real concern among the locals.
It is partly a measure of Federer's stature that even when the Wimbledon draws looking like Omaha Beach, set-dressed by Steven Spielberg and scored by Samuel Barber, there was no discernible consternation among tennis fans. Surely, once again, he'd pick his way through the mangled remains of his peers, and attain the safety of the bluffs. After all, he'd been magnificent in the first round while seeing off Victor Hanescu, for all that the Romanian only barely maintains a position within the top fifty. But Stakhovsky languishes outside the top hundred, and Federer hadn't lost to any man ranked that low in over eight years.
Stakhovsky later conceded the pointlessness of trying to rally with Federer from the baseline on grass, thereby proving himself to be at least twice as astute as Hanescu. Instead the Ukrainian ran towards the net at any opportunity, often after he'd just served. Once there he'd stop without touching it – that step is crucial – and hit a volley. Sometimes he'd hit two, as needed. Frequently he'd combine all these discrete stages into a single fluid motion. Unlike Brown's earlier efforts, this was old-school serve and volley: relentless, and, it turned out today, highly effective. For those who still celebrate the demise of the discipline – and discipline is exactly what it requires – Brown and Stakhovsky proved today that not only can it still work effectively given sufficient skill, but that there is ample variation to be found amongst its proponents. I have never seen Stakhovsky play better. Nor, by his own admission, has he.
Federer later conceded that he didn't play the big points well enough, an issue that has afflicted him all year. It's a hard assessment at which to cavil. So many of his best performances this year have come in matches that have featured no big points at all. I can recall few moments in which he has been obliged to execute under real pressure, and has done so; the Australian Open semifinal, which he still lost, and the Indian Wells fourth round, which featured Wawrinka. Facing a bold serve-volleyer is all about executing under pressure, since accomplished net-rushing forces both men to dance along a highwire. But Federer yesterday didn't look like the man who once out-stared Pete Sampras on this very court, especially when we remember that Stakhovsky, as well as he played, is not Sampras.
Whether this is merely a form slump or indicative of terminal decline isn't for me to say. It might be both. Detailed prophecy, I seem to remember quoting recently, is not our business. Orwell, who said that, really was a prophet, but it's not surprising that others who aren't are less reticent in their prognostications. The eager consensus seems to be that an era has passed: the king is dead. I've never been especially interested in that kind of commentary on any player, and long ago experienced the elementary revelation that anyone claiming a player is done for will be proved right eventually, even Novak Djokovic's mother.
Of course, even Sampras wasn't quite Sampras by the end, at least at Wimbledon. The year after the American's Centre Court tyranny was ended by Federer, he lost dispiritedly to Swiss journeyman George Bastl. That was the notorious 2002 edition of the tournament, although even that bloodbath didn't boast a single day to match yesterday. It's hard not to feel that Federer's loss yesterday was his Bastl moment. It occurred precisely eleven years later to the day. Perhaps there's solace in remembering that Sampras later redeemed himself by winning the US Open in his last professional match. Perhaps there's glory still to come.
Or perhaps there isn't. Federer has now failed to defend every single title that propelled him back to number one a year ago: Basel, Bercy, London, Rotterdam, Dubai, Indian Wells, Madrid, and now Wimbledon. It was an audacious run, sustained for longer than seemed possible, culminating in a record 287th week atop the rankings. Many perceived this as a resumption of normal service, if not the commencement of a new order, but there's every indication that it wasn't. From here, as the twilight of the gods descends, it looks more than ever like a sunset mistaken for a dawn. Perhaps I can be Wagnerian, after all. Or perhaps I'm merely exhausted. After a long day, and a longer night watching another day, I finally lapsed into fitful slumber as the sky lightened, and dreamed that I awoke to discover the walls of the house I shared with Jo-Wilfried Tsonga had cracked, crumbled and collapsed outward.