Madrid Masters, Third Round
(5) Nadal d. Youzhny, 6/2 6/3
Anyone truly concerned that Sky Sports is insufficiently ardent in heaping praise atop Rafael Nadal presumably found solace in last night's effort. The encomiums began to pile up even as he ambled onto court, and by the end had formed an imposing mound. Watching Nadal on clay can be like that. A discussion of the time violation rule unsurprisingly failed to resolve the issue either way, although I was intrigued to learn Andrew Castle would rather watch Nadal do nothing between points than watch most other players do anything at all during them.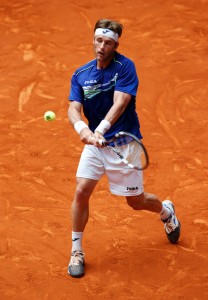 He ascended into pure ecstasy as the Mallorcan sealed the match with yet another masterfully agile point: 'How about that for a finish! Took my breath away. Another sublime shot!'
I suppose they had to talk about something, since the match itself had hardly proved competitive, and since they clearly know next to nothing about Mikhail Youzhny, for all that he is a fourteen-year veteran of the tour. Some bafflingly poor umpiring from Cedric Mourier provided a brief diversion, and there was a momentary fight-back from the Russian in the second set, although to be frank it was more of a lapse from Nadal. Otherwise the result was precisely what one would expect, given that the gap between these two is significant even when Youzhny is at the top of his game on a hardcourt. In execrable form on clay, it was a mismatch. I'd like to say that Nadal will face a sterner test in the next round – if only for the sake of viewer interest – but it isn't likely, since his opponent will be David Ferrer. They haven't played since the Acapulco final, a match that would have violated the UN's convention against torture had it not been so mercifully quick.
Tommy Haas' bid to return to the top ten has been delayed by at least week. It was a long shot anyway, since he probably would've needed to reach the final, which would have meant surviving Nadal on the way, after dispatching Ferrer. As it happened, he didn't dispatch Ferrer, although it was close, and a strong showing in Rome next week should just about do the trick. Earlier, Daniel Gimeno-Traver retired tearfully against Pablo Andujar, citing a leg injury. I imagine some adventurous people made good money betting that Andujar would reach the quarterfinals in Madrid this week, though I sincerely doubt whether there were many of them. Andujar has been in awful form this year – his Casablanca title defence was abject – and only featured in Madrid's main draw by the grace of a wildcard. Still, it's hard to begrudge a man making the most of an opportunity, and he hardly looked more pleased than his opponent to progress in that manner.
Grigor Dimitrov followed up his upset of Novak Djokovic with a very bold performance against Stanislas Wawrinka, taking the first set and looking for a while as though he'd grab the second. Some have inevitably painted this as a failure on Dimitrov's part, as though he hasn't properly backed-up Tuesday's breakthrough win. These people are, frankly, dullards, and probably won't acknowledge the Bulgarian's efforts no matter what he does. Wawrinka is an excellent player in fine form on his preferred surface: there's no shame in losing to him, and every reason to feel pride at playing him so close. The Swiss is surely favoured against Jo-Wilfried Tsonga in the quarterfinals: there's a new rule on tour that anyone who drops a set to Fernando Verdasco must relinquish favouritism for his next match. Still, if Tsonga started poorly, at least he finished well. Verdasco has learned by rote that this configuration is preferable to the reverse.
(14) Nishikori d. (2) Federer, 6/4 1/6 6/2
Roger Federer's audacious return to the number one ranking last year largely came as a result of eight tournament victories stretching back to October of 2011, and culminating at Wimbledon. So far he has failed to defend seven of those titles, with the latest being the Madrid Masters. The first of those tournaments was the Swiss Indoors in Basel, in the year the tournament's hardcourt surface switched from its traditional confectionery pink to a wearying standard-issue shade of cobalt. In the final that year he defeated Kei Nishikori in straight sets (who'd just recorded his breakout win over Djokovic in the semifinals, thereby becoming the only Japanese man to defeat a reigning world number one). It was Federer and Nishikori's only previous meeting, and it established the older player's superiority on any blue surface. La Caja Mágica's return from blue clay back to a dull reddish-brown was destined to prove telling.
As it happened, Madrid's rusted courts today seemed appropriate for Federer's game. After seven weeks away, the fine joints were stiff with it, and the gears screeched and crunched whenever he sought to change them. Flakes of it cascaded from his racquet frame whenever a ball struck it, which occurred with worrisome regularity. (There was also a feather nestled amongst the scattered rust at one point, inspiring the Sky commentators once again to revisit the allegedly decisive moment in Murray's Australian Open loss. Like Proust's madeleine, the feather's mnemonic imperative appears irresistible.) Nishikori, on the other hand, was easy, loose, and frequently spectacular, especially from the forehand side. He broke once to take the first set, though order seemed restored as Federer, essaying greater variety, swept through the second. He looked like going on with it at the start of the third, but some meek errors on return permitted Nishikori to hold, and to re-assume the initiative. He broke twice to take the match, and the defending champion, in a flurry of forehand errors, was gone. So is his hold on the number two ranking.
(3) Murray d. (16) Simon, 2/6 6/4 7/6
Whatever the tournament's outcome, Murray will become the new number two on Monday, and will presumably retain it until Roland Garros. A top two seeding will arguably ensure he receives a more favourable draw, unless he doesn't, in which case we can console ourselves that the French have it in for the British, and that the whole thing is rigged. Duly noting that the species of conspiracy theorist convinced of draw rigging is mostly inured to reason, I can point to today's match as a potent rebuttal. For the Madrid draw to be rigged, that must mean someone high up actually wants to see Andy Murray play Gilles Simon, thereby displaying a near-totalitarian desire to crush the spirits of a million innocents. Their encounters are gulags for the soul.
Afterwards, the Sky commentators predictably dubbed it an 'epic', demonstrating a grasp of the term commensurate with most Twitter users. To be fair, being dull doesn't disqualify a journey from being so adjudged; Homer's Odyssey remains an epic even when recited by Stephen Hawking, and by 1:15 in the morning, when the match ended, no one was thinking straight, anyway. I won't hide the fact that I find Simon's matches something of a trial no matter who he plays, but he really seems to draw the worst out of Murray, who is otherwise at his superlative best when countering an aggressive foil. I'm not convinced that it's simply an inevitable dynamic arising when two stylistically similar players face each other. After all, Tomas Berdych and Kevin Anderson typically play fine matches (today's was no exception). But Simon and Murray answer the unasked question of what happens when an immoveable object encounters an immoveable object, and neither has anywhere pressing to be.