Bucharest and Barcelona, Finals
Rosol d. Garcia-Lopez, 6/3 6/2
(2) Nadal d. (4) Almagro, 6/4 6/3
Lukas Rosol today won his first tour title within hours of Rafael Nadal claiming his fifty-fourth. It feels like there's a compelling point to be made there, as though something profound has occurred; as though the juxtaposition of these two momentous events is more than just a coincidence. Perhaps, through the warped prism of professional men's tennis, we'd been vouchsafed a fleeting glimpse of the world's fearsome underlying symmetry.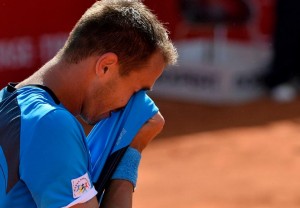 Last year Rosol inflicted the season's least likely loss on Nadal at Wimbledon, ensuring that their names would remain forever entwined, like Isner and Mahut, or Marks and Spencer, or Tango and Cash. And now here there were, in Bucharest and Barcelona. When two men do something that matters at about the same time, it feels like it should really mean something.
Further significance arrived in the form of Rosol's opponent, the great magic-realist novelist Guillermo Garcia-Lopez, whose last tour title came three years ago in Thailand. If Rosol's Wimbledon victory constituted the most audacious upset of 2012, then Garcia-Lopez' upset of Nadal in the Bangkok semifinals was the standout example of 2010. (So far in 2013 the palme has gone to Horatio Zeballos in Vina del Mar, again against Nadal. It's a fine compliment to Nadal that his most absurd losses endure in the collective memory, even as we wonder at his practice of making them an annual ritual.)
Rosol's victory over Nadal was more significant, since it occurred over five sets on Wimbledon's Centre Court, and was the Spaniard's last match of the year, but Garcia-Lopez' was undoubtedly stranger. Nadal was playing in his first tournament since claiming his first US Open title a few weeks earlier, and took the first set easily, 6/2. He almost took the second set easily, but, despite gaining dozens of chances, managed to blow every single one: one hundred breakpoints of ineptitude. Garcia-Lopez somehow engineered a baffling and impossible turn-around, took the tiebreak, broke flashily in the third, and grimly held for the match. For Garcia-Lopez and Rosol to be contesting the Bucharest final mere hours before Nadal was due to defend Barcelona seemed like a dire omen. Of course, Nadal was playing Nicolas Almagro, whom destiny has long since given up on.
Introducing the match, Sky Sports put in a desultory attempt to pretend that it wouldn't be a sorry mismatch. Marcus Buckland put it to the assembled luminaries whether Almagro had much chance at victory. In all cases the answer was unequivocally negative: Almagro had no chance. Buckland seemed disappointed at this, although he conceivably had a producer in his ear beseeching him to drum up any interest in the final at all. Sadly the graphics department hadn't received similar instructions. They flashed up a handy graphic to illustrate the hopelessness of Almagro's cause, by breaking it down into smaller yet equally dismal categories: not only has he never beaten Nadal at all, he hasn't beaten him on clay, in 2013, or at a Major!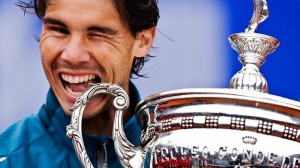 Such lists can be expanded endlessly, and I really wish they'd tried. How many times has Almagro defeated Nadal in April, or while it was raining, or in Spain, or while sponsored by Lotto?
To these useful categories we can now add the number of times that Almagro has defeated Nadal while leading by a double-break in the first set. (The tally remains at zero.) Still, for a moment hope must have flared in Buckland's heart that the elder player would go on with it. He had begun superbly, displaying the kind of aggressive and stylish shot-making that he famously cannot, or will not, sustain. Nadal lifted his level in the fourth game, and broke back, twice. Almagro reverted to the kind of suavely measured claycourt tennis that sees him dominate lesser opponents – he thrashed poor Philipp Kohlschreiber yesterday – but which never detains Nadal for very long. The weather undoubtedly played its part. Reckless endeavour grows dicier in sluggish, damp conditions: 'With the rain, the ball got heavier and it wasn't the same for me anymore.'
There were a few brief moments of tension at 4/4: Almagro played a few excellent deuce points to gain break points, whereupon Nadal played excellent points to save them. Otherwise the match played out more or less exactly as everyone assumed it would, even Marcus Buckland. It is the Mallorcan's eighth Barcelona title – since 2003 he has won 80 of 82 sets played at this venue – and will surely re-instil whatever confidence he lost in Monte Carlo last week. If he's going to lose to anyone this clay season, it won't be to the calibre of player populating the Barcelona draw this week. Beyond that, it's hard to say what it all means.
It's debatable to what extent winning tennis tournaments means much at all. That said, whatever its significance, writing about it certainly matters far less, and so I'm obliged to attach some meaning to it all, or else what am I doing here? These are existential musings best left for the small hours – as Martin Amis said, it's the information and it comes for you at night – when they proliferate in the fertile widening space between thoughts. For now let's assume it all matters a great deal.
It certainly matters to Rosol, though its significance had nothing to do with Nadal, and everything to do with his father, who suffered a heart attack three weeks ago while watching his son play Davis Cup, fell into a coma, and died a week later. The trophy was tearfully dedicated to him. It was a very touching moment.
Indeed, the entire finish was quite touching, which was lucky, since it wasn't particularly exciting. Garcia-Lopez was emphatically outplayed, and unsurprisingly outhit. Once Rosol took the first set comfortably, he moved ahead 4/0, and it seemed clear even to him that he was likely to win. A fraught final set tiebreaker with multiple matchpoints either way would undoubtedly have better taken his mind off things.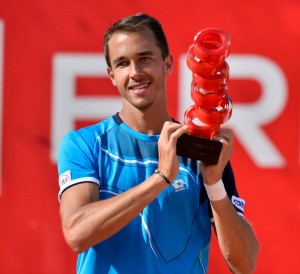 But with time to ply his trade and dream ahead, his cares were free to roam.  The full weight of the moment was obvious. It is to his credit that he hefted it so easily, when he had every reason to be brought low. He later said, once he'd dedicated the trophy, that he'd felt his father was watching down on him.
I wonder what his father thinks of the trophy. Bucharest had always been something of an anomaly in this area, by failing to uphold the rich European tradition of bestowing truly hideous objects on proud men who surely deserve better. Last year at this tournament Gilles Simon hefted a cut glass bowl that was almost tasteful. I'm please to say that the BRD Nastase Tiriac Trophy has now fallen into line. The new trophy is an unrelieved eyesore, guaranteeing that even those future champions not suffering recent bereavement will have a tear in their eye. I hope Rosol wins another tournament soon, so that his trophy shelf features something a little less garish. Perhaps Umag. Or Montpellier.
Actually, there are plenty of other reasons to hope Rosol goes on to win more tournaments, which have nothing to do with trophies or his father. Wimbledon demonstrated to the world how uncompromising and aggressive he can be, and that when he finds his range he can be virtually unplayable. However, too often in the week-to-week grind of the tour he proves that and aggressive unwillingness to compromise isn't quite enough to guarantee a ranking commensurate with one's abilities. By winning Bucharest, Rosol has now risen to No.35, and is therefore within striking distance of a seeding at Roland Garros, and at Wimbledon. This does not feel inappropriate, and ensures, at the very least, that he and Nadal cannot meet in the second round. Perhaps they'll meet in the final. Maybe that's what today's results really mean.
Then again, perhaps it's all just a coincidence.