Houston, Final
Murray / Peers d. (1) Bryan / Bryan, 1/6 7/6 12-10
(5) Isner d. (1) Almagro, 6/3 7/5
'Jamie Murray, by far the less heralded of the Murray brothers, helps upset the most heralded brothers in the sport – the Bryans.'
It is entirely forgivable when lumpen phrases emerge half-formed in the heat of play – spontaneity trumps sonority – but the delayed timing and measured delivery of this one suggested the commentator had been chiselling away at it for a while. Intoned after the Houston doubles final in that plodding, myth-making metre favoured by American sports-callers, such lines grant easy ammunition to those who dismiss English as an ugly language. Certainly it's a language that doesn't yield up its music casually.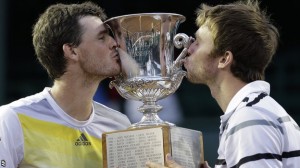 The same phrase in Italian would no doubt sing, and by the time Verdi was through with it, it'd probably have you singing along. But coming from an ambitious yet tone-deaf English-speaker with no sense of cadence, it merely made me sigh.
Still, I cannot fault its content. Jamie Murray, ably assisted by the even less heralded John Peers, had indeed defeated the resplendent Bryan brothers, recovering from a first set hiding and saving a championship point before triumphing 12-10 in the deciding match tiebreak. Their recovery in the second set tiebreak was particularly stirring, as they came back from 0-3 to win seven consecutive points.
It was certainly the most exciting tennis match I saw this week, although for sheer drama it was narrowly topped by the US Masters play-off at Augusta. Adam Scott – too heralded, if anything – has therefore eclipsed Peers as the Australian sporting story of the week. For his troubles Scott was hustled to an anachronistic log cabin and draped in a spiffy green crested blazer, whereas Peers and Murray were obliged to dive-bomb into a pool. Horses for courses, I suppose.
A day later John Isner was elegantly gliding into that same pool, having defeated Nicolas Almagro in the Houston singles final. It's one of the nicer rituals at the US Men's Claycourt Championships: having toiled away for a week on a court that looks like it has been sluiced with used dishwater, the victor is permitted to cleanse and cool his worn body. Although it wasn't a long final, it had been a warm and sunny day in Houston, and the giant American was cramping such that he hadn't been able to sit down during the press conference. A sudden plunge into cold water was surely just the thing.
It always makes for a slightly awkward moment once the players are actually in the water, with the pool ringed around by tournament staff and media. Should one swim around for a bit? Perhaps crack some jokes? Or just get straight out? Isner got straight out.
Even if he'd wanted to dog-paddle about languorously, there wasn't time. He and Almagro are even now slumbering miles above the Atlantic Ocean, en route to Monte Carlo. Their heralds have preceded them, trumpets a-blast. Isner belatedly requested a wildcard to the Masters, which was duly awarded. He was roundly criticised for skipping the event last year, with many pointing out that the undoubted glory of being named the US Men's Claycourt Champion was worth less in the long term than maintaining crucial momentum in Europe. Some felt he might legitimately challenge the best players in Madrid, Rome and Paris, but that by returning to the United States so soon he would achieve little besides distracting himself. In the end Isner lost in the Houston final, pronounced himself exhausted, and didn't return to Europe until Madrid, where he lost in the first round. His results hardly picked up from there, and by the time he crashed out of Wimbledon no one regarded him as a contender anywhere. It's probably a stretch to say skipping Monte Carlo brought about his terrible summer, but this season he's taking no chances. The Monte Carlo tournament is already under way, and he'll be compelled to hit the ground at a full loping run. But as he himself said, he might be tired, but he's also coming in on a five match claycourt winning streak.
Interviewed after the final, Almagro was decidedly less upbeat about his prospects in Europe, and about his form in general. I wonder how much of that reflects disappointing results through the so-called Golden Swing, the part of the season in which he traditionally thrives. The Spaniard certainly wasn't at his best in Houston; although he'd hardly been pressed after his tough opening match with Gael Monfils, he'd remained peevish and distracted through the week. Even today he appeared beset. (Meanwhile Isner ambled around with typical languor, at one point earning a time violation warning, whereupon he took the unprecedented step of not going bananas at the umpire.)
Almagro commenced impatiently, and grabbed the early lead by breaking in the third game, which is usually enough to guarantee the set against Isner. He made it to 3/1, yet from there lost five straight games, broken twice. The first of these was especially poor, and seemed to galvanise the American. It's more or less a given that Isner will serve well and move badly, but this was the most assertively he has struck his groundstrokes in some time.
The slowness of the surface enabled him gradually to manoeuvre his feet into position, whereupon he'd anchor them and lean into his forehand. Light balls and a hot day didn't hurt, and nor did an opponent too content with crosscourt patterns.
Like everyone else, I have no idea why Isner doesn't play like this all the time, even when he's short on form, especially because his form-slumps seem to affect his back-up game just as profoundly as his primary one. Even if nothing goes in, the result will be the same either way, and he won't be tired. Despite being eight-foot-whatever and the boasting the capacity to kick serves into a second storey window, there seems to be a cautious soul trapped somewhere inside Isner. After he defeated Roger Federer in Fribourg last year, following Jim Courier's insistence that he remain recklessly first-strike at all costs, Isner conceded that he is supposed to play like that all the time. This week he has said several times that he has finally turned a corner. Hopefully that means he'll go back to playing like he should all the time, all the time.
Almagro was finally broken again in the eleventh game of the second set, in which he heroically saved four match points, before bringing up a fifth with a forehand error, and losing it with another off the backhand. He summarily dispatched a ball over the stands, and watched on with the rest of us as Isner served it out. The American fell down 0-30, but then recalled his fabled ability to smash serves very hard into the corners of the box. This wasn't quite as impressive as sinking an eight metre putt in a Masters play-off, but it did the trick.