Indian Wells, Final
(5) Nadal d. (7) del Potro, 4/6 6/3 6/4
Rafael Nadal today defeated Juan Martin del Potro in the final of the Indian Wells Masters. Since returning from injury he has compiled a record of 17-1, and won three tournaments, the most of anyone on tour. Overall, it was his 600th career victory, which moves to him to second on the list of active players (behind only Federer), and his twenty-second Masters title, which is now the record.
He also returns, albeit briefly, to the top four. Nadal's career has long since reached the point where the numbers will, if permitted, more or less speak for themselves.
Tempting though it might be to put that to the test, I should probably say a little more, or at least add a few more numbers. It was just del Potro's second Masters series final – the first came in Canada in 2009, where he lost to Andy Murray – which is one of those facts that I still find surprising even though I already know it. He has never won one, which places him in a strange category of men who've won Majors without winning a Masters, a category that includes the likes of Gaston Gaudio and Yevgeny Kafelnikov. Of course winning these things isn't easy. In the last three years there have been twenty-seven Masters titles contested (nine per season), and all but three were won by members of the top four (and two of those were won by world number fives at the Paris Indoors). Of the remaining twenty-four, eight were won by Novak Djokovic, seven by Nadal, five by Roger Federer and four by Andy Murray.
But even reaching a Masters final is an achievement of which to be proud. Aside from the top four, only David Ferrer (three) and Tomas Berdych (two) have managed it more than once in the last three years, and they are currently ranked numbers five and six, respectively. The problem, of course, is that even to reach the final more often than not a player must beat two members of the top four, which is precisely what del Potro did in the last few days, on both occasions recovering from a set down. It was heroic, but it had its consequences.
Winning today's final would have required he defeat Murray, Djokovic and Nadal consecutively. It was little wonder that by the deciding set of today's match his legs looked gone. Given that even the ESPN commentators had noted it, there was little chance that the Argentine had missed the signs. It meant that he had little chance of reprising the pattern from the first two sets, which was for the man who fell down an early break to storm back and take it. He went down an early break, and watched the title melt away.
Some two and half hours earlier, Nadal flew to a relatively rapid 3/0 lead in the opening set, before the rangefinder on his forehand went haywire due to papal intervention. Del Potro meanwhile dialled his forehand up to its usual frightening pace, and broke back, then broke again and served out the set with perfect authority. Worryingly for Nadal's fans, their man opened the second set with another tentative forehand error – by this point neither man had struck a backhand winner, or indeed many backhands at all – and he was broken again shortly thereafter.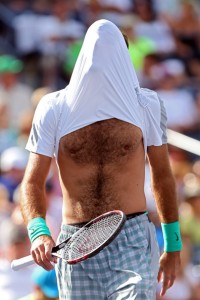 Del Potro moved to 3/1 and appeared well on the way to a maiden Masters title. Nadal lifted, and of his forehand shed its reticence. He broke again and closed out a second set that was nearly a mirror of the first.
From there it was what the commentators like to call a one set shoot-out, with the attendant belief that the match was now evenly poised. Even leaving to one side the question of momentum, which would surely have been with Nadal, there was the issue of fitness. Del Potro's stamina is commendable given his size, but even rested he is hardly a match for Nadal in the area, and the Argentine had already outlasted the two best hardcourters in the world in the last few days. Nadal commenced the final set with a backhand winner – from memory it was his first – and then broke del Potro again, establishing a lead he would never relinquish. The Argentine's serve grew meeker (by the later stages his first deliveries were only rarely clearing 110mph), while the Mallorcan's forehand grew more ferocious and less inclined to miss. Del Potro would inevitably fall farther behind as each point wore on, forced back and to his left, until by the end he was conceding any short into the open court. He saved three match points on his own serve at 3/5, but none on Nadal's serve the following game. A final weary forehand fell wide, and Nadal collapsed onto his back, arms quivering tautly skyward and throat opened full throttle. This Masters title meant a lot to him. They somehow mean more the more you have, and he has more than anyone.
At the risk of sounding prophetic after the fact, I suspect I harboured fewer doubts than Nadal that he would reascend to his erstwhile level quite soon after returning to the tour. If only for the purposes of discussion, it is useful that he faced del Potro today, since it is with del Potro that a useful comparison can be made. Del Potro's wrist injury at the beginning of 2010 removed him from the tour for an entire season (apart from an aborted comeback attempt in Bangkok). Immediately prior to his injury he'd reached the final of the Tour Finals, and slightly before that won the US Open. After returning he seemed to take an eternity to get going again, and his fans waited seemingly in vain for him to recapture to his previous form, notwithstanding early titles in Delray Beach and Estoril. Some profess still to be waiting, although I frankly think he has already returned to his original standard, which was a fairly imposing one on a good day, and one that could blow anyone away on a great one. He'd enjoyed a few very great days at the 2009 US Open, but then I think the suddenness of his disappearance invited fans to believe that he'd once played like that all the time, which certainly wasn't the case. Happily, he's been closer to that level this week in Indian Wells, but the Australian Open surely taught us that these things can change without warning.
But anyway, the longer point was that serious injuries take a long time to recover from. In the rather nebulous parlance of these things, a player must regain match fitness, and test out the (hopefully) recovered body-part in a real conditions. Del Potro still has persistent problems with his left wrist; even today he was having trouble hitting his backhand, especially early on. He is learning to manage it. Nadal's case is different. Before his seven month break, he was already a better tennis player than nearly everyone else in the world, day in and day out. He had also played with troublesome knees for years.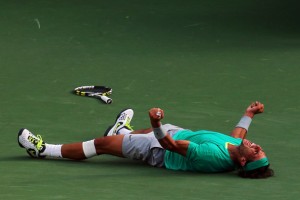 Unlike del Potro's wrist, Nadal has learned long since not to be distracted by his knees during play. Assuming he retained sufficient mobility to enable his forehand to do its work, I couldn't see any reason why he wouldn't be back near top form sooner rather than later.
Admittedly, I hadn't predicted he would win Indian Wells – just as I hadn't expected Federer to be injured, or for Djokovic to fold so acutely in his semifinal – but I did think he'd clean up in South America and Mexico. I confess I hadn't really considered who would win today – sometimes I completely forget to make any prediction, even in my head – although I believed that a del Potro victory would have to come quickly if it was to come at all. (The ATP website had displayed no such ambivalence. It was apparently so convinced that the Argentine would triumph that it posted the result early, a move akin to pre-taping the weather report.)
It would be wilful for anyone to go on expressing much anxiety at Nadal's prospects for the next part of the season, or to insist that his 'comeback' still requires delicate care lest it collapse beneath the weight of expectation, if not over-confidence. I think people can afford to worry less on his behalf, and worry more for his opponents, especially with the clay season imminent. Nadal will skip the Miami Masters next week, which will return him to number five in the rankings, but after that I refuse to see him as anything but the overwhelming favourite in Monte Carlo, and beyond.