Mikhail Youzhny yesterday recorded his first career match win over Benjamin Becker in Doha, which would admittedly be of scant interest even to me, if it wasn't simultaneously the Russian's 400th career match win over anyone anywhere. One night earlier Philipp Kohlschreiber saw in the New Year by seeing off Ivan Dodig handily on the same court.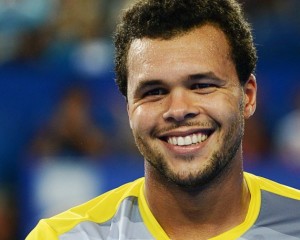 Meanwhile in Perth Jo-Wilfried Tsonga was last night imperious in defeating John Isner. I won't insult anyone's intelligence by pretending I'm unenthused by any of these results, for all that I have no issue with the men who suffered losses.
Doha
Aside from Youzhny's fabulous rally and a small pothole that is somehow shadowing David Ferrer – possibly the world's first case of a negative space stalking a professional tennis player, or indeed any sportsperson – the main issue in Doha has been the stricter interpretation of the time rule. The existing ATP rule is that the time between points must not exceed twenty-five seconds. This is not a new rule, although it has been altered in that the penalty is now capped at a fault for an offending server and a dropped point for a tardy returner. Previously the penalties would escalate almost indefinitely, up to and including a frozen bank account and salting of the family land. Umpires, burdened with human empathy, were understandably reluctant to impose such punishment.
Indeed, the truly original part of the new rule is that umpires have shed their erstwhile reticence to enforce it. This was undoubtedly the aim of softening the penalties. Players are now being warned all over the place. Feliciano Lopez was the first to exceed a warning, and he was either unlucky or injudicious in that he allowed it to happen while serving to save set points against Lukasz Kubot. Having tarried in his post-point preening, he was finally set to serve when the umpire called 'second serve'. Lopez, incensed, won the point, but thereafter dropped his bundle and lost the set. He then remonstrated with the umpire at considerable length, pointing out that in all the years he'd been on tour he'd never experienced the like, which suggests he was at least halfway towards discovering why everyone persists in calling it a new rule.
Lopez then wasted little time in losing the second set, although Kubot's flair in attack certainly helped. His fellow Spaniards – Pablo Andujar and Ferrer – afterwards rallied around him on social media, and presumably in the players' lounge. Earlier in Brisbane Tommy Robredo averaged twenty-seven seconds between points against Ryan Harrison, for which he was duly admonished, although he retained the wherewithal to win in straight sets. The temptation for the Spanish men to position themselves as victims of a crusade will inevitably prove considerable, but I hope the ATP doesn't allow itself to be browbeaten if it comes to it.
With more players ranked in the top ten, fifty and hundred than any other, it's not as though Spain lacks clout, and historically their federation is not slow to lobby on its players' behalf. It's also the kind of issue that readily devolves into partisan bickering. All of which is to say that there will be a debate, and there will be mud.
(Update: Gael Monfils last night was also docked a serve for luxuriating too long with his towel, at which outrage he promptly blew his top and the second set. His defence was that he needed longer to dry himself, because black people sweat more. As I say, the debate was always going grow muddied, and it only took a few days for the race card to be played. Â That's an impressive rate of decay, even by the lofty standards set by the internet, in which a discussion about knitted doilies will descend into racial slurs within a page.)
The real test will come when the umpires are obliged to penalise any of the top four in a crucial match, such as a later round at a Masters event. I should point out that since this is an ATP initiative the same revised rules will not apply at Grand Slam level, since the Majors play by their own rules. The time-limit at the Majors is twenty seconds. If the contestants once more collude to make the Australian Open final ten per cent more epic than it needs to be, then it will be up to the umpires to stop them, umpires who've thus far proved unequal to the task.
Hopman Cup
Tsonga d. Isner, 6/3 6/2
Being an exhibition, the Hopman Cup is equally untroubled by ATP requirements, which means that not only can the players idle indefinitely between points, their results will not figure on the official record. Officially, Tsonga is still riding a two-match losing streak against Isner. Unofficially, the Frenchman celebrated the slackening of Perth's apocalyptic temperatures by thrashing Isner in a shade under an hour, breaking him three times and rounding off a frankly terrible day for American men.
Tsonga's victory mostly testified to a new-found determination not to blow a lead. Although he appeared no less exuberant than usual, it was encouraging to see that his characteristic flamboyance did not translate into eagerness to sacrifice victory for mere entertainment. He was unfailingly judicious in his shot-selection – even the preternaturally cautious Fred Stolle could find little to quibble at – and played within himself despite any number of excellent opportunities to conclude rallies with excessive panache.
The flamboyance was limited to footage of him carving up the stage at the Hopman Cup New Year's ball the night before, which was shown after the match on the Perth Arena's screen, apparently with no other goal than to make the Frenchman blush. He covered it, as ever, with the sport's broadest smile.
Throughout a patchy and stuttering finish to 2012 Tsonga had appeared unfocussed when he didn't simply look unhappy. There seems to be a new purpose to his play, and it would be unfair of me to suggest that his appointment of Roger Rasheed hasn't played a part. The endlessly knowledgeable Darren Cahill said as much in commentary, relaying a conversation in which Rasheed admitted that special attention was being payed to Tsonga's attitude and conduct when he was ahead in matches. Too often he lost focus when he needed it most, and never quite seemed concerned enough to recover it.  By forgetting how to win Tsonga had consequently misplaced his hunger to. It is early days in the new season, but I'm surely not alone in hoping that by rediscovering the means, Tsonga has also rediscovered the desire. If Rasheed's appointment gains Tsonga nothing else, it will have been enough.