Wimbledon, Semifinal, 2000
(12) Rafter d. (2) Agassi, 7/5 4/6 7/5 4/6 6/3
Andre Agassi and Patrick Rafter contested three consecutive Wimbledon semifinals between 1999 and 2001. Only the first of these, through which the American romped in particularly straight sets, wasn't a classic. It says a great deal that the two that Rafter won were classics, and what it mostly says is that the Agassi who resurfaced from his mid-career subsidence was rarely sunk easily.
While not all of his losses from his later period were great matches – like Beethoven his career had a heroic late period, though whereas the composer succumbed to morose deafness, Agassi discovered that sincerity, broadcast at sufficient intensities, can provoke queasiness – plenty of them were.
Of the two semifinals that were classics, the second from 2001 was arguably the more dramatic, as Agassi's focus fractured upon being called for an audible obscenity, and Rafter recovered from a break down in the fifth set and eventually prevailed 8/6. But if the latter was the more dramatic, the second semifinal from 2000 had it covered for quality. It was one of the finest encounters of the decade. If compelled to compile a list of my favourite tennis matches – perhaps by a German terrorist claiming kinship to Hans Gruber and similarly given to labyrinthine schemes – then this one would be placed somewhere near the very top.
Initially, as ever between this pair, it appeared to be a mismatch. The 1999 semifinal remained fresh in most viewer's minds, and presumably in Rafter's as well. Then, Agassi had just claimed the French Open, and was embarking on a journey that would see him come within one match of holding all four majors at the same time. Most of this run lay in the future, which is to say that by the time Rafter fronted up for the 2000 semifinal his opponent's aura had expanded from imposing to invincible. Meanwhile Rafter's ranking had drifted from No.1 almost a year earlier into the twenties, owing mainly to acute tendinitis in his right shoulder. After another poor clay season, Rafter was openly questioning his own motivation, although by claiming the 's-Hertogenbosch title over a modest field he'd at least regained a modicum of confidence.
Agassi spoke to this before their semifinal: 'You know it's nice to see Pat play well. I think he's a great athlete with a lot to offer the sport of tennis. And this is a great arena in which to compete against him in.'
Meanwhile Rafter, characteristically wry, extolled the pleasures of playing Agassi: 'Well you have to be on top of your game, I think, and you just hope Andre has one of his bad days [. . .] I've played Andre a few times when he's had some really bad days. And, ah, I just hope he has one.'
As it happened, Agassi has an excellent day. The match begins with Rafter retrieving his errant ball toss, and offering a characteristic 'Sorry, mate,' which effectively gets the crowd on side. The first point, ominously, sees Agassi return low to the incoming Australian's feet, and the subsequent volley find the net. The second point sees Rafter elect to stay back, and belt a forehand into the corner.
However, it feels immediately, as it will feel for the entire first set, that Agassi is the overwhelming favourite whenever he can neutralise Rafter's first serve, even with the latter at his athletic peak on the slick old grass.
In his biography, Agassi spoke of his match-up with Rafter, and of how from a purely technical standpoint he regarded it as a truer rivalry than the more advertised one with Pete Sampras. Rafter was a more traditional and reckless net-rusher than Sampras – he needed to be, given he lacked Sampras' serve and explosive power off the forehand – and his encounters with Agassi were endlessly fascinating for their near-complete contrast. Agassi was of course famed as the sport's greatest returner, and his virtuosity is on rich display in this match, and is only enhanced by recalling that this grass court is considerably faster than the turf that was laid down a couple of years later, and that neither of these players were using polyester strings. The decade had changed, but the epoch hadn't; Wimbledon remained the demesne of the career serve-volleyer. Sampras would go on to win this edition, and Goran Ivanisevic would finally claim it in 2001.
Like Sampras, Rafter had a habit of hanging with Agassi despite seeming outplayed, and then lifting suddenly beyond the Las Vegan's grasp. It was by no means something Rafter could turn-on at will, but there were always certain moments. Such a moment comes at the death of a first set in which Rafter is obliged to fight through nearly every service game. The Australian suddenly holds to love for 6/5, then puts together his most accomplished and audacious return game. He earns set points when Agassi double faults, clearly concerned about Rafter's willingness to chip-charge any second ball. An Agassi error later, and the first set, apparently from nowhere, is gone. In hindsight, the contours of the contest are easier to discern, how the American's exceptionally high first serve percentage paradoxically worked against him by instilling undue pressure on the rare second serves, which Rafter assaulted at every opportunity. And when a second serve came round at a crucial moment, the error duly followed. It was a classic grass court set, decided by a few points here and there.
Rafter's momentum is sustained into the second set, as he breaks again with a nearly undefendable chip-charge, and clean winners off the backhand, and the forehand return. Agassi immediately breaks back in a flurry of return winners, and a magnificent running backhand topspin lob. The tennis is superb, an unedited highlights reel. The pressure mounts on Agassi, who saves a pair of break points in the eighth game. In the ninth game Rafter blinks, and is broken for 5/4, and Agassi serves out the set, closing with a rare second serve ace. After an hour and twenty-three minutes, it is one set all.
The third set reprises the shape and the quality of the first, with Rafter somehow defying expectations that he will be wearily submerged in the cataract of passing shots gushing by.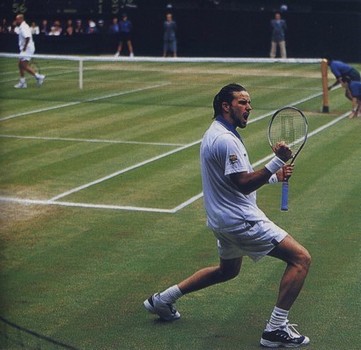 His first serve numbers hardly pick up – at one point he mutters 'first serve, mate!' before fending another ball from his toes then watching it flash by – but somehow his second delivery is doing just enough. The cataract never quite deepens into a terminal inundation. On the other hand, he is beginning to match Agassi from the baseline, which will have important ramifications later on. As it so often does, the long seventh game proves crucial. Rafter holds, desperately, and then breaks to love for a 5/3 lead, but is broken back as he serves for the set. Once again Agassi crumbles at 5/6, and Rafter breaks for the set off a scything low pass.
But this is late period Agassi, who might sometimes crumble, but generally won't do so ruinously. He breaks to open the fourth set, nervously endures a five break-point counter-attack from Rafter, then rides the advantage to the end, sealing it again with an ace. Rafter's first serve has proved recalcitrant all day, no matter how he's admonished it, but in the fifth his numbers rise sharply. The tennis is peerless. Rafter is ragdolling himself about the court. Agassi's groundstrokes are an unending fusillade. Every part of the tennis court is seeing use. Here's how the American recounts it in Open:
'[H]e's acing me left and right. When he's not acing me he's dancing in behind his serve, letting nothing past. I try lobbing him. I hit what feel like unreturnable shots as they leave my racquet, but he always gets back in time. We play for three and a half hours, high-quality tennis, and it all comes down to the sixth game of the fifth set.'
In that sixth game, Agassi misses a rash drive volley, but nails a perfect topspin lob for 30-15. Then the sun pours out – prefiguring the 2007 final – and Rafter plays his most assured baseline point of the match, moving his opponent up, back and across the turf, and sealing it with a thunderous backhand winner that leaves Agassi stranded. A double fault, another muscular baseline exchange, and Rafter has the decisive break.
'I can't break him back. He's landing 74 per cent of his first serves, and he first-serves his way into the final .  . . A year ago I beat Rafter here in the semis, when he felt the first twinges in his shoulder. Now he comes back and beats me in the semis with his shoulder fully healed. I like Rafter, and I like symmetry. I can't argue with that storyline.'
Rafter serves out this most coruscating of matches with consummate authority – besides another wayward toss and consequent apology – and he thrusts his arms heavenward as Agassi's final backhand return cannons in the net, which ripples momentarily, then drapes motionless. Rafter's satisfaction looks boundless.
Rafter would lose to Sampras in the final in four sets, the final in which Sampras broke Roy Emerson's record for most Major titles. And, after again seeing off Agassi in another classic, he would finish runner-up to Ivanisevic the following year, in the last great serve volley final of the era. In 2002 a new age on new grass would commence inauspiciously with a low-grade volley-free final between Lleyton Hewitt and David Nalbandian. But for the moment, in 2000, it remained a playground for the great servers and volleyers, yet one in which a baseliner might still flourish, provided he was Andre Agassi.
The full match is available here. Do yourself a favour, and enjoy.