Davis Cup Final, Day Three
Ferrer d. Berdych, 6/2 6/3 7/5

Stepanek d. Almagro, 6/4 7/6 3/6 6/3
The Czech Republic has defeated Spain in the one hundredth final of the Davis Cup. Astute historical observers might note that the event actually began in 1900, while those with a particular gift for arithmetic will hopefully spot the numerical discrepancy.
The answer is that, as in so many fields of human endeavour, two world wars proved terribly inconvenient.† The Cold War, on the other hand, provided almost no hindrance at all. Indeed, the last time the Czechs tasted Davis Cup glory was in 1980, and they were obliged to share it with any interested Slovakians. This time, for the first time, they have it all to themselves. Meanwhile, this is only the second time Spain has lost a Davis Cup final since the Soviet tanks rolled into Prague. Their latest squad included a world No.5 in career-best form, and a doubles team that had just claimed the World Tour Finals. It was almost enough to guarantee victory. But, as any engineer will tell you, a chain is only ever as strong as its Nicolas Almagro.
In the end, but only in the end, Tomas Berdych was proved right. Despite his many accomplishments, Almagro was indeed the fatally weak point through which the Czech Republic funnelled its assault, and thereby achieved a famous victory. They had to try something.  When you're faced with the most impregnable tennis nation of the era, which has claimed more Davis Cups in recent years than nearly every other country combined, you take what you can get, even if it is the assertion that the world No.11 is somehow a liability. The Czechs took what they could get.
Presumably no one was more relieved to see Berdych's astute prediction come to pass than the man himself, for all that such comments are intended to be partly self-fulfilling. Berdych's aim was certainly to seed doubt in any existing cracks in Almagro's mind, and consequently widen them. The belief, which is widely subscribed to even by the Spaniard's admirers, is that Almagro's ranking around the edge of the top ten represents the upper limit of his abilities, which is restricted not by raw ability but by the near-certainly of his mental collapse in important matches.
Of course, this tactic nearly backfired when the Spaniard acquitted himself superbly on the opening day, and almost force-fed Berdych the healthiest slice of humble pie since Yevgeny Kafelnikov promised Lleyton Hewitt a stern tennis lesson, and then promptly lost. In a hostile environment, on an indoor hardcourt, Almagro pushed Berdych to the limit for four hours, leaving the Czech with a victory that might well turn out to be Pyrrhic given the heroic quantity of tennis still ahead of him. Suddenly the doubts were all Czech.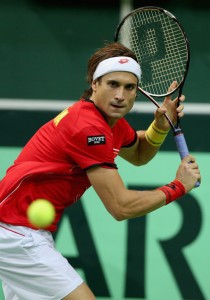 What would this Almagro do to a tired Stepanek in a live fifth rubber, if it came to it? These abstract musings took on a practical urgency after Berdych's consummate flogging at the hands of David Ferrer in this morning's fourth rubber.
The loss to Ferrer was Berdych's first loss in Davis Cup in 2012, which ensured that one of the most successful such years in history ended on a slightly down note, at least personally. He had become just the second player to win at least ten live rubbers in a season, but he might have lost the one that mattered most, and badly. Meanwhile, it was Ferrer's eighteenth singles win in a live rubber, for only three losses, and he has been unbeaten this year, winning six matches for the loss of two sets. This was the rubber that many had expected to be pivotal.
Desperate to resuscitate Spain's chances, Ferrer emerged as though unbowed by the slightest concern in the world. He was, from the opening point (an ace), operating on a stratospherically higher plane than Berdych. Ferrer's defence was predictably impeccable, and Berdych completed few trips to the net that weren't laced with peril. All too often the Czech barely attained the service line before spinning to watch Ferrer's passing winner streak by. But mostly it was Ferrer darting forward and compelling his larger opponent to yield up the baseline, and to run, subjecting Berdych to an unending selection of vicious high-speed geometric puzzles that he proved ill-equipped to deal with. It was the most surgically accomplished match I have seen from Ferrer since he dismembered Juan Martin del Potro at Wimbledon.
But would it all be for nothing? Just last week Ferrer managed to win two matches in the round robin phase in London's O2 Arena but was cruelly denied a place in the semifinals. Now in Prague's O2 he had flogged both Czech singles players, but was faced with the possibility that he might still lose the Davis Cup final. It had all come down to Almagro and Stepanek.
Either represented a vanishingly slender thread from which to suspend national hopes. Stepanek was in Prague on his preferred surface, but was also playing his third best-of-five match in three days, and he was almost thirty-four years old. Indeed, no man over thirty had won a decisive fifth rubber in a final exactly one hundred years.
Meanwhile Almagro's capacity to under-perform in crucial matches had been the endlessly-iterated theme of the weak. The fifth rubber of a Davis Cup final is a crucible. The man who wins is invariably the man who can retain his shape the longest. Could he somehow replicate Viktor Troicki's unlikely feat from 2010, and stand firm in the face of an experienced opponent who wouldn't stop coming at him?
Visually, neither man could realistically claim the honours. Almagro's pink shirt had long since shed its España patch, which only the congenitally unpoetic failed to read as symbolic, while his shoes looked like he'd forded a shallow stream of salmon dip. Meanwhile Stepanek's blue shirt sustained the rich Czech tradition of producing history's most hideous tennis wear, a tradition that stretches back at least to Ivan Lendl. (Lendl was there, incidentally, and looked on approvingly.) With its extravagant leonine heraldry, it scored highly for patriotism even as it uneasily reminded us that sanity is only ever contingent.
The match got off to a shaky start, but before too long settled into a steady pattern of Stepanek attacking and Almagro barely holding on. It is hard to think that, as predicted, the occasion hadn't gotten to Almagro. Character is indeed destiny. He was unusually passive, but then part of his make-up is that despite being a gifted shotmaker he can stop going for his shots when the going grows tight, unlike, say, Marcos Baghdatis, who keeps going for them but misses. Given the wave of support that Stepanek was bodysurfing – he was relentless – it was in a way admirable that Almagro held on as long as he did, until, at crucial times, he didn't.
The second set provides a particularly good example. After they'd traded early breaks, Almagro finally forced his way a tiebreaker with his best tennis of the match so far. From there he disappeared almost entirely, and failed to trouble the scorer, although the stats guy in charge of unforced errors was kept busy.
The third set was certainly Almagro's boldest passage of play, and hope or dread kindled at the prospect of an audacious comeback from two sets down, depending on your proclivities. Surely Stepanek was now tiring. It was hard to tell. He was certainly endeavouring to shorten the points, but he's been doing that for years on nearly every point. His work around the net remained consistently excellent, and this consistency began to wear his opponent down to nothing in the fourth, although Almagro, with feathery irony, did save one match point with an angled backhand volley of his own. He couldn't save the second. The Davis Cup was sealed with one last Almagro error, his 56th of the afternoon, and Stepanek collapsed to the court. The captain Jaroslav Navrotil arrived to crush him shortly after, followed immediately by the mullet he has cultivated since the Czechs last won the Davis Cup. Before long the rest of the squad were there, and piled atop each other in the approved manner.
Speaking of irony, it was a quite delicious moment when Berdych of all people, amidst the team celebrations that were gaining a fearsome internal momentum, interrupted Stepanek – who'd taken to vaulting the net – and reminded him to go and shake the hands of the assembled Spanish team. Both the Czech players have had a memorable year when it comes to handshakes. That will definitely be what they remember 2012 for. Stepanek then shredded his special lion shirt, providing an image fated to remain with the rest of us for some years to come.
I won't pretend to have seen all hundred Davis Cup finals that have so far been contested, but I'll submit that this one would not look out of place beside the best of them. It featured  just about everything one might have hoped for (unless you are Spanish, in which case you would feasibly have hoped for more Rafael Nadal, without whom the Spaniards are merely very good, as opposed to unbeatable).
The heroic Ferrer did a lot, but he couldn't do everything. He might have even done enough to stop pedestrian commentators telling us how underrated he is, despite the fact that they're only ones saying it.
Nor should we forget the central doubles rubber, in which Stepanek and Berdych defeated the reigning Tour Finals champions in Marc Lopez and Marcel Granollers, proving once more that the top doubles players aren't necessarily the best doubles players. This in turn reminds us that the Czech Republic won the 2012 Davis Cup with only two players. Berdych and Stepanek contested every live rubber in 2012, in singles and doubles. It also fittingly caps the most successful possible year for Czech team tennis. In 2012 they have won the Davis Cup, the Federation Cup, and the Hopman Cup. It's a lot to bear in mind, and it's conceivable that 2012 won't be remembered for missed handshakes after all.
† I note with some interest that Australia defeated the USA in the Davis Cup finals of both 1914 and 1939, an outcome that might well have precipitated unprecedented global carnage. Of course, there's a slim chance that it's just a coincidence, but can we take that chance? It's probably for the best that my country remains mired outside the World Group.