The moment came just after Shanghai. With eight of the season's allotted nine Masters 1000 events completed, it looked for all the world as though the ATP's premier tournaments would be claimed  exclusively by the sport's top four players, an outcome that wasn't rendered less astonishing by the fact that this is precisely what happened last year. Even as one couldn't believe that the same quartet just kept on winning, an alternative winner grew increasingly difficult to pick, or even imagine; a clear reminder that when a trend goes on long enough it can feel both mundane and amazing at the same time.
As it so often is, the Paris Indoors provided the exception. The last time someone outside the top four won a Masters was also in Paris, in 2010, when Robin Soderling triumphed as the world No.5. This time around it was won by David Ferrer, who is also ranked No.5. It says a lot that the world's fifth best player winning a Masters tournament elicits surprise. Precisely what it says will depend on one's opinion of the current era.
BNP Paribas Open, Indian Wells
Winner: Roger Federer
As a virulent gastric bug replicated its way through greater Palm Springs, the theme of the week was vomit, with the consensus being that too much of it was emerging from the mouths of professional tennis players. The withdrawals mounted, and the story spread that there was something wrong with Roger Federer, who'd turned a worrying shade of green.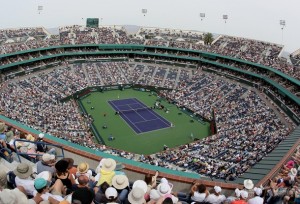 Andy Murray fell to a momentarily resurgent Guillermo Garcia-Lopez, kindling fears of yet another post-Melbourne slump. Rafael Nadal and David Nalbandian fought out the finest match of the tournament, one that the Argentine's fans may never forgive him for not closing out.
Stomach bugs gave way to hardware glitches in the later rounds, and a Hawk-eye malfunction ruptured Juan Martin del Potro's brain for an entire set. Then bugs gave way to a gale as storms swept over the desert. John Isner, the latest great hope for American tennis, served through the wind to inflict Novak Djokovic's second loss of the year in a third set tiebreak, and in doing so progressed to his first Masters final. Federer and Nadal met in a semifinal that played out exactly unlike everyone predicted, with Federer storming through as though his end of the court was untroubled by the merest zephyr. He defeated Isner comfortably in the final.
Sony Open Tennis, Miami
Winner: Novak Djokovic
Desert gave way to swamp, and straight-laced southern Californians gave way to a Latin carnival. Grigor Dimitrov upset Tomas Berdych, proving that he's ready to mix with the big boys, a contention he then spent months disproving. Andy Roddick played his best match in years to upset Federer, ensuring their career head-to-head would never attain a twenty match differential.
Any hopes that he'd finally turned a corner were undone when he was subsequently bagelled by Juan Monaco, riding a wave of 'local' support. Monaco then defeated Mardy Fish, in what would prove to be the American's last competitive match for half the season. David Ferrer dismantled del Potro in a way that was startling at the time but has since been revealed as the norm.
Djokovic was looking patchy, but hadn't dropped a set, even against Marcos Baghdatis, although he afterwards celebrated as though he'd triumphed 12/10 in the fifth. Nadal and Jo-Wilfried Tsonga proved yet again that a long tight match doesn't have to be a good one. After winning, Nadal's knees withdrew, leaving the rest of him no choice but to go along. This gifted Murray his second walkover of the event, and propelled him into the final. Talk of the post-Melbourne slump was forgotten. Suddenly it was all about the Murray-Djokovic rivalry. Then Djokovic won a low-grade final comfortably, thereby defending his title. It wasn't much of a rivalry, yet.
Monte-Carlo Rolex Masters, Monte Carlo
Winner: Rafael Nadal
The interest, as the clay season hit its stride, was the condition of Nadal's knees, and whether they would be able to withstand another round of blows from Djokovic. Further interest was provided by the tournament's decision to install a pot hole behind the landward baseline, which cripplied Monaco and Julien Benneteau.
It got even more interesting – if that's the term – when Djokovic's grandfather died the day before his second round match against Alexandr Dolgopolov, leading to speculation about whether he'd play. He did, and he won, just.
Nadal encountered barely any resistance on the way to the final, except from Gilles Simon of all people, who'd apparently saved up a whole season's worth of aggressive play for that one match. The final was billed as the big showdown between Nadal and Djokovic, the first time they'd met on clay since Rome the year before, or anywhere since the Australian Open in January. Would the world No.1 continue to dominate the Spaniard in finals? As it happened, Nadal won so easily that even his staunchest fans felt that nothing had been resolved either way. Grief had reduced Djokovic to a shadow. Still, it was a record eighth consecutive Monte Carlo title for Nadal, and really you take them however they come. By winning Nadal again moved to the top of the all-time Masters title leader-board. But all the same, the sense of unfinished business was pervasive.
Mutua Madrid Open, Madrid
Winner: Roger Federer
And so we came to the blue dirt in the magic box. It is difficult to overstate just how controversial this was at the time, and how thick and fast the doomsday proclamations came. It was going to ruin preparations for Roland Garros. The blue clay, which otherwise resembled nothing more lethal than laundry powder, was so dangerous that it might as well be laced with anthrax. Ion Tiriac was the devil incarnate. It was the end of days.
I quite liked it, although I grew weary of the way every ailment suffered by any player in the ensuing weeks was reliably traced back to Madrid, including gastric afflictions, sore shoulders, and general Weltschmerz.
Federer overcame Raonic in a high-quality fast-court first round. By thrashing Davydenko, Nadal foolishly invited his fans to relax their guard, which meant his subsequent maiden loss to Fernando Verdasco struck with the force of a sledgehammer blow. A testy Djokovic fell to Janko Tipsarevic. Berdych and del Potro played a fine, aggressive semifinal. Federer finally overcame Berdych in a tremendous and tight final, earning a framed suit from Will Smith, a temporary return to the top two, and the right to be dubbed the 'blue clay greatest of all time' (BC GOAT). Earlier in the week Djokovic and Nadal delivered separate ultimatums that it was blue clay or them. There won't be blue clay in La Caja Magica next year. I'm sure there's no connection.