Wimbledon, Semifinal
(3) Federer d. (1) Djokovic, 6/3 3/6 6/4 6/3
The verdict is in. Sunday's men's final at Wimbledon will be nothing short of epoch-shattering. The statistics prove it. This is troubling news for those who remain quaintly attached to the current epoch, with its slavish devotion to precision time-keeping and its increasingly mannered approach to cuisine.
But, if nothing else, history and reality cooking shows have taught us that omelettes aren't to be fashioned from intact eggs, and it has, quite literally, been weeks since a tennis matches had this much riding on it. Change is coming. You really can't stop it.
Indeed, the epoch only narrowly survived today's semifinals intact, although in the case of Jo-Wilfried Tsonga the cracked eggs barely remained metaphorical. Records were begging to be smashed or assembled all over the place, depending on one's proclivities. Novak Djokovic sought to complete the career Grand Slam of defeating Roger Federer in major semifinals, thereby becoming the first man to do so. Federer, for his part, would by losing have completed his career Grand Slam of falling in major semifinals. Opportunities like that don't come around every day. Had he lost, Andy Murray would have become the first man to fail to reach a Wimbledon final after having Rafael Nadal cleared from his path, and therefore the first person to be publically executed in the United Kingdom in nearly fifty years. (Federer's earlier claim of 150,000 years, widely reported, was clearly made in jest.) Tsonga, following an incident late in the third set, would have become the first person to win a mixed-doubles match on his own. The lesson is that when epochs require shattering, it is the quantity of the records that matter, rather than the quality.
Frankly, it is daunting how the quirky statistics pour forth when important matches take place. At the best of times these numbers are an insistent flow at risk of deepening into a flood. When fraught Wimbledon semifinals come around this flood can expand to a vast cataract that threatens to inundate farmland for miles around. I understand that for many fans statistics create the illusion of apprehending the sport in a meaningful way. This is fine, assuming we don't thereby invest the sport with more meaning than it can sustain – the conceit of American coverage – or imagine that these are terms the players themselves think in. We mustn't pretend this stuff matters. To the players, the numbers that truly count are few. For Federer those numbers are 1, 7, 17, and 286.
Federer, who with today's victory has reached more major finals that anyone else, is constantly reminded of obscure milestones. The more he professes his unawareness of each record in the teeth of stern interrogation, the more scepticism we feel.  How can this stuff mean so little to him, we wonder, when it means so much to us? Coming into today's match, Federer's fans probably knew far more about his record against Djokovic (second man to defeat Florian Mayer in a major quarterfinal) than Federer himself did, for all that he, like Nadal, is unusually retentive of such details. But Federer knows far better what it feels like to play Djokovic. This is arguably more useful than the searing awareness that he had lost four of their last five encounters at Grand Slam level.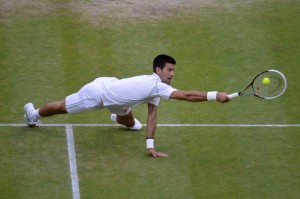 During the first set of today's semifinal you can be sure he wasn't attempting to win his first set from the last nine, stretching back to last year's US Open. He was just trying to win one, and he did. Then he tried to win another one, but didn't, at least not straight away.
Todd Woodbridge helpfully reminded me that Federer had never before lost a set in a Wimbledon semifinal (not even to Jonas Bjorkman). This seemed like an important fact, and I wondered if Paul Annacone would risk a code violation in making his charge aware of it. John Newcombe, on the other hand, has little head for statistics. Indeed, the only numbers he seems to be aware of when watching Federer play are 'four or five'. In 2012, this is how many years it has been since Newk last saw Federer play this well. Last year it was 'three or four'. You can imagine the verbal difficulties he encountered back in 2007, when Federer was apparently playing like this all the time. I suppose it was merely a way of saying this was vintage form. Not for the first time this fortnight, I wished he had just said that. In any case, Federer recovered from his first dropped set in a Wimbledon semifinal, and took hold of the match in the third, as the world No.1's form rapidly dipped.
It was certainly a vintage performance on serve. Federer's variety was immense, and Djokovic, by broad consensus the finest returner in the game, was constantly guessing wrong. There were some beautiful body serves at the Serb's right hip. Djokovic is good enough that even when guessing wrong, on grass, he can get a racquet on the ball, but he too often managed little more than that. He won 28% of points on Federer's second serve. He also committed twice as many errors (21 to 10), and slipped around a lot.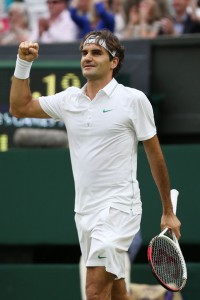 Djokovic's ongoing effectiveness against Federer is heavily reliant upon superb movement and the capacity to force the Swiss into desperate errors. Not today.
The last point of the match was a curious echo of Federer's final point at the 2009 French Open: a first serve up the T to the ad court, an off forehand return dumped meekly into the net, and a pause so tiny it might have been missed had it not been so pregnant. I momentarily expected the sport's greatest player to collapse to his knees and raise his hands to his face, but the colours were wrong – white and green instead of blue and red – and the moment passed. Federer thrust his arms aloft, and shook his fist, his relief a muted echo of his wife Mirka's, whose face was tilted gratefully to the heavens, or to the roof, whichever had been more helpful. Federer is the first man to reach eight Wimbledon finals in the Open Era.
Federer is often asked in interviews which of the achievements still remaining to him would mean the most, and if he could achieve just one, which it would it be. It's usually a multiple choice question, and the options generally include claiming an Olympic gold medal in singles, winning another Wimbledon title, or regaining the No.1 ranking. If he is victorious on Sunday he will claim his seventh Wimbledon and seventeenth major title. He will also regain the No.1 ranking for the first time in over two years, and it will be impossible for him to reign there for less than the two weeks he requires to surpass Sampras's record of 286 weeks atop the ATP rankings. Perhaps more importantly, he will also become the first man to defeat Andy Murray in three major finals, and the first to do any of that while his dad wears a lucky red hat.