Wimbledon, Final
(3) Federer d. (4) Murray, 4/6 7/5 6/3 6/4
The most pressing issue facing anyone determined to talk about Roger Federer's era-sundering victory in today's Wimbledon final is deciding in what order to sprinkle his latest assortment of accomplishments onto what is already an imposing heap. Sundered eras – shattered epochs by any other name – tend to produce piles of rubble anyway, but Federer's mound of achievements is still easy enough to pick out.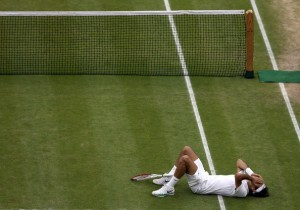 Just follow the lifted gaze of those around you. Everyone is staring up at it, even those who'd prefer to set it on fire. On the very top is a jumble of golden Wimbledon trophies, each capped by a tiny and anachronistic pineapple, like Kipling a memento from an imperial age. A large crane has just dropped the seventh of these into place.
I will therefore go with this order: Federer has now won his seventh Wimbledon title, his seventeenth Slam, and has regained the world No.1 ranking for the first time since June 2010. As anticipated, he has also become the first man to achieve this feat while his father wore a red baseball cap bearing his son's monogram. He is also the first man to do it under a roof. A seventh Wimbledon title of course ties Federer with Pete Sampras, while his eight finals push him past anyone. Seventeen majors is also three clear of Sampras' old mark, set way back in halcyon 2002, when the internet was still more pornography than cats. Furthermore, Federer will now inevitably surpass the American's record of 286 weeks atop the ATP rankings. If anyone could empathise with Andy Murray's desolation afterwards, it was Pistol Pete, who throughout his career always maintained a strong line in empathy.
Then again, sympathy for Murray hardly hinged on witnessing your place in history being eclipsed. It just required a heart fashioned from any substance more yielding than flint. Before the match, my television aired a short, leaden-handed (American-produced) documentary that systemically interviewed every resident of Dunblane, who turned out to be unanimous in their faith that their most famous native son would in winning Wimbledon achieve final closure for the school massacre of 1996.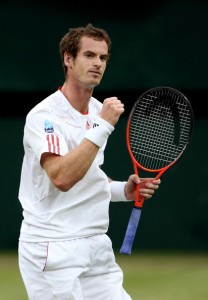 If the aim was to make British support a moral issue, it worked. Yet again, a journey towards absurdity merely resulted in the discovery that some Americans had arrived there first, propelled entirely by earnestness. Among the many messages, one was clear: Federer might arguably be the world's most beloved tennis player, but he wasn't the good guy today, no matter how many numbers he was chasing. The only number Murray, and by extension Great Britain, were interested in was one. One Wimbledon singles title for one British man. That way they could move beyond 1936. 1936 is old news.
Nonetheless, according to the betting markets, and any number of shoddily indefinitive online polls, picking the bad guy to win in four sets was the safe option. I received a message before the match asking for my prediction, with the qualification that I wasn't allowed to pick Federer in four. With the default response closed to me, I realised I had no idea – that Dunblane piece had me spooked – and said as much. Furthermore, I firmly believed that the version of Murray who boasted a winning record against Federer would make something more than a token appearance today, for all that he has historically shied away from the brightest spotlights. Meanwhile on my television, the vision cut away to a pub somewhere in Scotland where pale people were failing to contain themselves, then back to SW19, where two very healthy men were strolling purposefully onto a tennis court. The taller one was holding a racquet, and looking sternly intent.
This was the Murray that decided the first set, and that imposed himself for all but one game of the second, which was unfortunately its very last game. Federer commenced nervously, sealing the break of his own serve in the first game with a stiff drive volley beyond the open court. But Murray was relentless, fearless with his pace and bold with his depth. Federer's unforced error tally began rapidly to mount, though he recovered the early break. It was tight, and the Centre Court crowd, largely in accord with the good folk of Dunblane, roared their approval as Murray saved break points in the eighth game, and then broke, and served it out. It was his first set in a major final, and he deserved it. By the standards of a Federer match, it had taken an eternity.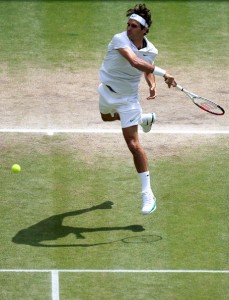 The second went by quicker – there were actual love holds – but Murray was still on top. This time it was Federer's turn to fight off break points late. At 6/5, he broke Murray to steal the set, capping the achievement with a pair of sumptuous grass-court points, each proving that immense variety is possible even between successive drop volleys. The roof was still open, and momentum had shifted. One set all, but Federer was suddenly ahead.
Much will be made – indeed, has been made – of the closing of the roof at 1/1 in the third set. Mostly what has been made is much ado in spades, heaping up the evidence that roof closure unfairly favoured the Swiss. General consensus holds that Federer grows into an unplayable colossus when protected from the fierce sky, since he is otherwise diminished by an undiagnosed agoraphobia. His lauded equanimity is apparently vulnerable to the merest breeze. Indoors, though, he's a juggernaut, a thing of darkness, luridly spot-lit. He seemed rejuvenated after returning from the break. But it's worth pointing out that he was already looking refreshed before the drizzle deepened into a downpour. It came when he broke audaciously to grab that second set.
Thereafter Federer was hardly unplayable – Murray played him close – but he was the Federer that Wimbledon remembers. As John Newcombe would say, this was the Federer of 'four or five years ago'. In fact, John Newcombe did say that, repeatedly, and Todd Woodbridge proved powerless to stop him. Now it was Murray holding on. Frequently he was holding onto parts of his own anatomy – back, leg, nothing lewd – always a sure sign that the Scot is in some trouble. The key moments came in the sixth game, enough of them that they stretched it out to a 20-minute, ten-deuce epic, in which Murray fell over a lot and saved a commendable five of six break points. But he didn't save the sixth. Soon it was two sets to one. The break in the fourth set was entirely in keeping with the run of play. The IBM Slamtracker's handy momentum bar, an almost unreadable way of presenting us with information we already know, concurred. It didn't tell us that Federer broke with a dismissive backhand riposte at his closing opponent, but luckily the pictures did. Murray could feel it slipping away, and his self-reproach gained its customary bitter edge. The camera swung over Murray's Mound, inspiring a desultory cheer. When the chance to be shown on the Jumbotron cannot induce fans to caper like lunatics, then you know their despair is consuming. They weren't alone.
How could one not feel for Murray, even as he slipped to that dark place in which the crowd's desperate adulation helps less than it hinders? When Murray's final forehand pass – his money shot – landed barely wide on match point, it might have warranted a challenge, but he had none left. There was nothing left.
Federer collapsed to the court. In a moment, he was again the world No.1 and Wimbledon champion. The new epoch felt suspiciously like an old one. The new omelette tasted uncannily familiar. The crowd had by now spent an entire set cleansing their palates, and were cheering wildly. They cheered for both players. Murray looked wearily and tearfully numb, retaining only enough energy to punch the next person who suggested that Nadal's early exit had ultimately enabled anything more than a deeper heartache. The Wimbledon presentation can be a pompous and impersonal affair, and to Murray, striving for an exquisite eternity to contain his tears, while the stadium around him broke down, it might have felt cruel. It occurred to me that by spacing the players so far apart – Federer loitered by the net, while Murray gulped steadying breaths by the baseline – Federer was unable to bestow a spontaneous hug on his opponent, even if he'd wanted to. Murray was alone among his millions. Eventually he gathered himself, and spoke briefly but movingly. Obliged to watch helplessly from the stands, those members of his camp not named Ivan Lendl were a mess.
Federer took the microphone, and, mercifully, didn't seek to ameliorate Murray's pain by claiming he knew just how the Scot felt. Instead, he proved typically eloquent in elaborating upon how he himself felt. It turned out he felt pretty good. His twin girls were fluttering tiny hands at their dad by this time, as were the grown-ups pressed close about them, including Roger's father Robert in his lucky red cap. Their man once spent half a decade at the top of the sport, and now he's back. And he doesn't have to decide whether 1 or 7 or 17 matters more. He has them all.