French Open, Day Eleven
Tuesday's French Open quarterfinals provided a pair of matches that were about as fascinating as discerning tennis fans could reasonably hope for, although those same fans might reasonably query the wisdom of scheduling both for precisely the same time. Aside from this continuing and daft experiment – the apparent goal of which is to neatly halve the number of potential viewers – Wednesday's quarterfinal matches turned out nothing like that. No match points were saved, and neither of the eventual winners ever fell behind more than a game.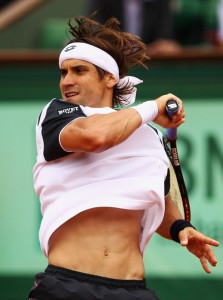 Yesterday's arrhythmic and barely tonal bloodbath gave way to a stately procession; a pair of sunny sarabandes whose intricate figurations initially delighted but ultimately failed to disguise the unyielding onward pulse below. I presume this won't bother fans of Rafael Nadal or David Ferrer one bit, particularly as these fans are often (although not exclusively) one and the same. Perhaps it's a Spanish thing. Perhaps it's something else. I'm open to theories.
In any case, predictably or otherwise, the upshot is that the Roland Garros semifinal line-up is complete. Actually, I'll concede that predictable is the appropriate term here, since, as usual, the last four includes the top three players in the world. Nadal will play Ferrer, and Djokovic will play Federer. For all that their journeys along these roads have not always been stately – Federer and Djokovic have seemingly clashed with bandits at every turn – there is an immutable sense that all of the roads have led here, even those snaking away from Rome. Indeed, it's worth remembering that the Foro Italico witnessed precisely the same semifinalists, up to and including David Ferrer. Who can reasonably question Rome's value as a form guide?
If today's quarterfinals aren't destined to abide in the collective memory, they still cleared up a few lingering questions. We now know that Andy Murray really did have the toughest draw out of the top four, although Juan Martin del Potro had the toughest draw out of anyone, excepting perhaps Simone Bolelli. We discovered that Murray plays better when the crowd hates him, which is something for the fanatics at Wimbledon to bear in mind. There is a rumour that Virginia Wade is organising a cheer squad. And we found out that Nicolas Almagro can time the ball really sweetly from both sides, even a sodden ball in dull conditions, although further viewing revealed that he cannot keep doing it for nearly long enough.
(2) Nadal d. (12) Almagro, 7/6 6/2 6/3
Indeed, today proved to my satisfaction that Almagro will probably never beat Nadal on clay. By his own admission he 'played one of the best matches he can play against Rafa', but he was never all that close to taking a set, and Rafa was hardly at his best. Post-match analysis has focussed on Almagro's squandered break-point at 3/3 in the third set. But if your tightest moment comes in the middle of a set, when you have a two set lead, you're not realistically in much trouble. I can't recall thinking at the time that a break to Almagro at that moment would guarantee anything beyond the opportunity for Nadal to break him back, an opportunity so far denied him.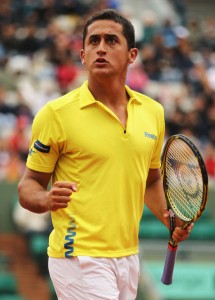 For once I agreed with the otherwise pointless Slamtracker (think of the man-hours that went into that thing):  the momentum was all with the defending champion, who was defending as only he can. I was vaguely reminded of those who talked up Jurgen Melzer's chances at last year's event , based on the fact that he'd almost taken a set from Nadal the year before. Somehow, in spite of this immaculate pedigree, Melzer lost in the second round.
Nadal's victory also gave us a useful example of the shortcomings of highlights packages, proving once again that trying to gauge the quality of a match from it best moments is about as worthwhile as settling down to read The Great Conversations from Middlemarch, or Proust's Top Ten Recollections. Actually, that's not quite correct. It is the conceit of mainstream tennis coverage that in order for a tennis match to be sufficiently dramatic, or 'meaningful' – here a meaningless term – it must therefore have a readily-defined narrative. The truth is that it mustn't, and the drama, as I've suggested before, is essentially symphonic rather than literary. (Of course, not all matches provide great drama, but then not all symphonies are by Mahler or Beethoven. Most of them are crap, and mercifully forgotten.)
A highlights clip is more like a short medley of tunes than a symphony, which entirely misses the point, since a masterpiece cannot be distilled by just plucking out the catchy bits. Melody is only part the charm, and in rare cases none of it. Some of the most dramatic tennis matches are relatively highlight free. Even as ESPN conceives of tennis – as facile and programmatic – the highlights package heightens the spectacle but warps reality, and instills the false belief that a great match is merely the sum of its best parts, when all too often the opposite is true. Watching winners chained end on end can certainly be diverting, but without context they reveal little about how a given encounter actually unfolded. Here endeth the rant.
The metric has yet to be devised whereby today's quarterfinal between Nadal and Almagro could be considered a great match. I watched it unfold in something like real-time, with only a brief delay to catch Almagro's potential nipple-slips and for my stream periodically to insulate itself against the rigours of global travel.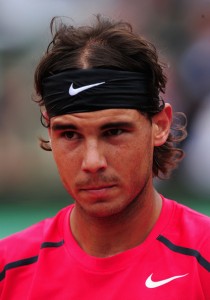 I've since watched a highlights package, which mostly showcased Almagro striking the ball with rare authority and Nadal retrieving desperately until his lower ranked compatriot buried a winner into the court he had lovingly prised apart. These points were very occasionally punctuated by Nadal contriving a scintillating winner from a hopeless position.
Nevertheless, the score-line informs us that Almagro actually lost the match, which therefore tells us that he missed the court rather too often, or that Nadal probably wasn't in hopeless positions as frequently as one is led to believe. The score-line therefore says more than the highlights do, which really only reveal the astonishing information that when the world thirteenth best tennis player hits the ball as well as he can onto the lines, he is almost unbeatable. The real match took considerably longer, and was mostly decided by Almagro's inability to return serve with any consistency – a fatal shortcoming in sluggish conditions – and the necessity for him to immediately exert control in every rally, and then maintain it almost indefinitely. If he didn't, Nadal would, because he can.
The truth is that Nadal's capacity to produce outrageous winners from impossible situations is no more fundamental to his perennial success than Djokovic's ice-veined recklessness while match-point down is to his. Both are handy attributes, to be sure, and as I suggested yesterday, without it Djokovic's continuing steeplechase towards history would have foundered at the second fence. But this is not how either man wins most matches. By my count, Nadal has now claimed 48 consecutive sets on red clay, dating back to last year's Davis Cup final. He has done this by controlling the court, not through his undoubted virtuosity when forced off it. Most of the sets weren't close, and this is by design. His design. He might not have been at his best today, but you can be sure that it went just how he wanted it to.