Rome Masters, Third Round
Seppi d. Wawrinka, 6/7 7/6 7/6
The question of why Rome is my favourite Masters tournament was addressed with devastating intensity by Andreas Seppi and Stanislas Wawrinka on Court Nicola Pietrangeli today, ably supported by a lone umpire and an extras cast of thousands, each of whom had been extensively coached in the finer points of screaming one's head off.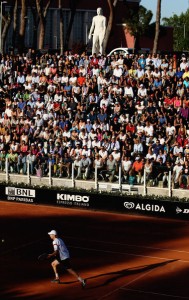 The go-to cliché for any tennis match serviced by a rambunctious and partisan crowd is that it had a 'Davis Cup atmosphere'. Although this can leave journalists grasping for meaningful comparisons in actual Davis Cup matches, today it seemed appropriate enough. For Wawrinka, it must have felt like an away tie. He has long since proven his capacity to stuff those up.
In December's final reckoning, it's doubtful whether this match will feature among the Best of the Year – the personnel and scheduling will certainly count against it – but if it fails to make the top five in the Drama category then we can assume there is no justice, or that Fabio Fognini has gone on a sustained rampage. Seppi saved six match points in total, five of them in the final set, four of them on Wawrinka's serve, and three of them in a row from 3-6 down in the last tiebreaker. Wawrinka didn't save any match points, and the ones he lost were testaments to an arm that had grown leaden with tension, directed by a mind crippled by doubt. Seppi, to be fair, hardly looked in better shape. Neither man boasts a particularly accomplished backhand slice, and yet by the end we were treated to the kind of exchanges that Federer and Youzhny make entertaining, and that Dolgopolov and Tomic make interminable. In the hands of Seppi and Wawrinka, however, they were just dreadful, literally: each junky shot bespoke a dread of losing that was almost complete.
Of course, neither player could keep it up indefinitely. Eventually someone would try to force the play, and produce an error. Wawrinka produced the last of these, halfway up the net. The crowd, which had already been whipped to a rich patriotic froth by Flavia Pannetta's emphatic win, went right off its collective nut. Seppi joined them. The statues ringing the court, the very furniture of macho smugness, gazed down with satisfaction. There are few better places in the world to watch tennis. I really wish I'd been there.
(2) Federer d. Ferrero, 6/2 5/7 6/1
If Seppi and Wawrinka produced today's most dramatic match of the day – and I've just spent four hundred words insisting on nothing else – it was the day's final match between Roger Federer and Juan Carlos Ferrero that featured the best actual tennis. This was shot-making of the highest order.
Watching, I was transported back eleven years, to the magnificent Rome final of 2001, in which Ferrero overcame Gustavo Kuerten in five sets (another fittingly gladiatorial epic on the old Centrale). I remember marvelling during that match at how Ferrero and Kuerten had seemingly taken clay court tennis to another level, their speed, footwork and accuracy making it look like a hardcourt you could slide about on. Kuerten's decline would come later that year, when as world No.1 he attempted to play through a seemingly innocuous hip injury at the US Open, and despite subsequent surgery was never the same again. The remainder of his career was a long twilight. Ferrero's decline commenced later – after the Australian Open in 2004 – and, for me, has always been trickier to explain. There was chicken pox, and a wrist injury, but upon recovering from those he didn't seem noticeably worse than before. He just couldn't win any more. The temptation isn't inconsiderable to suggest that in those short months the sport had moved on, and Federer's concurrent ascension at that very moment makes it a hard theory to refute.
Perhaps appropriately, Federer achieved the No.1 ranking for the first time by thrashing Ferrero in the semifinal of that 2004 Australian Open. Indeed, my chief reason for resisting this theory is a distrust of any idea that is feels so simple.
On the other hand, tonight's match provided compelling evidence that it may well be the case. Ferrero played well, dictating from the forehand, and for the life of me I can't remember anything he used to do much better, although he was spryer about the court in his youth. It's difficult to believe he was 0-6 for the season (coming in to Rome), although injury and age have played their part. Federer was clearly better, with superior weight on all his shots, more clarity in his approach, and greater audacity when pressed. Ferrero's clay court tennis, which once represented a quantum leap forward, now looked somewhat old school. Nevertheless, the Spaniard's effort to take that second set was mighty, and if there's a match today that's worth finding the highlights of, this is it. Federer will play Seppi in the quarterfinals, meaning the Italian will need to see off Switzerland's entire Davis Cup squad if he is to progress to the semifinals (where I think he'll face Severin Luthi). At least the crowd will be up for it.
Elsewhere
In other matches, Juan Martin del Potro was sadly unable to overcome a dodgy knee, general fatigue, an absent crowd, or Jo-Wilfried Tsonga's strangely imposing backhand, either singly or, fatally, in combination. Rafael Nadal produced a pair of bread-sticks, and then proceeded to beat Marcel Granollers about the head with them. Novak Djokovic attacked the allegedly paradisaical surface of Court Centrale with special vehemence, disqualifying his tennis racquet from further use as anything but a memento. Later on he proffered the hope that no kids had seen him behaving thus. Presumably there are plenty of kids without television sets or any interest in tennis who missed it, who were therefore spared the horrifying vision of a grown man breaking a piece of sporting equipment. For the other unlucky souls, the ATP runs a counselling service. Juan Monaco was excellent, but not quite excellent enough.
Andy Murray was quite good early, then a little bit bad, and then good again in the first set tiebreaker. After that it was all bad, all the way to the end, and especially on break points. Richard Gasquet, normally so empathetic in this respect, somehow didn't allow himself to be dragged down. Murray, as is his way, swore at everyone for a while about the shadows and the dirt. There was no escaping either, since this is Rome. And since it is, it seems apposite to quote Horace: Pulvis et umbra sumus. We are dust and shadow. Something for the Scot to consider, as he departs for The City of Light.