Davis Cup, Quarterfinals, Day Three
Czech Rep. d. Serbia, 4-1
Berdych d. Tipsarevic, 7/6 7/6 7/6
In twenty years' time, someone poring over old tennis scores might chance upon today's Davis Cup results, and might make certain assumptions – entirely erroneous – as to how the matches played out. (Positing this theoretical future 'historian' entails a simultaneously bleak and optimistic view of the future, in which poor lonely bastards are permitted to pursue their pointless whimsies freely, and aren't simply harvested for their organs.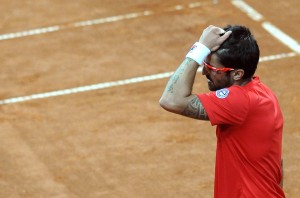 This suggests that at some point in the next two decades the west might enjoy a break in conservative governance. But I digress.)
Of course, a score line of 7/6 7/6 7/6 is an easy one to draw the wrong conclusions from. Being straight sets, one might assume it was straight forward. With every set ascending to a tiebreak, one might also, as with the famous US Open quarterfinal between Sampras and Agassi, assume it was tight. But you know what they say about assumptions: 'they have an established tendency to make you and I look foolish.' (They don't say what happens in the case of pre-existing idiots, but assumptions probably don't help.) Janko Tipsarevic, however, doesn't need to assume anything in order to look foolish. He just needs a tennis ball in his hand, and the opportunity to serve for a set.
Tipsarevic served for both the first and second sets, and both times he was broken back by Tomas Berdych without achieving set point (although he did find one in the second set tiebreak, and promptly discarded it). However, the most telling moment came at 5/3 in the first set tiebreak, as Tipsarevic left a ball that landed in, a moment that told us that in lieu of genuine belief, he had only haggard, desperate hope.
Having established his credentials for gagging a lead, Tipsarevic essayed a different approach in the third set. Figuring that serving for a set was a doomed enterprise, he instead saved his big push for the inevitable breaker, although not before blowing a couple more set points on Berdych's serve at 6/5.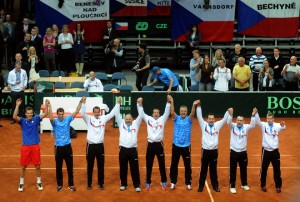 The Serb established a commanding lead in the tiebreak, and at 6/3 held three set points. Belief might have won him one, but, as I say, he had none. Berdych saved them all, and took the set, and the match, and the tie. The Czech Republic moves through to the Davis Cup semifinals.
It would be foolish to suggest this match was ever going to be a simple affair. Keen disciples of The Tipsarevic will recall his urgent, and painful, loss to Berdych in the Tour Finals last year, when the Serb wasted a match point in the second set tiebreaker. Or how about two weeks earlier, at the Paris Indoors, where Tipsarevic led 5/1 in the first set, only to lose it 5/7, and 4/2 in the second, only to go down 6/4? The point is he has form.
But nor should we pretend that Berdych has been amazing of late. He hasn't. This is only his second top-ten victory of 2012, the other being the infamously feisty win over Almagro at the Australian Open, in which we discovered that while the Tin Man may not have a heart, he does have a certain flair for melodrama, as he collapsed as though pole-axed upon sustaining a ball to the arm. Nevertheless, Berdych clinched all three wins this weekend (he paired with Stepanek in the doubles), and there is some hope that recent upgrades will see him prove competitive through the clay and grass seasons to come.
USA d. France, 3-2
Isner d. Tsonga, 6/3 7/6 5/7 6/4
Comical scenes in Prague had earlier taken over from emotional ones in Monte Carlo, where the USA had completed a strong victory over France. Guy Forget announced his retirement from the captaincy on court afterwards, thereby reducing the French players to open weeping.
Llodra and Benneteau took it particularly hard, perhaps because their doubles loss yesterday proved instrumental in accelerating Forget's departure. For Jo-Wilfried Tsonga, this news merely compounded his disappointment at losing the decisive rubber to John Isner.
He was right to feel disappointment, but he'd be fooling himself to feel shame. Tsonga played well under immense pressure to keep the tie alive, but few men could have withstood Isner today, who is now clearly the No.1 American player in all but ranking, and who wears the responsibility lightly and calmly. Tsonga is a categorically better player than Gilles Simon, but Isner handled him comprehensively, remaining crushingly assertive on all but one of the key points, and only rarely allowing the Frenchman to set his feet. There is always a constricting pressure when facing a titanic server, even one like Ivo Karlovic who doesn't exceed mere adequacy in any other of the game's facets. However, Isner has fashioned himself into an imposing all-court figure. The forehand is notorious, but today it was outrageous. He seemed to go whole sets without missing one, which was particularly impressive given the demands he was imposing on it. I can barely recall a forehand that was played safely, and every time he lashed one, Tsonga began running. He was solid on backhand, reckless on passing shots, and imposing at the net, winning 37/49.
Before Forget took the microphone, there was a wonderfully genial moment as Isner went over to the opposition bench and shook hands or embraced each member of the French team. The local crowd applauded warmly. Time will of course tell, but there is a real sense that a weekend such as this might be the making of Isner. If he can go on to achieve a result commensurate with his frame and his game – such as winning a major – he is sufficiently charming that he might achieve a truly trans-national popularity, of the type that Fish lacks, and that Roddick is systematically eroding.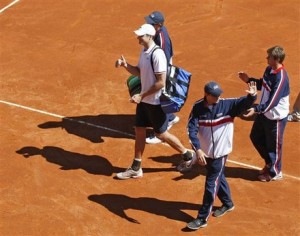 Speaking of which, it was heartening to see Novak Djokovic out supporting the Davis Cup players, even if he wasn't playing, and even if the players weren't his compatriots (who were hundreds of miles away proving they simply cannot do without him).
The Americans have now won consecutive ties away from home, on European clay; in a gloomy barn in Fribourg, and at the most picturesque tennis club in the world; on stodgy Catholic dirt and hedonistic Mediterranean silt. The choice of surface when facing the USA has been a no-brainer for years. Assuming your players are at least half-decent on it, you always go with clay. Now, with the US flourishing under Jim Courier's captaincy and spearheaded by Isner, the decision has become rather more fraught. Unless, of course, you're Spain. As coincidence would have it, it will be Spain, in Spain. Almost certainly, it will be clay. Without question, it will be interesting.
Argentina d. Croatia, 4-1
Del Potro d. Cilic, 6/1 6/2 6/1
Our future lonely historian will look back at this one, and will feel sure that this was not a particularly close match. He or she will be entirely correct, and can be permitted their smug glow of satisfaction, since they probably don't have much else going on. Juan Martin del Potro won 95 points to Marin Cilic's 52, although Cilic if pressed could point to some impressive numbers of his own: before today's match he had already spent over ten hours on court this weekend. On clay, in Argentina, there was sadly no way this one was going to be competitive. It was just baseline slugging – del Potro won 0/0 points at the net – scored to wildly catchy patriotic chanting, mostly between points. For del Potro, his elation contrasted nicely with the desolation following last year's final.
Still, it provided interest in that it sustained one of the key themes of the weekend, which was that the doubles rubber is pivotal in close ties. Spain, whose tie wasn't close, is the exception, and has appeared content to sacrifice the middle Saturday for a while now, without discernible impact on their overwhelming success. But hard-fought victories in the doubles provided clear momentum for the Czechs, Americans and Argentineans, and they all wrapped up their respective ties in the first of the reverse singles.
Argentina will play the Czech Republic in the semifinals.