Miami Masters, Quarterfinals
(2) Nadal d. (6) Tsonga, 6/2 5/7 6/4
My stated intention to write about last night's Miami quarterfinal between Jo-Wilfried Tsonga and Rafael Nadal was, as the second set wore tediously down, coming up hard against my urge to stop watching it entirely. The tennis – and this is intended as wry British understatement – was not great.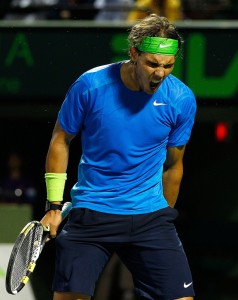 By Nadal's own admission afterwards, Tsonga was all over the place, and all the Spaniard required to win was an amiable defence. Still, the standard can be low and yet a match can still prove worthwhile, provided there is sufficient drama. Alas, until Nadal stepped up to serve for the match at 5/4, it wasn't dramatic, either.
Of course, we know what happened next, how Nadal tightened, Tsonga broke back, lifted, and broke again to force a decider. The Frenchman appeared willing to go on with it, despite a recalcitrant first serve, an unwavering commitment to piss-weak drop shots, and an unhelpful preoccupation with the line-calling. Nadal, of course, fought on grimly, battling through his own service woes, and a knee injury apparently so grievous he almost couldn't run at top speed. The quality still wasn't very high, but at least it was now exciting. It became especially so when at 4/4 Tsonga sent his second-serve in search of the first, whereupon it went missing, too. He was broken.
For the second time, Nadal served for the match. Match points came and went, forehands went in and out, Tsonga had some break points, and a broken string. Then it was over. Having failed to snatch victory from the jaws of victory, Nadal was forced to venture into victory's maw, inch his way down its gullet, and retrieve a win that was half-dissolved in gastric juices. It was still recognisably a win, and he took it. On the subject of gastric juices, in some ways this match was a mirror of the day's first quarterfinal, in which early intestinal turbulence gave way to serene sailing for the favourite. All else being equal, I suppose you'd take the later match for entertainment: if the tennis itself is going to underwhelm, there may as well be a decent dramatic arc, with the climax at the end.
(21) Monaco d. (8) Fish, 6/1 6/3
The fervent hope, heading into the second day of men's quarterfinals, was that the drama might be sustained, and conducted at a higher level. Miami has so far been short on great matches, and we were due. Speaking of being due, Mardy Fish has complained this week that despite his status as the top-ranked American he had yet to play on the main stadiums at either Indian Wells or Miami. He has a point. Today he was granted his wish, and a timely tutorial in being careful of what you wish for.
He also discovered that the stadium court at Crandon Park is brim-full of Argentinean fans. This became urgently relevant when it turned out his opponent was Argentinean, too, and had already thrashed an American – Andy Roddick – on this court just days earlier.
Juan Monaco has now thrashed two Americans on the stadium court, which is all he could find. Unlike Roddick, Fish wasn't bagelled – I am striving manfully to eschew food metaphors, as so many others haven't – although he did win one less game. The debate as to which American sustained the greater hiding is a pointless one. Both were thoroughly outclassed by Monaco. Both men lost handfuls of games in a row, which is troublesome against a player who doesn't rely on momentum. Monaco is not the type to get on a roll, and ascend to unplayable heights. What he does do is prove that there are varying shades of 'solid', and that within the narrow parameters of toughness and determination, there is room for a kind of virtuosity, which extends beyond mere doggedness, and attains an inexorable mercilessness. Fish probably believed he could have beaten Monaco if he'd played his best, but must have known early on that he wasn't playing his best, and stood little chance. Every mistake was dealt with.
Monaco now moves through to his second hardcourt Masters semifinal. As he did in Shanghai in 2010, he has undeniably benefited from an unexpectedly open quarter, in this case due to Roddick's defeat of Federer. (In Shanghai he took full advantage when Melzer removed Nadal from his path.) Even if he progresses no further, he will return to the top twenty for the first time since 2008, landing somewhere around No.16, with the clay season to come.
(1) Djokovic d. (5) Ferrer, 6/2 7/6.
It is doubtful whether Monaco will progress much farther, since he must face Novak Djokovic in the semifinals, who tonight slugged and flowed past David Ferrer in the best match of the round. Here, finally, was tennis played at a truly elite level. Ferrer had astonished the round before in seeing off Juan Martin del Potro, and sustained that form into the first set against the world No.1, in which, frankly, he was lucky to get a game. This was the planet's fifth best player performing to his abilities, but it didn't matter.
From the third point on, in which he darted up to a drop shot and flicked it cross court for a winner, Djokovic was nearly flawless, and without any discernible weakness.
Having served out the first set, Djokovic broke to open the second. It was hard to see what Ferrer could do about it, other than play even better than he can. It thus proved both laudable and hugely entertaining when he did just that, breaking Djokovic back in a spectacular second game that lasted nearly a quarter of an hour. Then it got tough, with both men trading savagely fought holds for a while, until Ferrer was broken again at 4/4. Djokovic came around to serve for the match, and was broken back in turn, courtesy of a daring forehand-volley-overhead combination from the Spaniard. For the first time in days, we had quality and drama.
Sadly the final tiebreaker proved perfunctory. Ferrer is a notoriously poor tiebreak player, considering his ranking, although not considering his serve, while Djokovic was among the best in history even before his 2011 season. Nonetheless, despite a flaccid conclusion, it was the finest match of the tournament so far. The hope is that it earns Ferrer more fans, since he deserves them. As for Djokovic, the first set alone should be sufficient to convince us that he has, for the first time in 2012, returned to somewhere near his level of last season.
Terrifying.