Miami Masters, Third Round
(31) Roddick d. (3) Federer, 7/6 1/6 6/4
Roger Federer was tonight defeated by Andy Roddick in a strange encounter that balanced a first set in which the Swiss could hardly have played worse with a deciding set in which the American has rarely played better. The second set, in which Federer looked set to tear the match away from Roddick as he has so often before, defied expectations that it would prove pivotal, except insofar as it lulled the world No.3 into a fatal over-confidence.
In the end he was punished for it by a veteran who played like he had nothing to lose, even when everything was on the line.
To be fair, Federer was quite justified in entering the match that way, for all that he would insist, if asked, that he never under-estimates any opponent. A head-to-head of 21-2, the most lopsided in the sport, suggests that his estimation of Roddick has been more or less spot-on. And he was hardly alone. The main fan interest surrounding this match had been whether Roddick would indeed become the first man to achieve a 20 match deficit in a head-to-head. Most people were already looking farther ahead, to the semifinals. Numbers had been crunched in order to discover how soon Federer might replace Nadal in the No.2 spot.
The first set was an ugly affair, its hideousness made explicit by the numbers. Roddick was steady, and struck no winners off the ground. Federer was erratic, and found 17 unforced errors. Of course, both served well. The tiebreaker barely lifted, and was decided when Federer failed to put away an overhead, and lollied it back down the middle of the court. Roddick pounced, and tore the forehand pass across court. In many ways, this single point prefigured the final set – Federer playing too safe, and Roddick launching himself into each forehand.
The second set, by contrast, was clean and quick. Federer wrapped it up with three breaks in under half an hour, without doing anything particularly outstanding, merely playing within himself the way he generally does when facing Roddick. Roddick began to drift further behind the baseline, leaving himself open for the drop shot. Knowing looks were exchanged, in the stadium, in cyberspace. The commentators referred to their crib sheets, and astutely remarked that Federer uses the drop shot a lot more these days, whereas he used to disdain it. They started pointing it out about four years ago, and there's no reason to think they'll stop any time soon.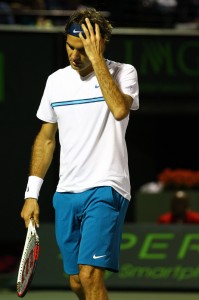 The statistic that Federer has come back to beat Roddick four times after losing the first set was also duly paraded. Federer's fans, momentarily breathless at the hitherto unconsidered idea that Roddick could actually win, began to breathe easier. When Federer opened the deciding set with an easy hold, and then moved to 0-40 on the Roddick serve, easy breaths gave way to sniffs of victory.
But Roddick, who'd been steady in the opener and outclassed in the second, still had his serve. He saved four break points in that game. This astounding turn of events tore apart the space-time continuum, which was already threadbare after a couple of successful Federer challenges earlier on, since reality cannot withstand that kind of treatment. Suddenly Roddick was eight years younger; the brash world No.2 who'd blithely outlined his game plan for besting Federer in their first Wimbledon final: 'I'm gonna belt the crap out of the ball.' Off balance, he ripped a 92Mph forehand winner up the line: 0-15. Roddick was suddenly up near the baseline, and looking to press.
Federer seemed unfazed, and oblivious to his peril, even though the sudden, fey glint behind Roddick's eyes was hard to miss. Federer lost the next two points on suicidal approaches at the Roddick forehand, a shot that long experience has taught Federer not to fear. The American was hollering with guttural panache on each of them, a calibre of vehemence he usually reserves for Fergus Murphy. The crowd, who had initially greeted Federer with greater approbation, was now going nuts for their compatriot. There was a pronounced quality of stubborn brinkmanship in those two approaches in that game; neither was struck with adequate pace or depth, as though each dared Roddick to do it again. From nowhere, Roddick was at triple break point. Federer played a strong rally on the first, and moved to the net. But again, he played within himself, and did not stick the volley into the open court. Roddick sprinted to his right, and again hammered the forehand pass. From 0-40 down in the previous game, Roddick was now up the break. He had not hit his forehand like this in almost a decade.
From there it was tight. Federer went back to holding comfortably (the second game of the third set is the only service game in the entire match in which he struggled), although his percentages began to drop. He ended with 50% first serves in the third set, although it hardly mattered, since the damage had been done.
Roddick's, on the other hand, only rose, which mattered a great deal, and he first served his way to a famous and courageous victory.
Both men were gracious afterwards. Federer insisted that it hadn't felt like he was playing the world No.30, but a former champion and world No.1. It is Federer's first best-of-three loss since Cincinnati last August (to Berdych), and the first time he has lost to a player outside the top 20 since Halle in 2010 (to Hewitt). What was most disappointing, from my point of view, is that his innate aggression, lately rediscovered and much in abundance, was hardly in evidence. Throughout the entire match Federer appeared determined merely to do enough to win. It was understandable, and presumably no one knows better how to beat Roddick. Except this time he didn't.
In Roddick, on the other hand, we witnessed a former top player playing the way everyone has been insisting he should for years. Particularly impressive was the way he reversed the trend of the second set, which was to retreat and hope Federer continued to miss. Big serving and big forehands are what got him to the top of the sport. As his career winds down, there are more and more things that will stop working the way they used to. But tonight he proved that the weapons that enabled his rise a decade ago are still there, if only he has the courage to use them.