Montpellier, Final
(1) Berdych d. (3) Monfils, 6/2 4/6 6/3
Discounting Queens – which makes green hay the week after Roland Garros, owing to a perfect storm of prestige and a cruelly short grass season – no tournament placed directly after a major deserves a final as good as the one played in Montpellier today, between Tomas Berdych and Gael Monfils. Zagreb was closer to the usual mark, where a vastly more experienced and bearded Mikhail Youzhny saw off an overwhelmed first time finalist.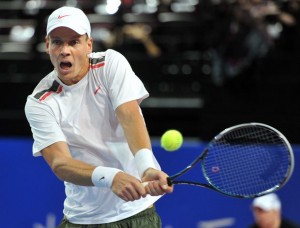 However, regardless of location, being European indoor tournaments there was only one possible outcome: beaming figures hoisting trophies that resemble low-budget set-dressing, awash in the kind of light that makes winter tennis possible but deprives human skin of its essential flesh-tones. This was frankly a blow for Berdych, whose creators are justifiably proud of their pioneering work in epidermal synthesis.
I have already outlined how Montpellier contrived to assemble so impressive a draw, despite commencing just hours after the Australian Open wrapped up. Favourable geography enabled a strong French contingent, and in Tsonga's absence Gael Monfils proved to be the strongest of those.  Meanwhile, a near-run quarterfinal loss in Melbourne secured Berdych's appearance. Thus rested and repaired, he was untouchable in taking down his half of the draw, including a semifinal victory over Philip Kohlschreiber in with the Czech failed to drop a point on first serve. By contrast, Monfils barely scraped through, saving a match point in beating Gilles Simon. On form alone, Berdych was today's heavy favourite. Notwithstanding that both players boasted losing records in finals, few can realistically match Monfils in this department. He is infinitely virtuosic when it comes to blowing title matches. Balanced against this was the putative home-court advantage, although this sometimes only inspires Monfils to attain more ecstatic heights of showmanship.
Initially, it didn't inspire him to much at all. Camped on the slick pink paddock beyond the baseline, and faced with an aggressive and experienced top ten player, Monfils wisely opted for a restrained and enervated approach, which enabled him to fall behind immediately. This brilliant tactic also worked to take the crowd out of the mix, which further emboldened Berdych, who set about smashing the ball into the corners unimpeded. With the atmosphere drained from the complex, the top seed went about his task with devastating and silent efficiency. A doggedly upbeat soundtrack at the sit-downs – featuring Black Betty and Blur's Song No.2 – did little to enliven proceedings. Berdych broke again to take the set.
Monfils had managed to win just 20% on second serves. The belief, cherished in some quarters, that fast surfaces unduly favour the server seemed shot, although we must bear in mind that conventional wisdom counts for little with Monfils.
There was no good reason to believe Berdych wouldn't be able to sustain his imposing level, since he had all week. Monfils' fighting hold at the beginning of the second set was thus vital, if not pivotal. He was still holding on, but less grimly. Somehow Monfils broke Berdych, exploiting the Czech's poorest service game in a week and a half, and served out the second. The Frenchman seemed to be gaining strength, defying history, form, statistics, expectations and intuition. That's a lot of defiance to maintain, and it turned out to be too much. He double-faulted to gift away the crucial break. In the end, I suppose character really is destiny. You don't achieve a 4-13 record in final by transcending type.
The upside, if he chooses to see it, is that Monfils now has the complete set of Montpellier trophies, which might conceivably create storage issues. I suppose they could double as jelly bean platters at a pinch. They've also been overhauled since the tournament was last staged in 2010. The latest iterations look like the old ones have been messily devouring a test-pattern. You can't buy that kind of workmanship, at least not without frequenting high-school craft fairs.
Zagreb, Final
(3) Youzhny d. Lacko, 6/2 6/3
Last November, Mikhail Youzhny earned his PhD from the University of Moscow. The Colonel is now a doctor. Since graduating he has clearly devoted considerable effort to cultivating a student beard of lush and special magnificence.
There is some kind of irony here, although it probably doesn't exceed the bounds of a classic Yakov Smirnoff formulation. Nevertheless, said facial hair proved unstoppable in today's Zagreb final, even for the comically-named but otherwise dashing Lukas Lacko.
En route to the final – his first at tour level – Lacko had taken down enough seeds that it could technically be termed a 'spree', although admittedly unlike Montpellier the Zagreb field was not strong. Sadly, he had no answer for Youzhny today. Lacko insisted he hadn't been nervous, which was commendable of him, if not particularly convincing. He'd certainly looked nervous, and it is wholly understandable that he would be. It cannot have been calming seeing that bristling growth on his opponent's face. He was a boy facing a man.
Youzhny, however, looked like a former top ten player rediscovering some of his best form, which as a fan was enormously heartening to see. This is his eighth career title, and first since October 2010. He also teamed up with Marcos Baghdatis to claim his ninth doubles title. It was a good day to be bearded.